Campaigns by Campaign Report
[et_pb_section fb_built="1″ module_class="featured-page-section" _builder_version="3.22.2″ collapsed="off"][et_pb_row _builder_version="3.25″ custom_margin="|||||"][et_pb_column type="4_4″ _builder_version="3.25″ custom_padding="|||" custom_padding__hover="|||"][et_pb_text _builder_version="4.9.0″ _module_preset="default" hover_enabled="0″ inline_fonts="Proxima Nova,Proxima Nova Regular" sticky_enabled="0″]
Need to see which Campaigns are getting the most engagement across your entire sales team? Want to see if this month's Campaigns are booking more meetings than last month's?
The all-new 'Campaigns by Campaign' Report will allow you to: 
Understand Campaign activity and outcomes for each Campaign
Improve how you and your team use Campaigns for prospecting and follow-up, by comparing what content and cadence works across Campaigns
See which Campaigns yield the most meetings so you can do more of what works across your team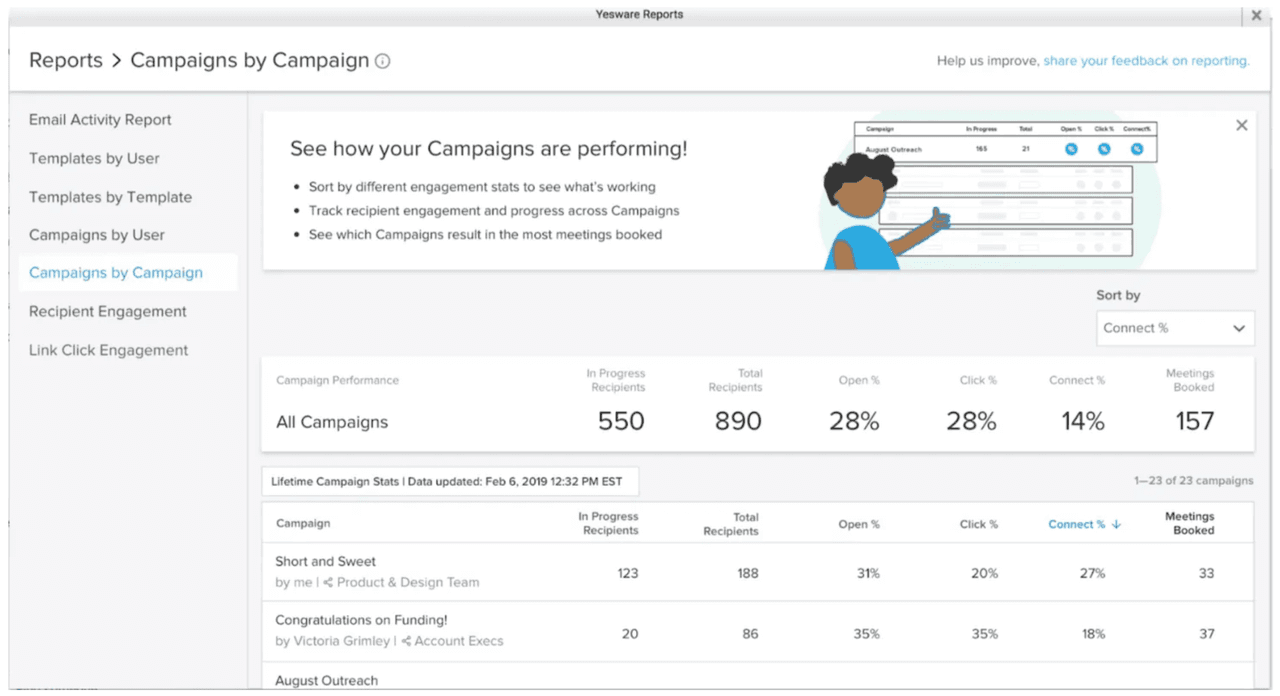 Want to check out the new Campaigns by Campaign report?
Start your free trial of Yesware today!
[/et_pb_text][/et_pb_column][/et_pb_row][et_pb_row column_structure="1_5,1_5,1_5,1_5,1_5″ use_custom_gutter="on" gutter_width="4″ make_equal="on" _builder_version="3.25″ width="100%" width_tablet="" width_phone="" width_last_edited="on|tablet" max_width="1615px" module_alignment="center" min_height="136px" custom_margin="|auto||auto||" custom_padding="0px|||0px||" custom_css_main_element="align-items: center;||opacity:70%;"][et_pb_column type="1_5″ _builder_version="3.25″ custom_padding="|||" custom_padding__hover="|||"][et_pb_image src="https://www.yesware.com/wp-content/uploads/2020/01/teach-for-america-logo-png-11.png" align="center" align_tablet="center" align_phone="" align_last_edited="on|desktop" _builder_version="3.23″ max_width_tablet="140px" max_width_phone="" max_width_last_edited="on|tablet" module_alignment="right"][/et_pb_image][/et_pb_column][et_pb_column type="1_5″ _builder_version="3.25″ custom_padding="|||" custom_padding__hover="|||"][et_pb_image src="https://www.yesware.com/wp-content/uploads/2020/01/twitter-logo.png" align="center" _builder_version="3.23″ width_tablet="140px" width_phone="" width_last_edited="on|desktop" always_center_on_mobile="off"][/et_pb_image][/et_pb_column][et_pb_column type="1_5″ _builder_version="3.25″ custom_padding="|||" custom_padding__hover="|||"][et_pb_image src="https://www.yesware.com/wp-content/uploads/2020/01/spotify@3x.png" align="center" align_tablet="center" align_phone="" align_last_edited="on|desktop" _builder_version="3.23″ width_tablet="140px" width_phone="" width_last_edited="on|desktop"][/et_pb_image][/et_pb_column][et_pb_column type="1_5″ _builder_version="3.25″ custom_padding="|||" custom_padding__hover="|||"][et_pb_image src="https://www.yesware.com/wp-content/uploads/2020/01/Autodesk_Logo.svg.png" align="center" align_tablet="center" align_phone="" align_last_edited="on|desktop" _builder_version="3.23″ width_tablet="140px" width_phone="" width_last_edited="on|desktop" height_tablet="60px" height_phone="" height_last_edited="on|desktop" max_height="55px"][/et_pb_image][/et_pb_column][et_pb_column type="1_5″ _builder_version="3.25″ custom_padding="|||" custom_padding__hover="|||"][et_pb_image src="https://www.yesware.com/wp-content/uploads/2020/01/Asset-1@3x-1.png" align="center" align_tablet="center" align_phone="" align_last_edited="on|desktop" _builder_version="3.23″ max_width_tablet="140px" max_width_phone="" max_width_last_edited="on|tablet" module_alignment="center"][/et_pb_image][/et_pb_column][/et_pb_row][et_pb_row column_structure="1_5,1_5,1_5,1_5,1_5″ use_custom_gutter="on" gutter_width="4″ make_equal="on" _builder_version="3.25″ width="100%" width_tablet="" width_phone="" width_last_edited="on|tablet" max_width="1615px" module_alignment="center" min_height="136px" custom_margin="|auto|60px|auto||" custom_padding="0px||34px|0px||" custom_css_main_element="align-items: center;||opacity:70%;"][et_pb_column type="1_5″ _builder_version="3.25″ custom_padding="|||" custom_padding__hover="|||"][et_pb_image src="https://www.yesware.com/wp-content/uploads/2019/12/ft2.png" align="center" align_tablet="center" align_phone="" align_last_edited="on|desktop" _builder_version="3.23″ max_width_tablet="140px" max_width_phone="" max_width_last_edited="on|tablet" module_alignment="right"][/et_pb_image][/et_pb_column][et_pb_column type="1_5″ _builder_version="3.25″ custom_padding="|||" custom_padding__hover="|||"][et_pb_image src="https://www.yesware.com/wp-content/uploads/2019/05/zendesk.svg" align="center" _builder_version="3.23″ width_tablet="140px" width_phone="" width_last_edited="on|desktop" always_center_on_mobile="off"][/et_pb_image][/et_pb_column][et_pb_column type="1_5″ _builder_version="3.25″ custom_padding="|||" custom_padding__hover="|||"][et_pb_image src="https://www.yesware.com/wp-content/uploads/2019/05/groupon.svg" align="center" align_tablet="center" align_phone="" align_last_edited="on|desktop" _builder_version="3.23″ width_tablet="140px" width_phone="" width_last_edited="on|desktop"][/et_pb_image][/et_pb_column][et_pb_column type="1_5″ _builder_version="3.25″ custom_padding="|||" custom_padding__hover="|||"][et_pb_image src="https://www.yesware.com/wp-content/uploads/2019/11/Asset-1@3x.png" align="center" align_tablet="center" align_phone="" align_last_edited="on|desktop" _builder_version="3.23″ width_tablet="140px" width_phone="" width_last_edited="on|desktop" height_tablet="60px" height_phone="" height_last_edited="on|desktop" max_height="55px"][/et_pb_image][/et_pb_column][et_pb_column type="1_5″ _builder_version="3.25″ custom_padding="|||" custom_padding__hover="|||"][et_pb_image src="https://www.yesware.com/wp-content/uploads/2019/11/cloudflare@3x-scaled.png" align="center" align_tablet="center" align_phone="" align_last_edited="on|desktop" _builder_version="3.23″ max_width_tablet="140px" max_width_phone="" max_width_last_edited="on|tablet" module_alignment="center"][/et_pb_image][/et_pb_column][/et_pb_row][/et_pb_section]
Get expert sales tips straight to your inbox to win more deals
Related Articles
Sales, deal management, and communication tips for your inbox