Zoom + Meeting Scheduler Integration
[et_pb_section fb_built="1″ module_class="featured-page-section" _builder_version="3.22.2″ collapsed="off"][et_pb_row _builder_version="3.25″ custom_margin="|||||"][et_pb_column type="4_4″ _builder_version="3.25″ custom_padding="|||" custom_padding__hover="|||"][et_pb_text _builder_version="4.9.0″ _module_preset="default" hover_enabled="0″ inline_fonts="Proxima Nova,Proxima Nova Regular" sticky_enabled="0″]
Spending a lot of time on Zoom lately? Us too.
Save even more time with Yesware by using our new Zoom integration with Meeting Scheduler! Connect Yesware with Zoom in one easy step, and enjoy all of the benefits of having Zoom conference details added to your invites automatically. You can also choose to have one-time Zoom meeting details generated for each invite to keep your remote selling secure.
With Zoom + Meeting Scheduler, you will now be able to:
• Automatically add Zoom video conference details to every meeting you schedule
• Add your live meeting link + Zoom details to Templates and Campaigns
• Eliminate the need to remember to add video conference details for every invite
[/et_pb_text][et_pb_text _builder_version="4.9.0″ _module_preset="default" hover_enabled="0″ sticky_enabled="0″]
Getting Started
To get started, all you need to do is connect your Zoom account with Yesware in your Meeting Scheduler Settings. Then, select 'Insert Zoom' as your Meeting Location to have either your personal meeting link or a dynamic video conference link generated for each meeting.
Invitees will receive instant access to the Zoom details in their calendar invitations and meeting reminders after scheduling with you.
Pro Tip: Add Zoom to your Meeting Link and then include your meeting link in your next prospecting Campaign. Your live meeting link will be sent to all of your prospects at once. As they book meetings with you, unique Zoom video conference details will be added to each recipient's invitation for maximum security.
Setting Up Zoom + Meeting Scheduler in Gmail
Setting Up Zoom + Meeting Scheduler in O365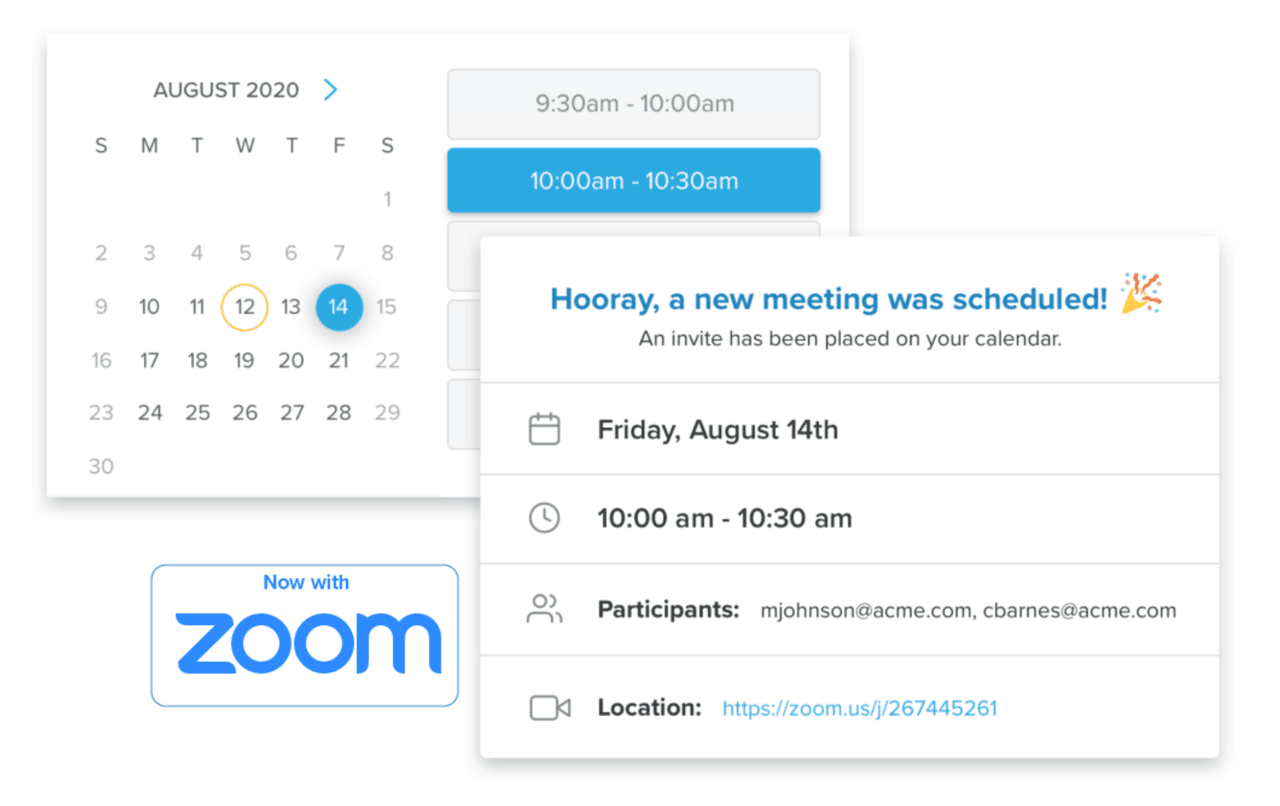 Want to check out the Meeting Scheduler + Zoom?
Get expert sales tips straight to your inbox to win more deals
Related Articles
Sales, deal management, and communication tips for your inbox