December Product Updates 2019
[et_pb_section fb_built="1″ _builder_version="3.22.2″][et_pb_row _builder_version="3.25″][et_pb_column type="4_4″ _builder_version="3.25″ custom_padding="|||" custom_padding__hover="|||"][et_pb_text _builder_version="4.9.0″]
Response Insights in the Email Compose Window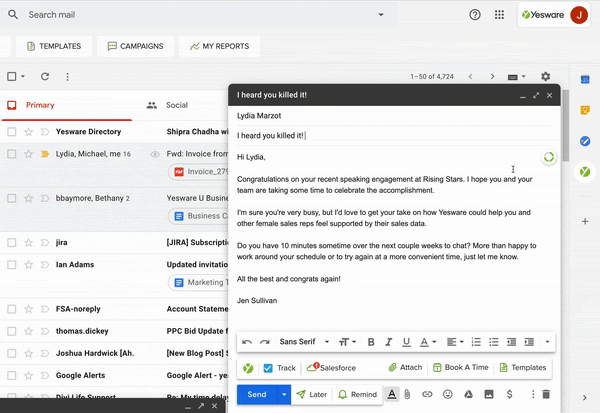 Want better engagement with your emails? When creating or editing an email, you'll now see an 'Insights' button in your Composer, which will pull up our Response Insights tool.
This tool will analyze your email draft and provide feedback based on extensive research we've done on what makes an email most effective (i.e. criteria like word count, question count, and readability.) From these insights, you'll also get recommendations to gently guide you to craft the perfect message.
Want to start a free Yesware trial? Sign-up HERE or contact support for a bonus free trial today.
Best Time to Send Tool – Right in your Inbox
You will now be able to access our Best Time to Send tool right from your inbox! We analyzed millions of emails and discovered the exact time of day that people are most likely to open emails based on where they live.
When you schedule your next email, be sure to schedule your email based on the recommended time. We're sure that this tool will be a huge help in increasing open and reply rates during prospecting, follow-up, and beyond. 
Custom Sort Your Template Folders
To keep your templates organized, you can now manually move folders to suit your needs and the needs of your team. Check it out!
Spell Check in Campaigns
New to Campaigns this week – SPELL CHECK! We hope this improvement helps you craft the best, most engaging content possible.
ROLLING OUT: 'My Reports' Accessible from the Inbox
Accessing your Yesware Reports has never been easier. The new 'My Reports' button lives right in your inbox and will take you to your data in an instant – without needing to leave your inbox.
Head to your Email Activity Report and Templates Report to take advantage of our new custom date ranges and the ability to exclude colleagues from your reports.
Want to try Yesware Reporting? Sign-up HERE or contact support for a bonus free trial today.
COMING SOON: 'By Template' View in Templates Report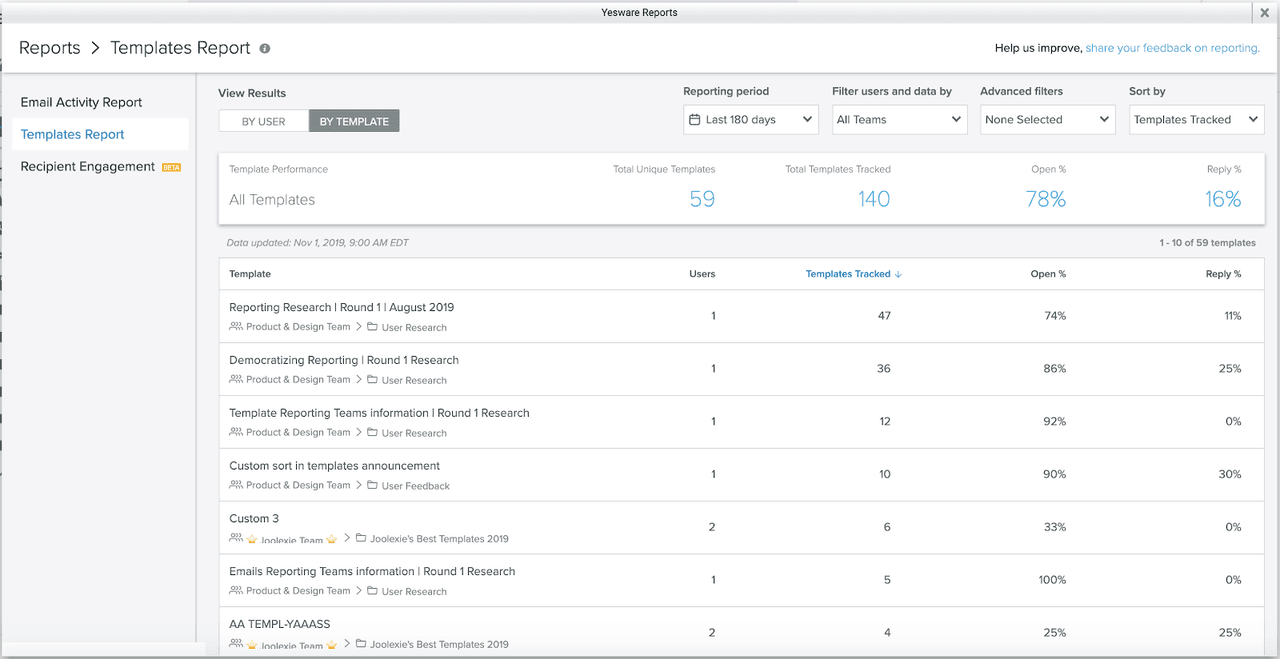 The Templates Report keeps getting better. Now in addition to the 'By User' view, you can also see a 'By Template' Report of how each template is performing across your organization, so you can see what's working and what's not.
This report is another step forward in helping your whole team learn and improve together.
Review US On G2 Crowd!

We'd love to hear your feedback on our non-tracking features. Try them out and leave us a review on G2. We appreciate your feedback!
[/et_pb_text][/et_pb_column][/et_pb_row][/et_pb_section]
Get expert sales tips straight to your inbox to win more deals
Related Articles
Sales, deal management, and communication tips for your inbox