8 Steal-Worthy Email Drip Campaign Examples [Updated 2021]
Open rates for drip campaigns are 80% higher than single send emails. Why? They're more timely, relevant, and targeted.
That being said, if your sales team isn't taking advantage of email drip campaigns, you're missing out on an enormous potential to engage with customers, scale business, and increase revenue.
Drip campaigns help you schedule mission-critical messages at scale and stay at the forefront of prospect's minds and drive engagement.
Wondering how to get more out of your drip campaigns?
Below are 8 real-world drip campaign examples that show how other sales teams are using automated email to get in front of prospects and convert them into customers.
Drip campaigns in your inboxAutomated campaigns with email, calls, and social touches
1. Drift Utilizes Onboarding Drip Campaign for Re-engagement and Growth
Not having a strategy to nurture free users is a huge missed opportunity. As a user, if you're not shown the value of the more premium package, then there's nothing convincing you to leave your no-strings-attached state.
In a highlights article that analyzes Drift's drip campaigns – Drift's onboarding campaign significantly stands out. The drip campaign effectively engages customers with useful content and information – all before the final ask.
Take a look: Here's an onboarding drip campaign provided by highlights that Drift sent out to new users a week after they signed up for an account. These emails help re-engage leads by providing a variety of content and different ways to experience the value of Drift, highlighting its benefits and even highlighting a customer story.
Engaging new trial users significantly increases the likelihood they'll convert to paid, remain top-of-mind, and provide value.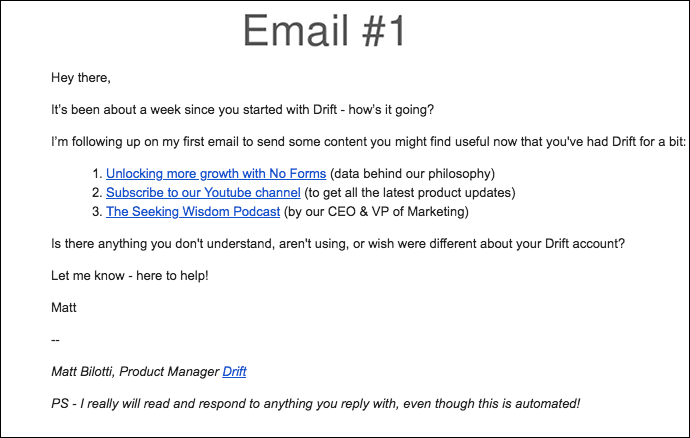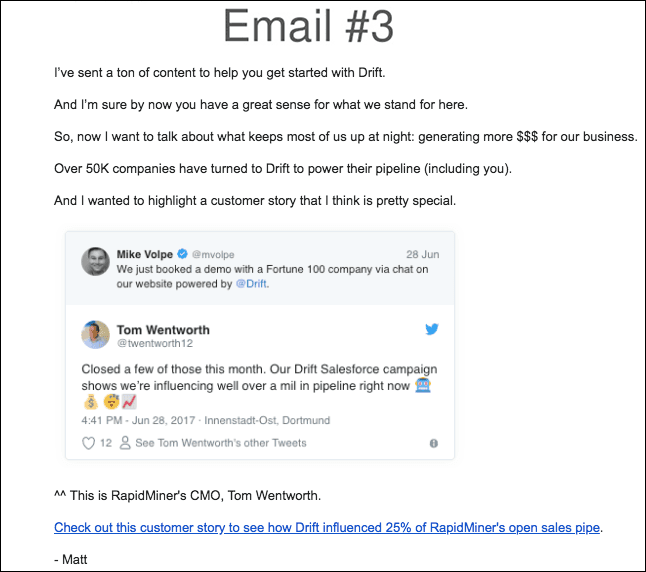 Tip: The timing and pace of your onboarding email flow ultimately depend on your trial length and standard sales cycle. Be sure to experiment.
2. Yesware Schedules Pre-Event Drip Campaigns To Book Meetings Before The Big Day
Attending industry conferences is a great opportunity to get face time with busy decision-makers and push a deal through. A pre-event drip campaign can help you send personal invites to your top prospects and follow up if they don't reply — hands-free.
Take a look: Here's a previous pre-event drip campaign example from the Yesware sales team. This particular series received a reply for every single open.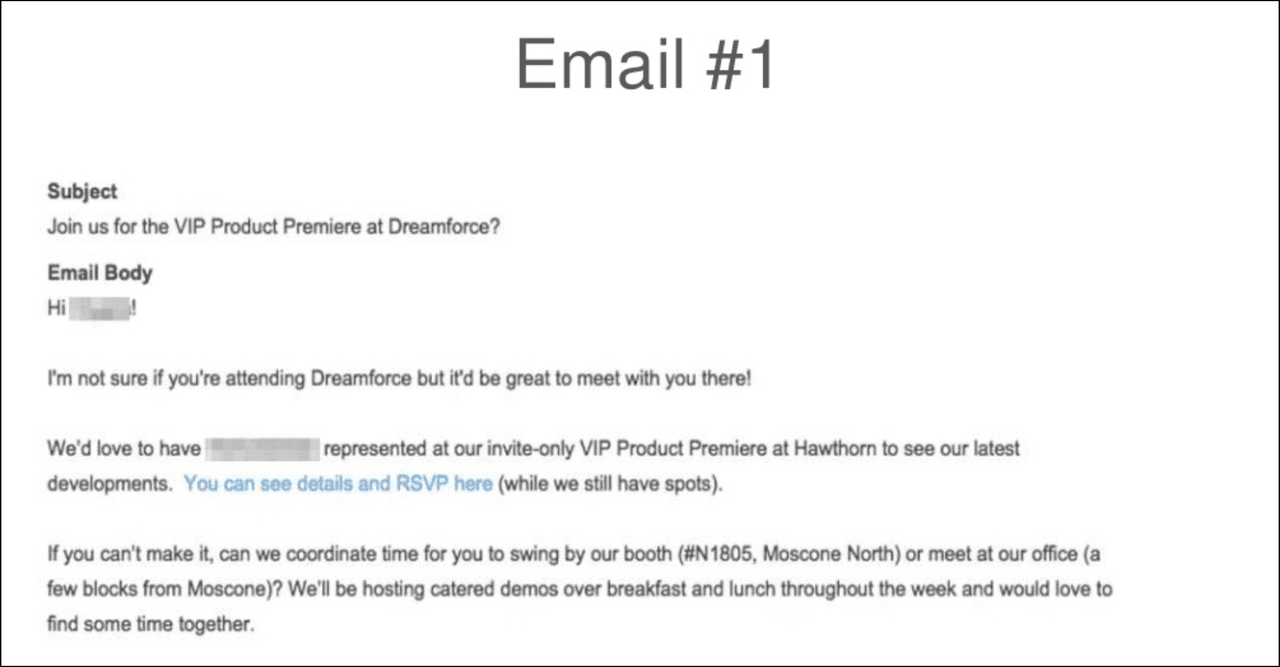 Ideally, you want to have at least two emails in this sequence. Yesware sales reps have found success in spacing these emails five days apart, but be sure to A/B test what works best with your recipients.
Tip: Try scheduling pre-event follow-up emails 5 days apart.
3. Salesforce Uses a Trial Expiration Sequence to Grab Users Attention Before It's Too Late
We can thank Neil Patel for providing this powerful drip campaign example.
Drip campaigns are crucial when users are on a trail, never forget to send these automated emails out that let your users know their trial is about to end, informing them how to purchase, and why they should purchase.
Salesforce sets up a sequence that grabs users' attention in the right way before their trial is expired.
Take a look: The first email in this drip campaign goes for the soft-sell to get you back into the product. The tone of the email is friendly and helpful, offering a hand in this process.
After a few days, the email's tone switches to a more direct and hard sell. And the third message, when your trial has expired, lets you know your information is still saved and tone switches to a more generic re-engagement campaign with a compelling subject line and call-to-action.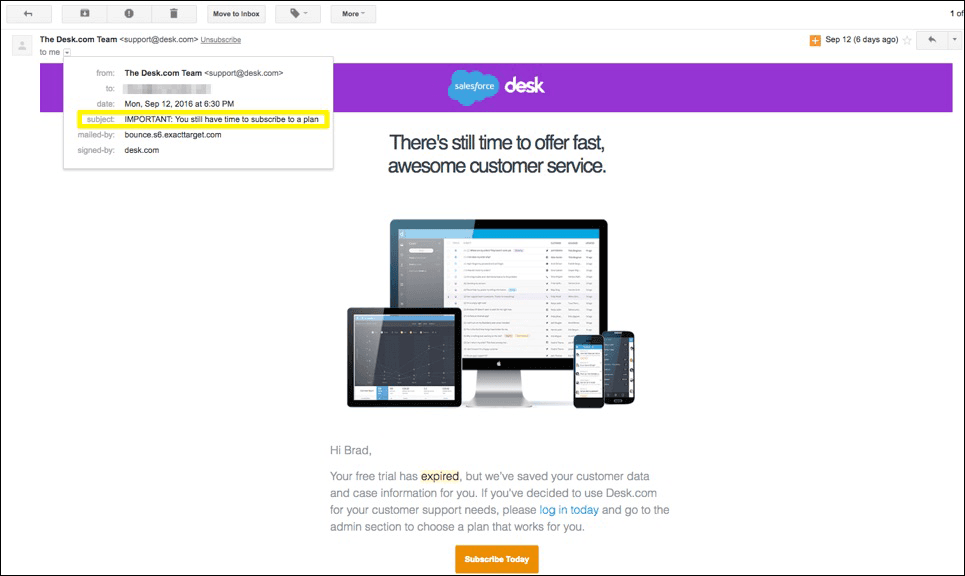 Drip campaigns made easyPersonal, multi-channel sales touches
4. Kapost Uses Prospecting Drip Emails To Stand Out From The Competition
The most common mistake that people make when setting up a drip campaign is to offer the same thing and make the same ask, in so many words—every time.
Each email that you send needs to provide new value. It's what makes you relevant, and what gets people to actually read versus open and delete.
Take a look: Below is an example from a past email drip campaign by Kapost. Notice how the emails hit major pain points for their target persona, and they also build trust by providing useful content that is directly applicable in my day-to-day role.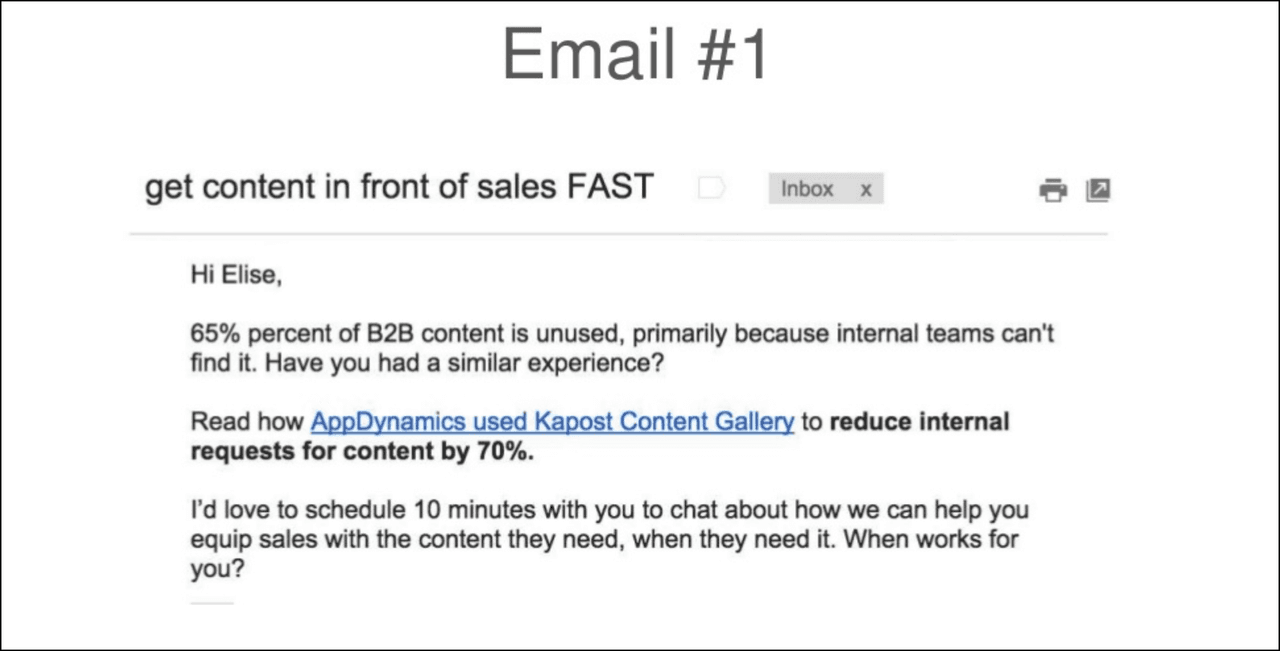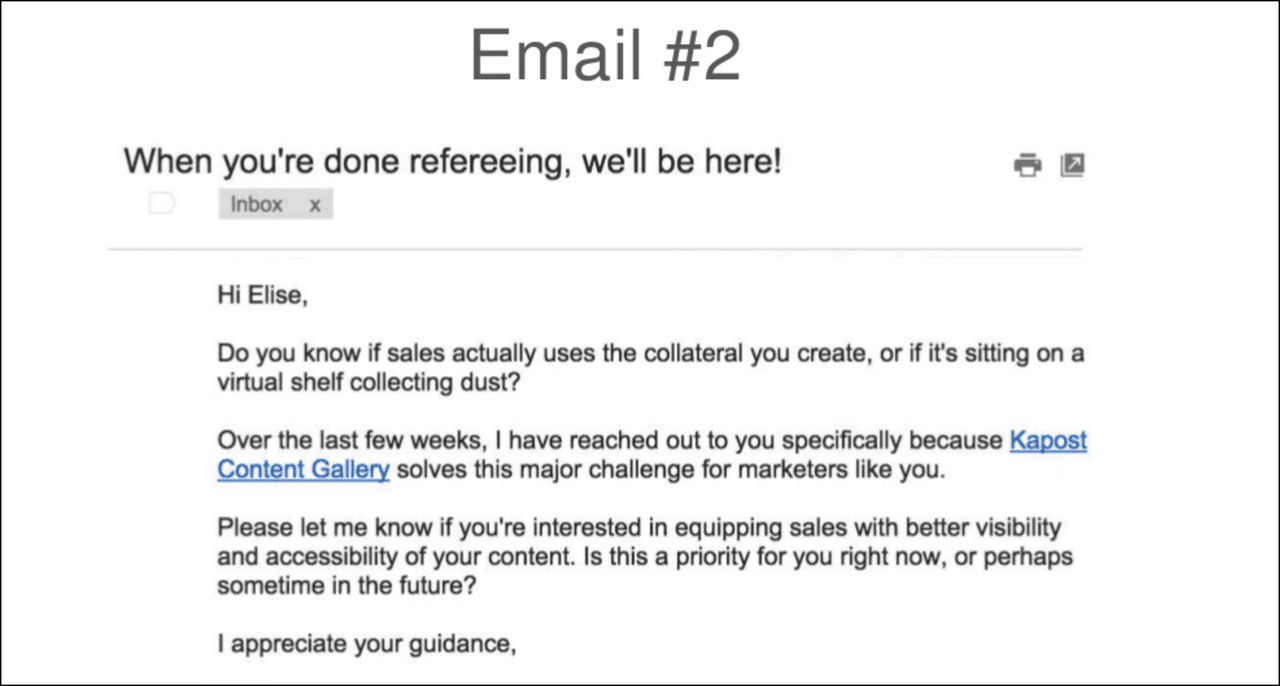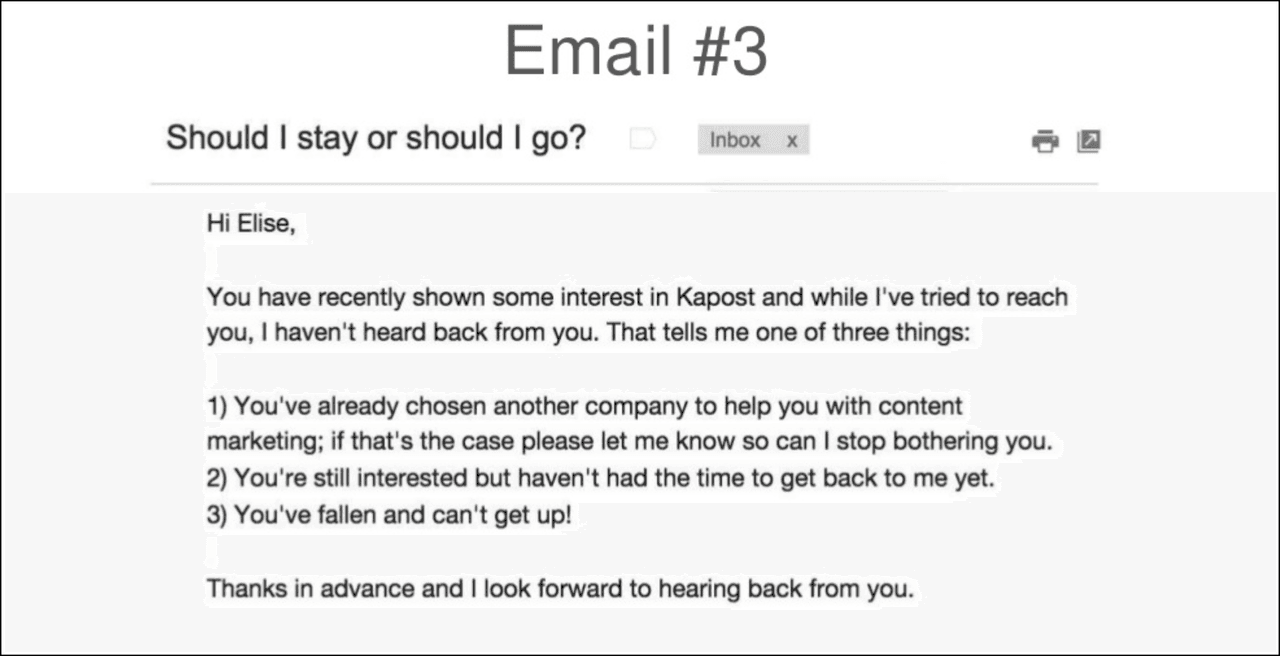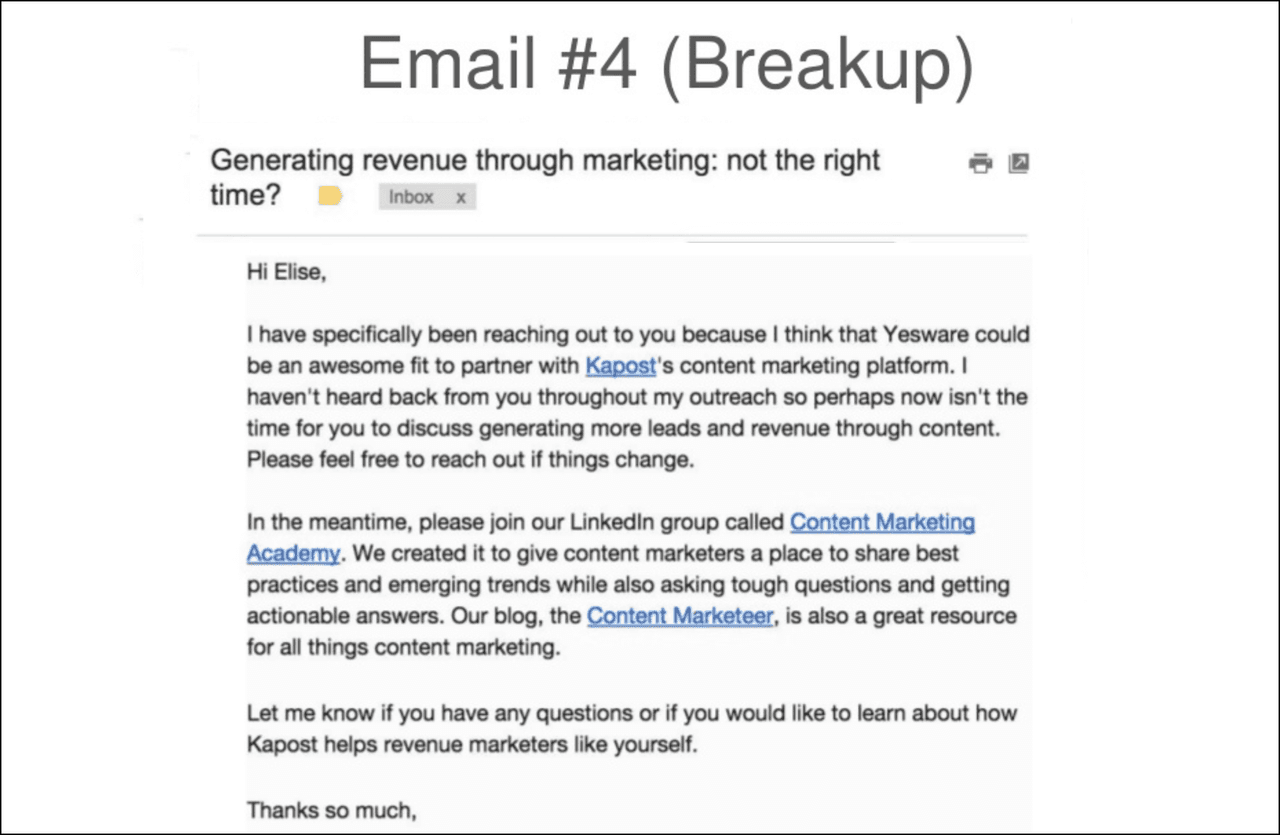 A good rule of thumb is to space each follow-up email in a prospecting email series within one or two days of each other, seeing as any replies will most likely occur within 24 hours of sending. 
5. Neil Patel Keeps Recipients Engaged With Helpful Content Following His Master Class Webinar
After webinars/blog subscriptions/ebook downloads, etc – always make sure all viewers hear from you after. The best way to do this? By continuing to provide helpful content to your audience.
Take a look: Neil Patel does this in an engaging way that hooks readers in. He continues to provide the insights mentioned in the Master Class, linking to the webinar plus more tips and helpful content.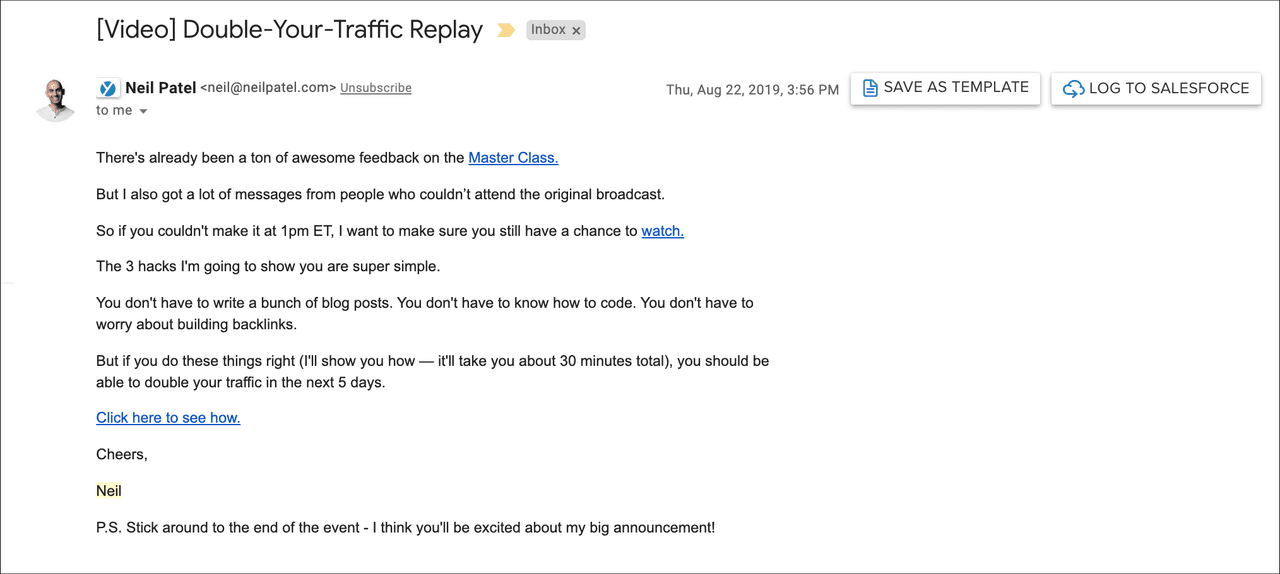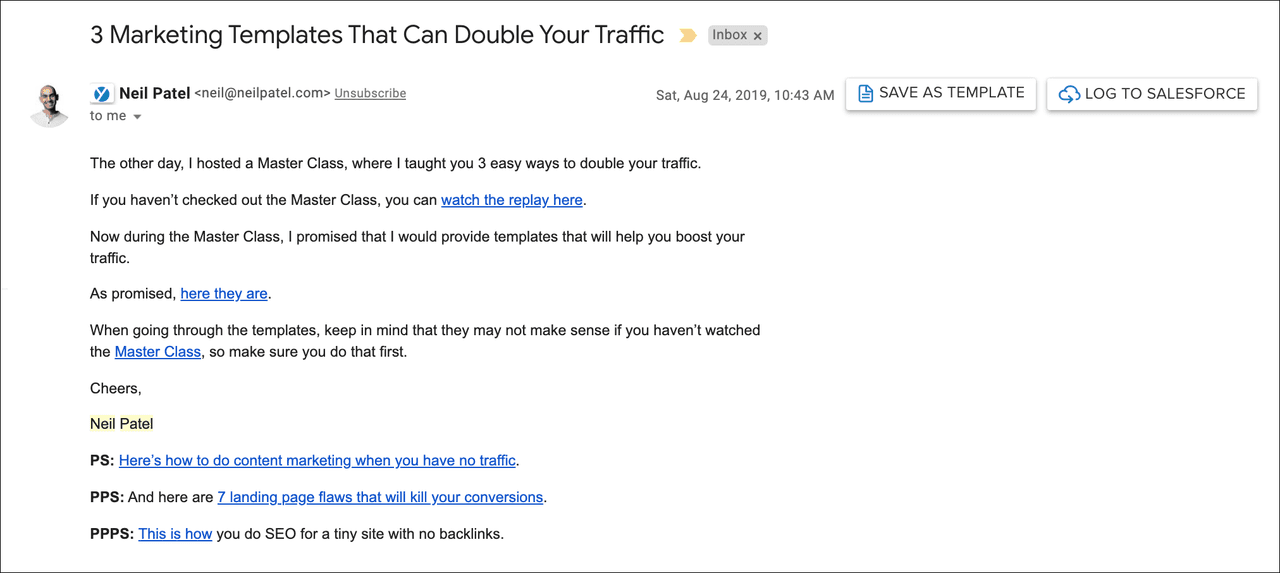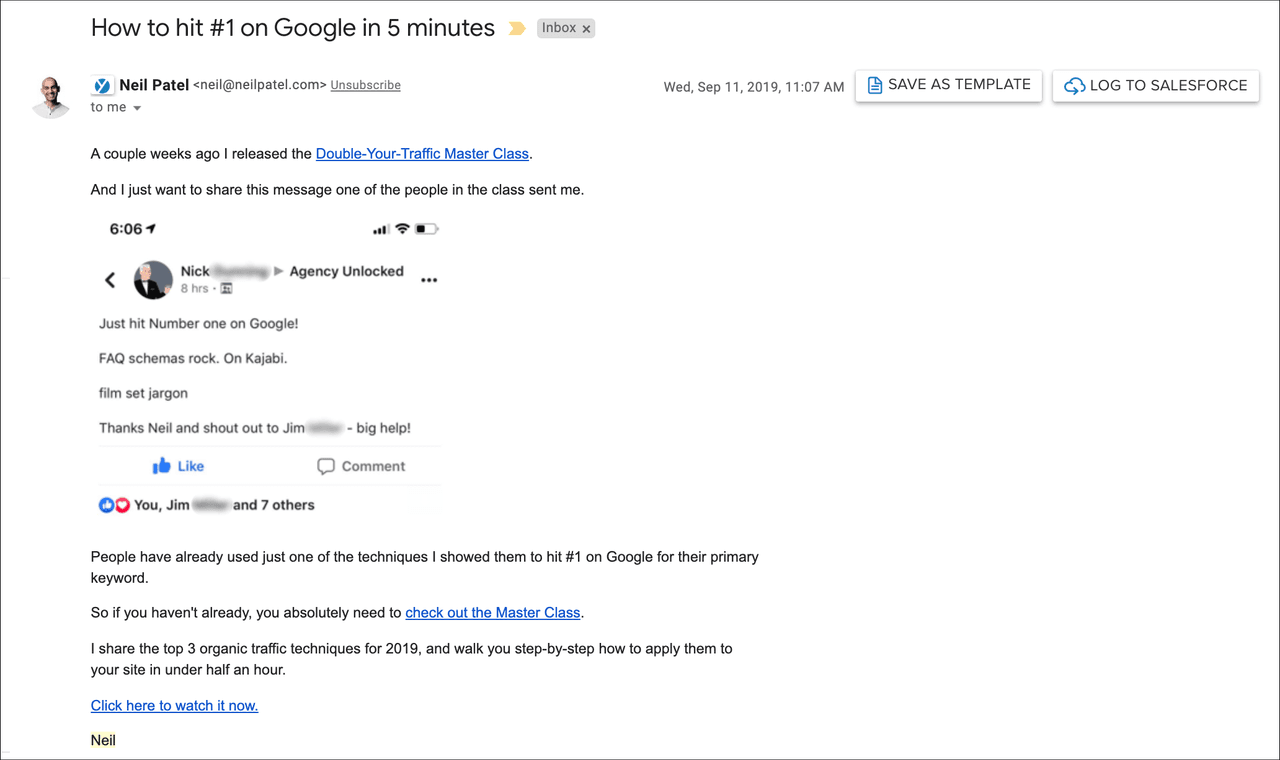 6. Contently Uses Drip Emails To Drive Retention
When someone gives you something or does something nice for you, there's a good chance that you're going to feel obliged to return the favor. This innate desire to even the scales is known as the reciprocity effect, and it can have a profound impact on customer loyalty, advocacy, and retention.
For example, one of the best ways to retain current customers is to help them get more value out of their investment. You can use a drip campaign to share useful information about emerging trends impacting their work, inspiration reasons to use your product, and other helpful resources long after the deal has closed.
By going out of your way to show a customer you care, you make it more likely that they'll feel the need to reciprocate. Each email is a chance to bring them back to your product and retain their business.
Take a look: In a previous Retention drip campaign, Contently sales reps send customers weekly emails sharing blog posts that add value. In this example, Corey keeps it casual and to the point (no automated robot-speak here).

7. LeadGenius Stays Persistent In This Inbound Lead Drip Campaign Example
Inbound leads have a short shelf life. You're seven times more likely to qualify an inbound lead if you follow up within less than an hour, according to research cited in the Harvard Business Review.
But that's not to say it's one shot or nothing. It often takes more than one attempt to connect, qualify the lead, and turn it into a sales-qualified opportunity. The best way to stay persistent is to set up a drip campaign that makes it easy for someone to agree to a call or meeting as soon as possible.
Take a look: This drip campaign example comes from an account executive at LeadGenius. They insert an automatic meeting scheduler in the body of their first email to enable prospects to immediately commit to getting a meeting on the calendar and continue to follow up over the next few weeks.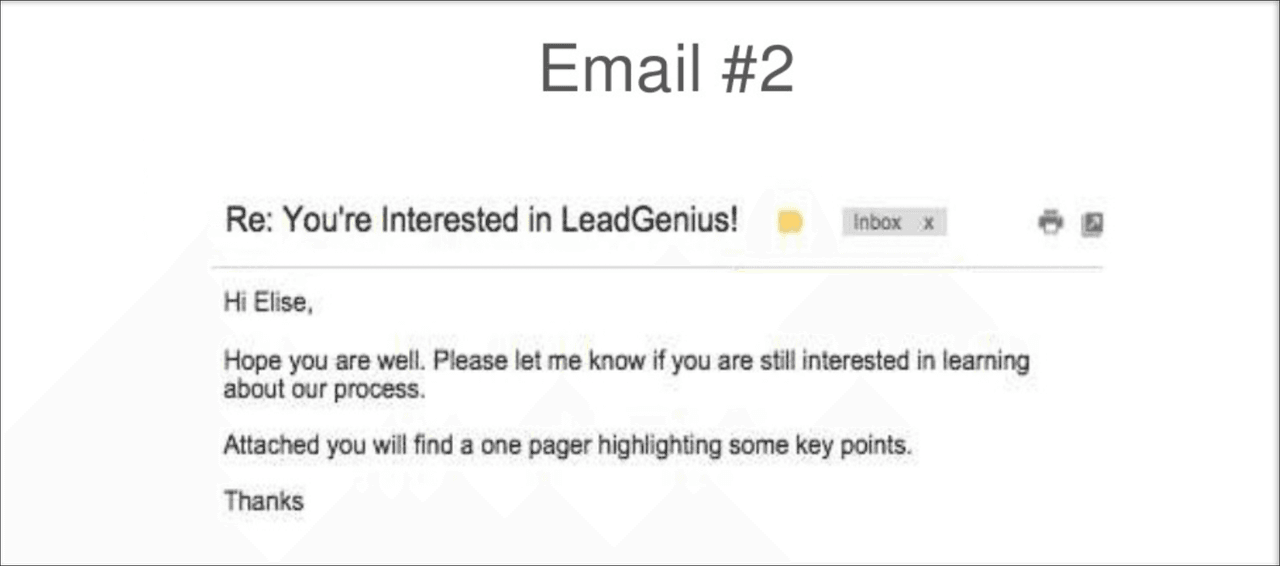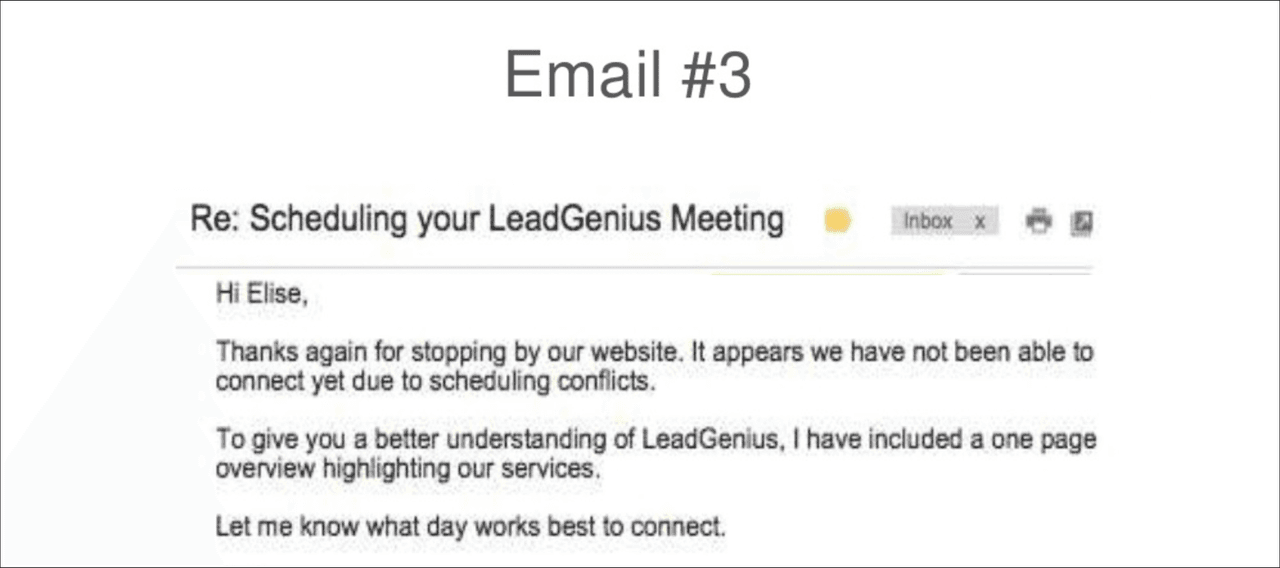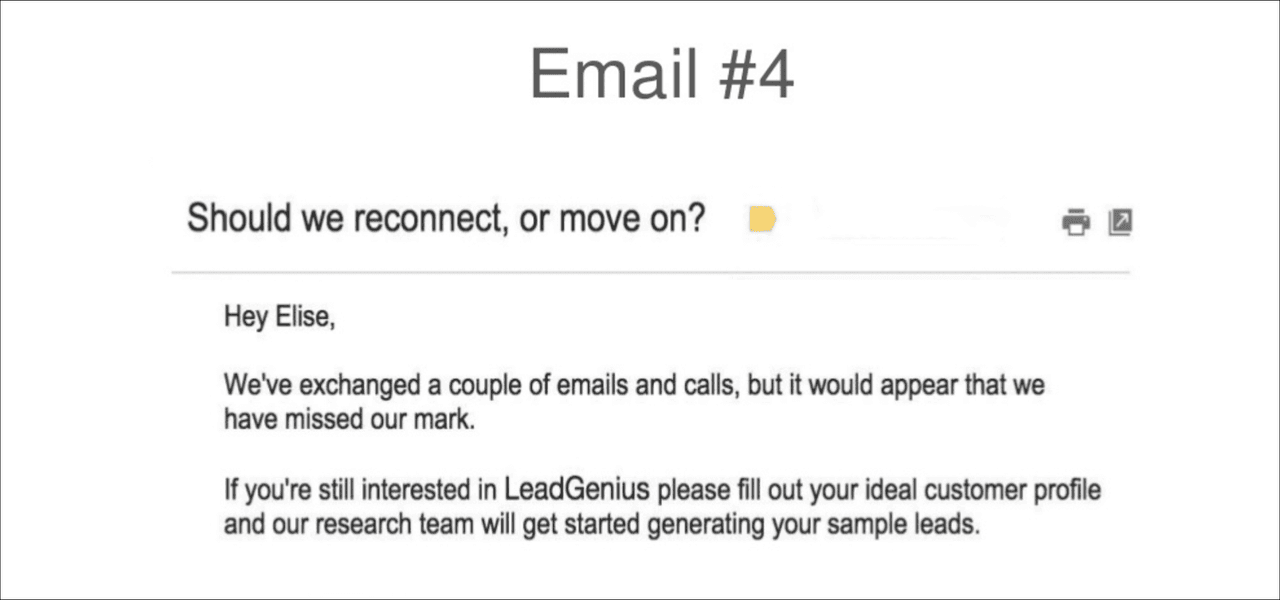 Eliminate the guessworkKnow when recipients read your emails, click on links, and view attachments
8. Yesware Provides Valuable Insights and Helpful Content to Small Businesses on a Trial
When a user starts a trial, it's important to stay top-of-mind and provide them value that will ensure the user makes the most out of their trial. It helps both you and your product/service by providing a helping hand.
Take a look: The emails below not only provide content that will help the user accelerate their experience with your service but also increases the likelihood of them getting on a call to discuss more. Getting users on a call during their trial is extremely helpful for converting them to a customer.
In your last email, make sure to inform the recipient about offers and how to purchase.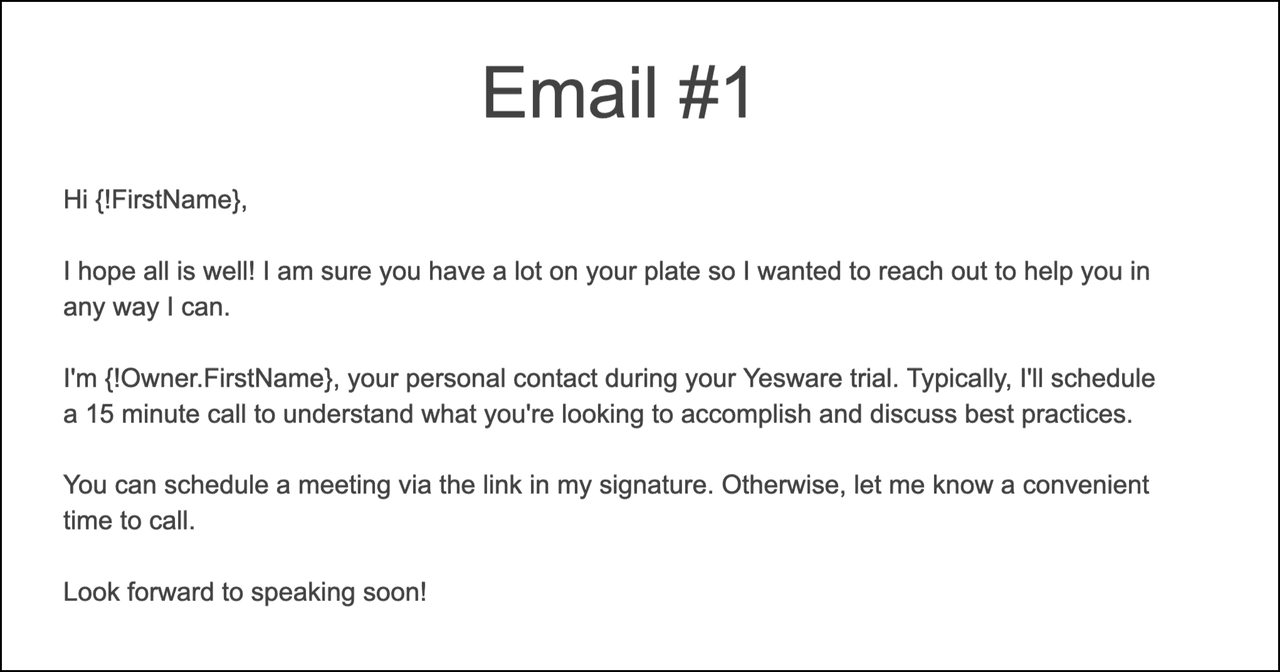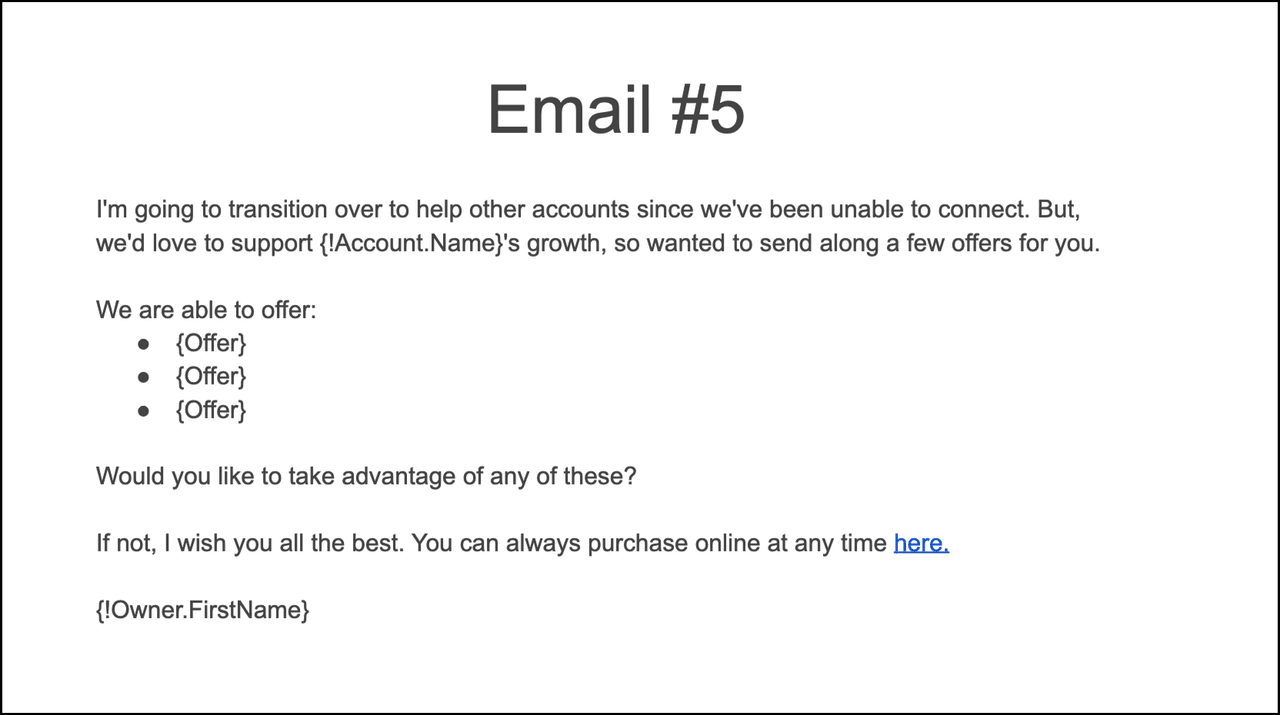 Use These Drip Campaign Examples to Create Your Own
Email drip campaigns present a great opportunity to engage with your customers, generate new leads, and ultimately convert more sales.
Use these examples to help you boost your drip campaigns and apply new techniques to experiment with. Don't be afraid to test out different strategies to see what resonates best.
Every email drip campaign is an opportunity to take your customers on a journey through your brand. When you optimize your messaging and target specific subgroups of your customer base – you significantly increase your chances of turning leads into happy customers.
Get expert sales tips straight to your inbox to win more deals
Related Articles
Sales, deal management, and communication tips for your inbox