How To Improve Your Email Subject Lines: The Top Performing Words Other Sales Reps Are Using
After the 2012 presidential election, former Obama campaigners made headlines when they revealed that their most wildly successful email subject line consisted of a single word: "Hey." By their account, that email alone brought in millions of dollars.
Impressive? Definitely. Could you get away with this subject line? Doubtful.
Especially cold email subject lines.
Drawing on data from over 500,000 sales emails sent by Yesware users, we found that subject lines containing the word "hey" resulted in lower open and reply rates than other common subject line keywords. 
What it means: There's no such thing as a silver-bullet subject line. The best way to understand what makes some email subject lines more or less effective is to study what works for others and then try it for ourselves.
Subject Line Data: Some Words Are Better Than Others
The data reveals that some subject line keywords perform well across the board, resulting in both high open and reply rates. However, other frequently used words weren't so effective. Here, you can see how keyword performance varies by open and reply rate, as well as results for comparable word groups.
Tip: You may be better off asking for a "call", instead of trying to put some time on their "calendar." Both words tend to be used when scheduling meetings, yet we see that subject lines containing the word "call" work best (62% open rate, 35% reply rate), while emails bearing "calendar" perform worse (33% open rate, 10% reply rate).
Find out which subject lines you should avoid (New research from 115M emails).
Yesware's research also found that subject line length did not have a significant impact on email open and reply rates. Looking at data drawn from two anonymous companies in the graphic below, we can see that there is no specific pattern that points to any particular word count outperforming others. It's all over the place.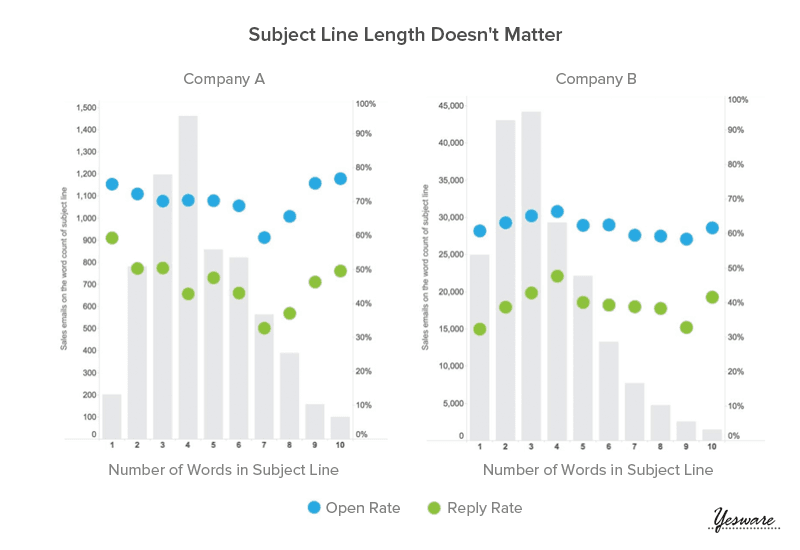 Next Steps: Start Building Your Own List Of Go-To Subject Lines
Try including some of the most effective subject line words mentioned above in your emails to see how they impact open and reply rates.
You can perform an A/B test of your own subject lines using Yesware's template reply reports to track opens, link clicks, and gauge email effectiveness.
This is the second post in our ongoing series sharing new Yesware data insights to help you sell smarter. Catch up on all the posts here.
Get expert sales tips straight to your inbox to win more deals
Related Articles
Sales, deal management, and communication tips for your inbox