February Product Newsletter 2020
[et_pb_section fb_built="1″ _builder_version="3.22.2″][et_pb_row _builder_version="3.25″][et_pb_column type="4_4″ _builder_version="3.25″ custom_padding="|||" custom_padding__hover="|||"][et_pb_text _builder_version="4.9.0″]
Link Click Engagement Report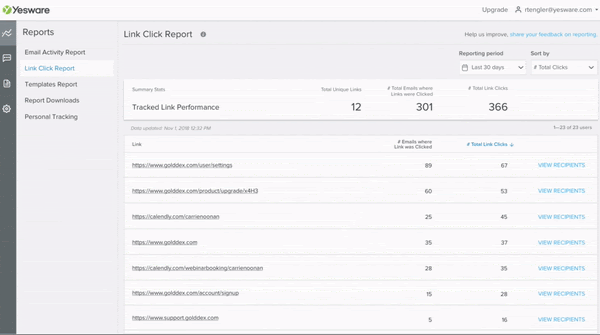 The all-new Link Click Engagement Report tells you which of your links are getting the most recipient engagement. This vital addition to Yesware Reporting also allows you to view which recipients are engaging with your links and how many times they've clicked each one so you can better customize your follow-up.
Want to start a free Yesware trial? Sign-up HERE or contact support for a bonus free trial today.
Report Downloading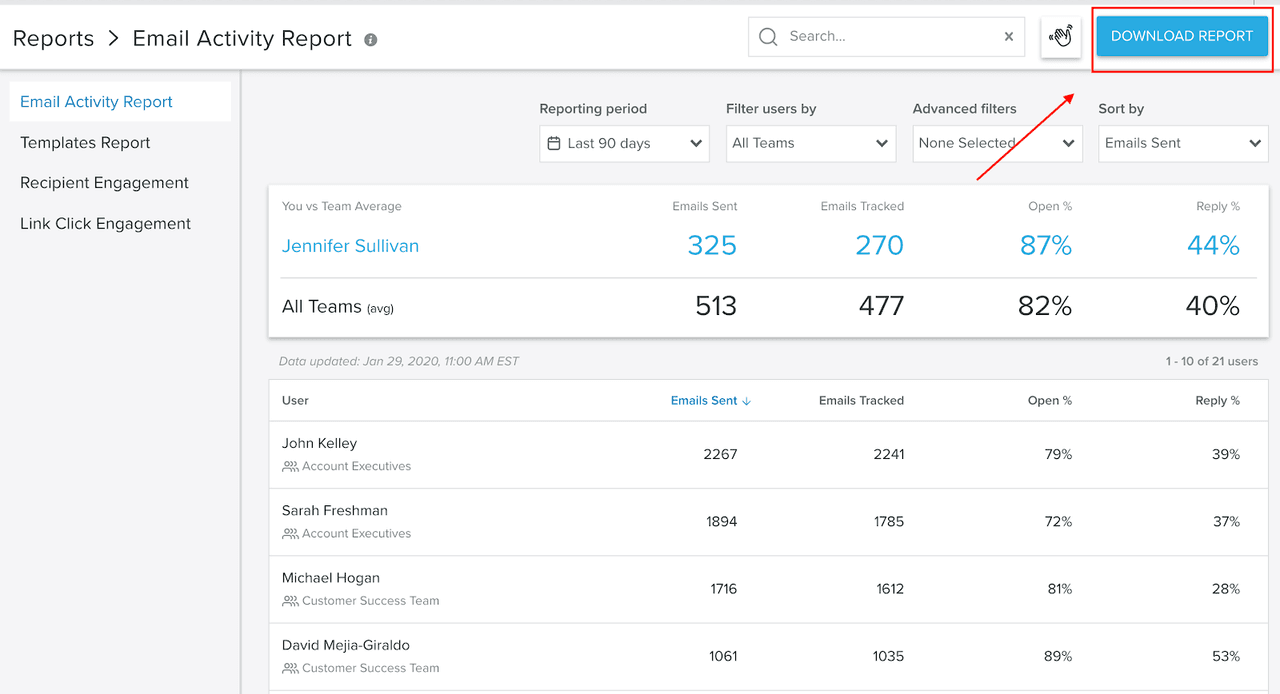 Also new to Reports is the ability to download your Email Activity Report, Templates Report, Recipient Engagement Report, and Link Click Engagement Report.
This functionality will give team members and team leaders the ability to quickly share and analyze their team's performance metrics, providing a deeper understanding of where the team is succeeding and what areas need more attention.
Add Recipients to Campaigns from an Email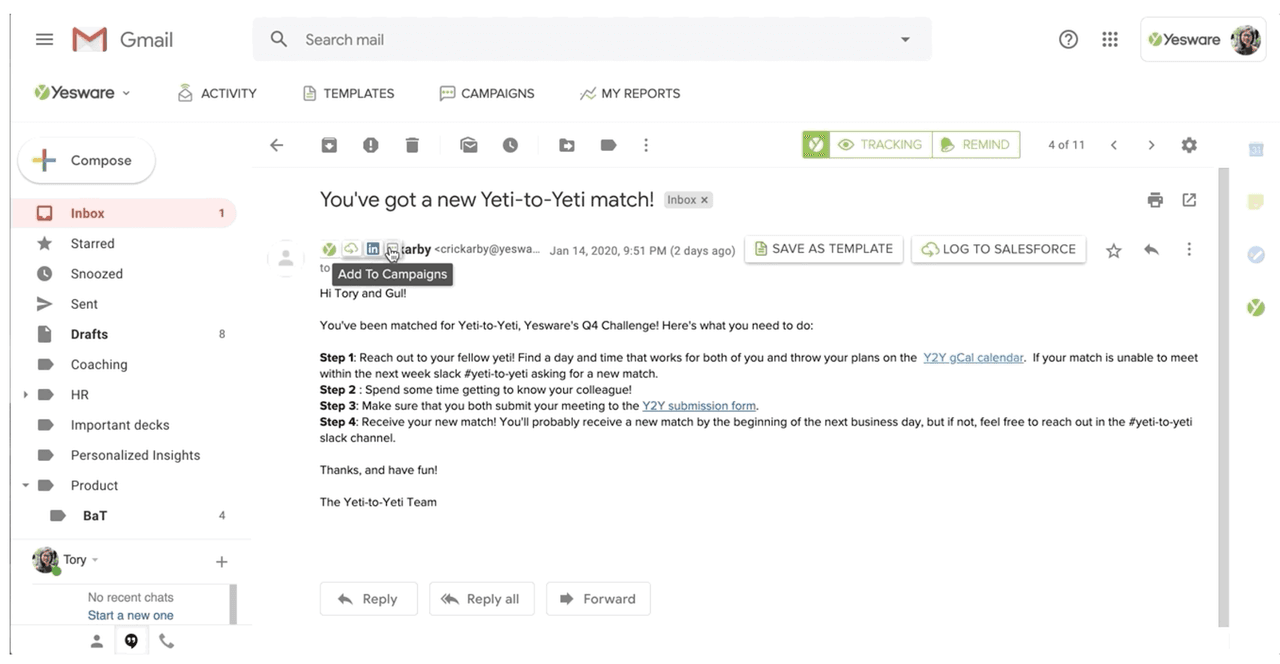 In the new Yesware menu within each email, you'll now see a brand new Campaigns icon. Click this icon to quickly add recipients to your best-performing Campaigns so you don't forget to follow up. Just another way Yesware works where you work – right from your inbox.
Coming Soon: Spam Risk Flagging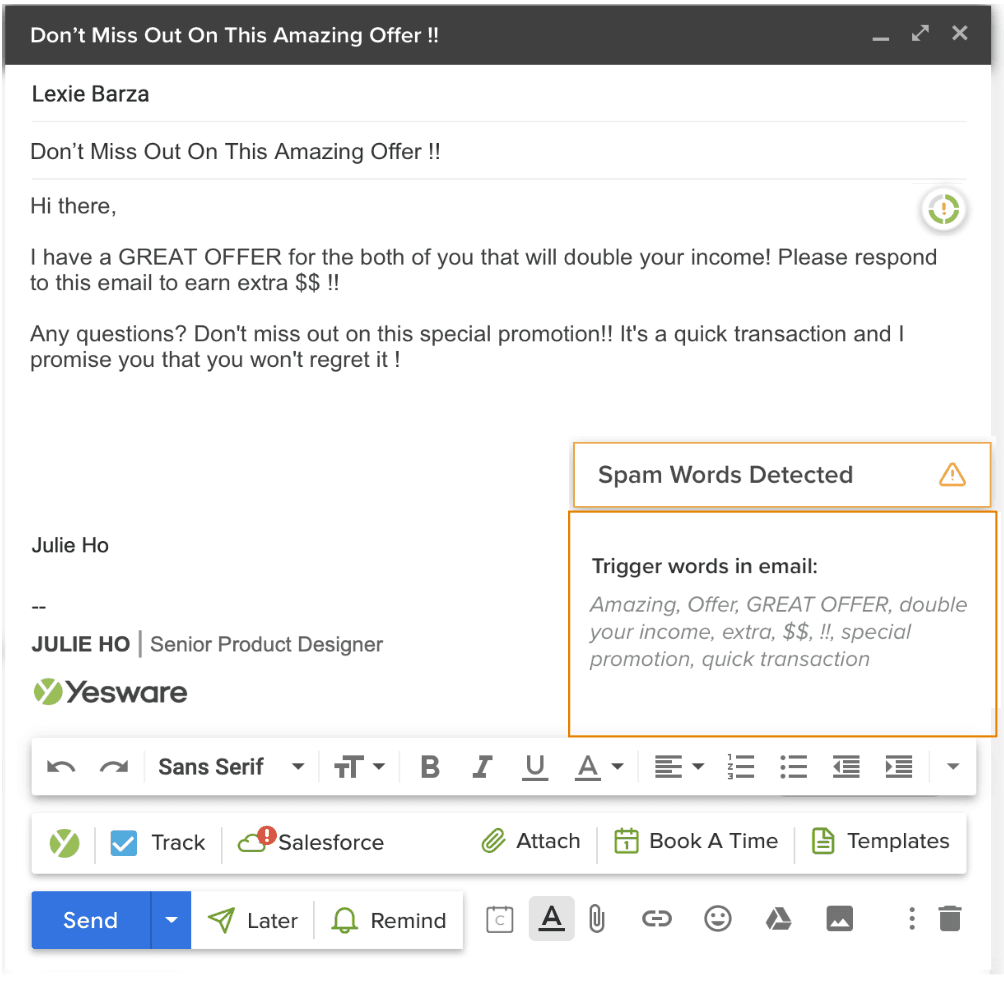 We want all of your emails to land in your recipients' inbox. But with over 100 billion consumer emails being sent every day, spam filters are getting harder and harder to avoid.
That's why we've developed a spam flagging feature that will notify you immediately when the content of your email is at risk for getting flagged as spam. This new feature provides a safeguard for all users and ensures your content is getting seen.
Join a Live Product Training
REGISTER NOW to attend a LIVE product webinar. Whether you use Gmail or Outlook – we got you covered.
Review US On G2 Crowd!
We'd love to hear your feedback on our non-tracking features. Try them out and leave us a review on G2. We appreciate your feedback!
[/et_pb_text][/et_pb_column][/et_pb_row][/et_pb_section]
Get expert sales tips straight to your inbox to win more deals
Related Articles
Sales, deal management, and communication tips for your inbox