March Product Updates 2019
[et_pb_section fb_built="1″ _builder_version="3.22.2″ custom_padding="14px||25px|||"][et_pb_row _builder_version="3.25″][et_pb_column type="4_4″ _builder_version="3.25″ custom_padding="|||" custom_padding__hover="|||"][et_pb_text _builder_version="4.9.0″ hover_enabled="0″ sticky_enabled="0″]
We're lucky to have you as a customer and we want to show you how much we appreciate you…
This month is all about saving you time so you can focus on having authentic conversations and closing deals.
-Inessa
Now Live: Template Attachments
Adding attachments to Templates is now a reality.
To send attachments at scale, head to the Yesware App Site and create a New Template, then add an attachment by clicking on the paperclip icon.
Add these Templates to your next email or Campaign to send your sales collateral to all of your prospects at once.
Now Live: Campaign Personalization
While Templates are massively useful in scaling your messaging, some Campaign touches require additional personalization. With Yesware, you can easily change the subject or copy of a Campaign Touch to customize messaging for individual recipients.
To help you see how much you're personalizing your messaging (and how effective this is), you can leverage the Custom Content column under the Recipients tab for any Campaign.
You'll see an asterisk next to any recipient for whom you've personalized messaging (using Preview and Customize). Hover over the asterisk to see which touch you personalized.
Coming Soon: Sync all Contact/Lead Activity on any device with Background Sync
Life as a salesperson is fast-paced… You're sending emails on weekends, during your commute, and on your way to client visits – all away from your desk.
With Background Sync, you'll be able to send a message (from your email address linked to Yesware) to any contact or lead in Salesforce, and we'll make sure the message gets synced, whether you're on your phone/tablet, at home or on the go.
With Yesware, you can focus your time on having authentic conversations with your customers, instead of spending time on administrative tasks.
To, enable, please reach out to your Customer Success Manager who will activate the feature under your Global Policies.
Updated Preferences make it easy to customize Yesware to your needs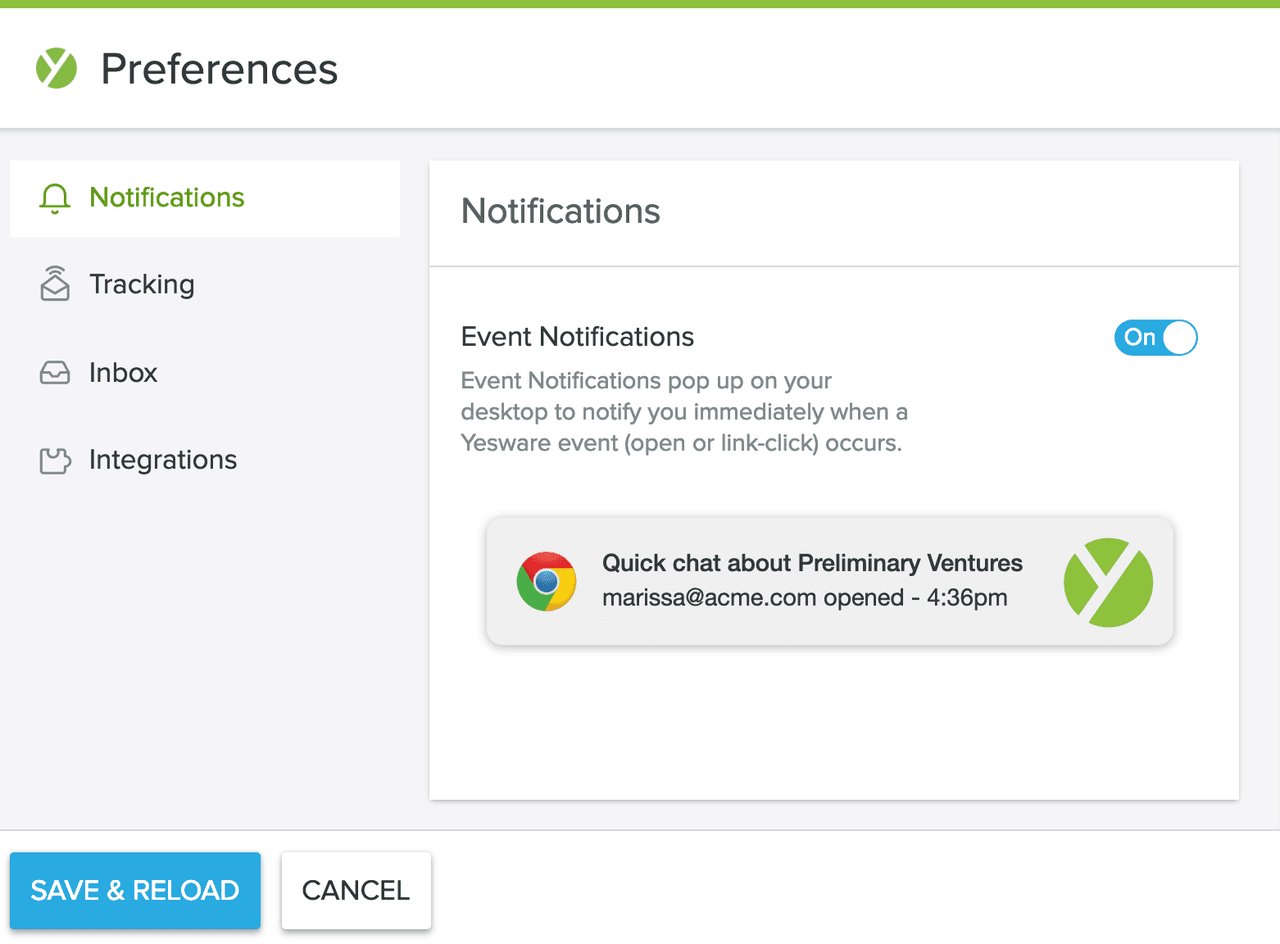 We want to make Yesware work for YOU.
With the redesigned Preferences, you can easily customize Yesware to fit your needs, and to give you the control. We want to make setting up Yesware as Seamless as Possible.
Using Preferences, you can configure:
Notifications
Tracking
Inbox
Integrations
More robust reporting empowers you to work smarter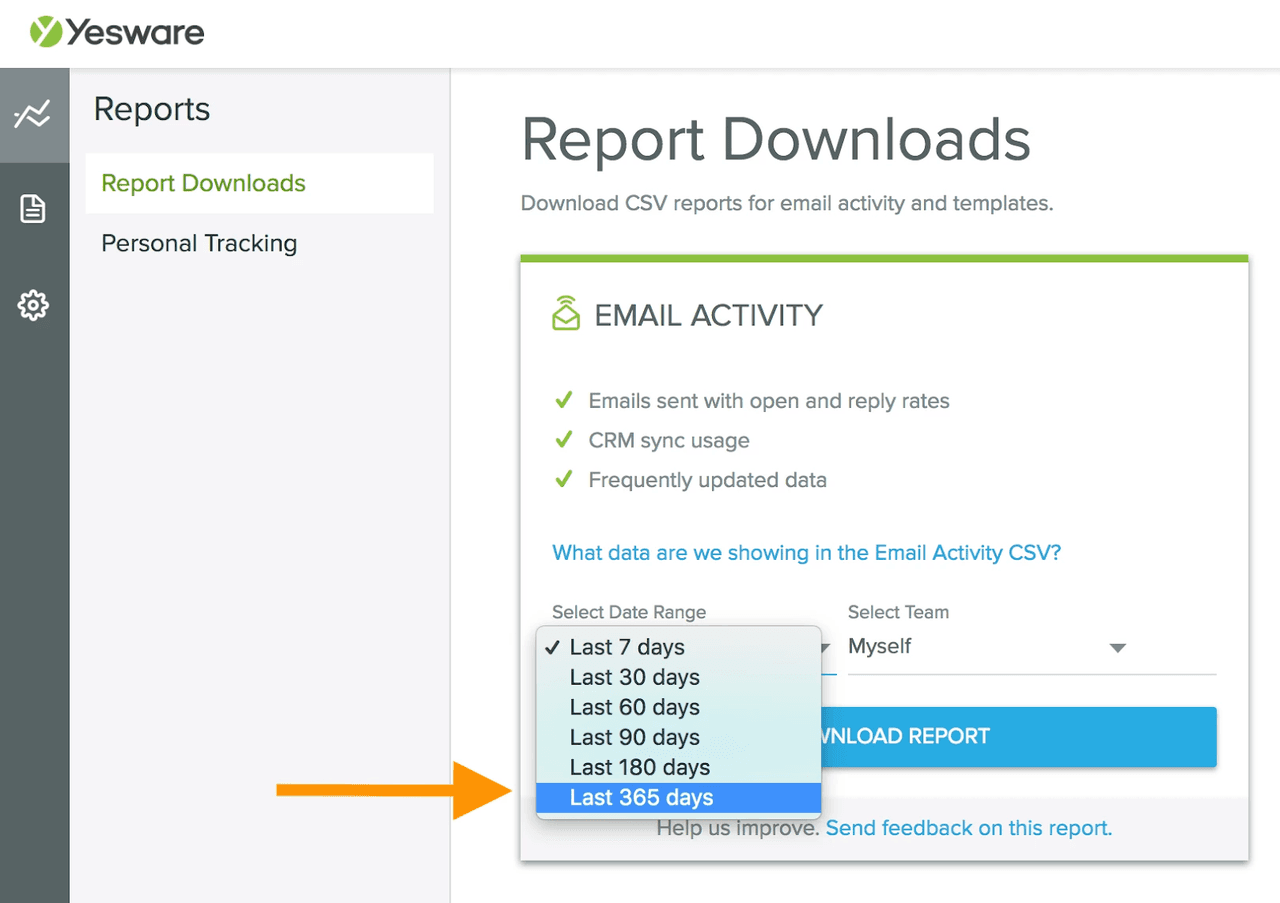 Knowledge is power…
So we're empowering you with the insights you need to work smarter and better.
With Report Downloads, you'll now be able to see Attachment Tracking stats (e.g. for PDFs, word documents, etc), specifically:
Number of Emails Sent with Tracked Attachment
Number of Emails with Tracked Attachment Viewed
Percent of Emails with Tracked Attachment Viewed
This allows you to get a better sense of which content is resonating so that you can iterate and get better.
We're also now showing the last 365 days of data in Report Downloads. By being able to see reporting over time, you can keep your content organized and relevant.
Attend a Live Webinar
REGISTER NOW for a live webinar or check out our recorded content like our newest Yesware Overview below.
[/et_pb_text][/et_pb_column][/et_pb_row][/et_pb_section]
Get expert sales tips straight to your inbox to win more deals
Related Articles
Sales, deal management, and communication tips for your inbox