14 Out of the Office Message Examples for 2021
Out of office messages are autoresponder emails that usually go something like this:
"Hi there, I'm out of the office until DAY OF WEEK, DATE, with limited access to email. If you require immediate assistance, please email […]"
But they can be so much more. You can use them as a tool to show your personality, generate leads, and entertain your audience.
Let's look at some unique and personable out-of-office messages that you can use as inspiration next time you set automatic replies, for different occasions.
Accelerate resultsMake every email the best you've ever written
Vacation Out-of-Office Message Examples
Our brains love surprises. What's more, research has shown that small surprises that feel like they were "just for you" can spawn some incredibly strong goodwill from the receiver.
Next time you go on vacation, try surprising your customers with an out-of-office message that breaks the mold. Here are four of our favorite examples of out-of-office messages for inspiration.
1. Include a poem in your out-of-office message
Write a poem.
Below is an example from our Product Education Manager (Note: she truly raised the bar for writing out of office messages):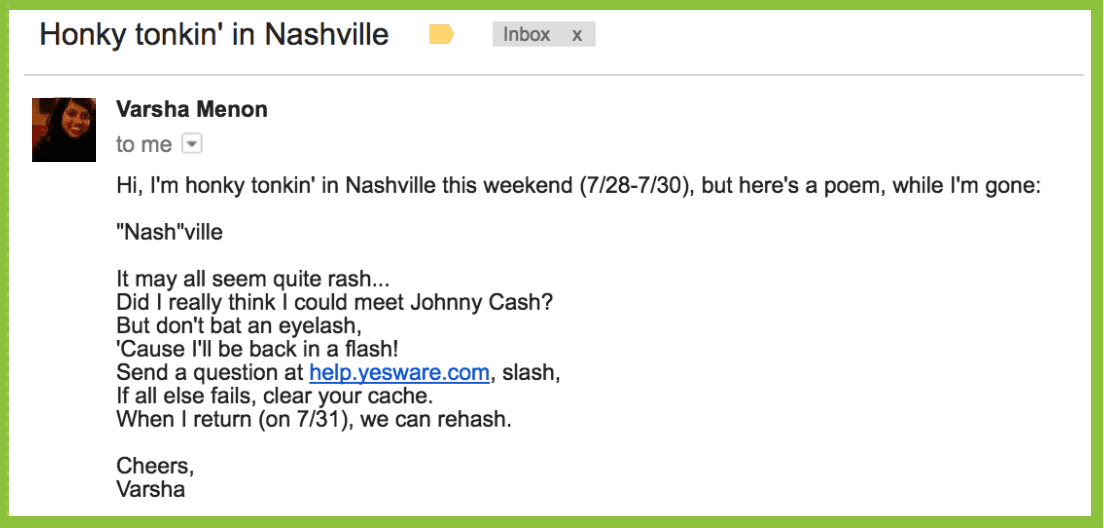 2. Include a GIF to make your auto-response more fun
Everyone can appreciate the excitement of pushing work aside to go on vacation.
Bring this to life by linking to a GIF in your vacation responder message. Here's an example out of office reply:
Shoot, you just missed me. I wrapped up everything at the office and am off on vacation until Monday, 12/26.

Here's a snapshot from my last day in the office.

Anyway, if your question or favor can wait, great. If not, do me a favor and forward your urgent matters to marketing@yesware.com and you'll be well-treated.

Thanks,
Not only are you giving your recipient something they can relate to with humor, but a GIF makes your message memorable. As Moz explains, "There's an emotional component to a great GIF that mainlines sentiments straight through the cerebral cortex."
3. Funny out-of-office messages to remind others you're on vacation
When to use: If you're absolutely unavailable but you want to deliver some humor with your message.
Below is an out-of-office message example from our former head of marketing, for his time away at Burning Man. Notice the picture that he includes–it's strategically placed. The picture superiority effect teaches us that including an image with text increases a person's information recall two days later by 55%.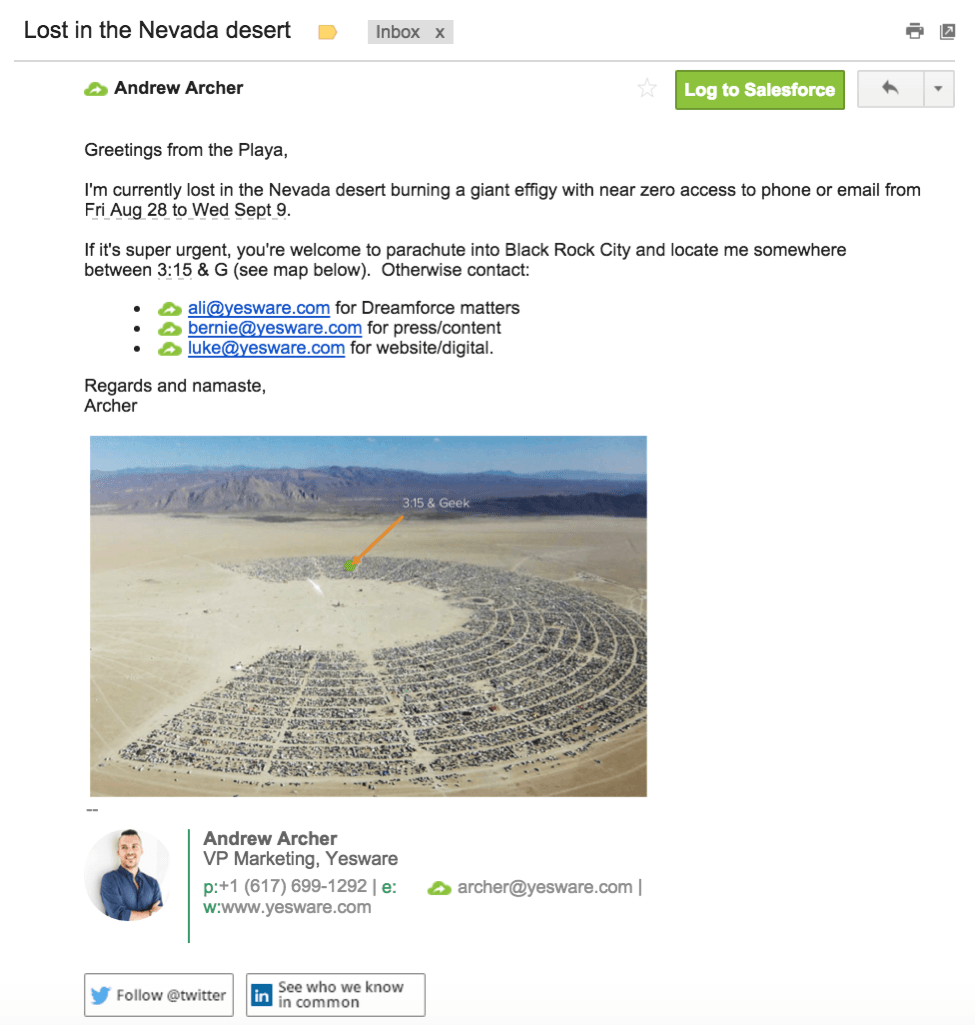 Like the sign-off at the end? Give your own email signature the same makeover in seconds.
4. Include a photo of an animal so your out-of-office message sticks
Research out of Hiroshima University found that looking at animal pictures actually increases focus and productivity at work. Including a photo (or two) could help create a positive attitude toward you and increase the likelihood that they remember your email.
Here is an out-of-office message example using baby animals to attract your attention: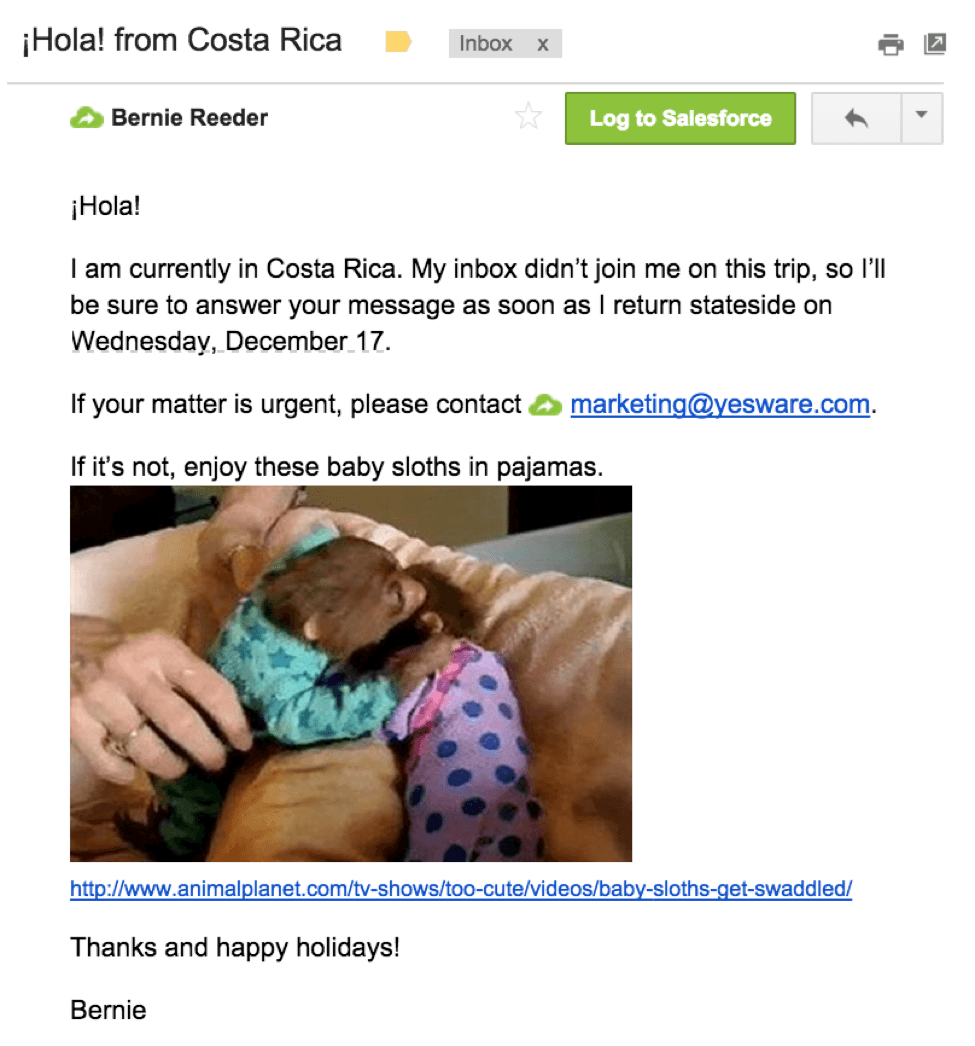 Make all emails home runsDon't stop with the perfect out of office message
5. Acknowledge your colleagues in your out-of-office
Is someone covering for you while you're gone? Acknowledge how awesome they are for helping you out. A few kind words can go a long way — especially if you receive an email from an important customer or prospect while you're gone and are directing them to your colleague's email address or phone number.
When you compliment your coworker who will receive requests in your absence, it has a two-fold effect.
It makes that person look trustworthy in the eyes of the reader (and likely strengthens your working relationship)
It shows your reader that you're kind-spirited and a team player
It directs them to whom they should bring urgent matters
Here's one such out-of-office email example (we received it from a blog subscriber in response to an email we sent):
6. Make your message memorable with emojis
Emojis are officially a language unto themselves, and they'll help you catch the attention of whoever has sent you an email.
Using your Out-of-Office Message for Lead Generation
Your out-of-office message may be read by someone who already knows you, is actively reading email, and wants something from you. Sounds like a great time to share content that helps build trust and drive more sales.
7. Sign up for our course via this autoresponder
Below is an out-of-office message example from our own team, linking to our free 7-day course on sales prospecting. Unsure of what resources you should be linking to? Try checking in with your marketing team about new collateral worth highlighting.
8. Working the sales funnel with an offer in your out-of-office
We love this example from Upserve's Director of Marketing, Jesse Noyes. He knows his audience, anticipates what people are emailing about, and provides lead-generating content that offers immediate answers to questions.

Business Trip Out of Office Message Examples
Traveling for work might be a standard part of your job, but it doesn't mean your email can't be unique.
9. Connect with conference-goers using your autoresponder
If you're traveling to a conference that you expect many of your contacts to be at, too, then use your out-of-office message as a networking opportunity. By including some information about your trip and your phone number, you may be able to network with colleagues you may not have expected.
Here's a great example from our Sales Consultant Blair Lineham: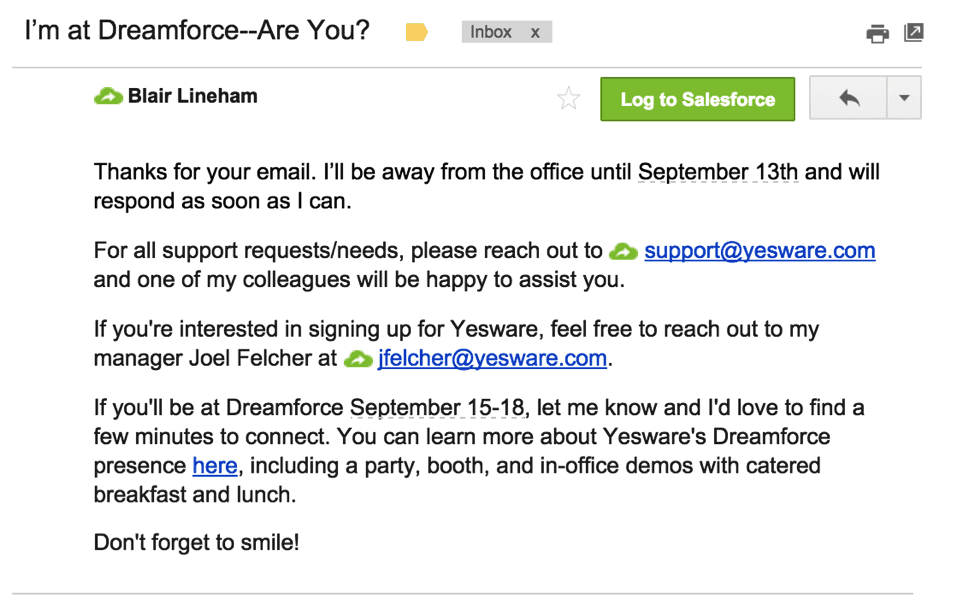 Tired of re-writing the same emails? Save those gems as Templates today
10. Use your autoresponder as a cold email
Remember the AIDA cold email formula? It also works as an out-of-office reply by captivating your reader's attention all the way through to the call to action.
Here's a great example of how this works from Ann Handley of MarketingProfs. Ann begins with a rhetorical question that grabs her reader's attention and builds interest with her subsequent details and fun facts. She then creates desire with the way she describes the conference and lists a call to action with the conference website and a link to her Instagram account.
Pro tip: To make sure you don't forget to set an OOO for your next confirmed trip(s), take 5 seconds to schedule a Send Later email to remind yourself. Schedule it for your last day of the office, and we'll place it at the top of your inbox at the best time for you.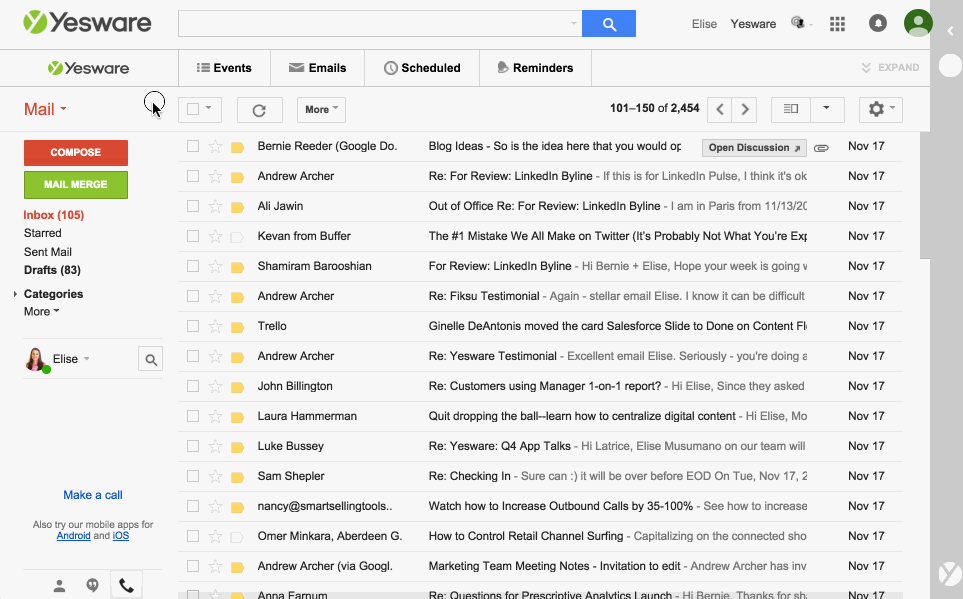 Funny Out of Office Examples
These final funny out-of-office examples are purely for entertainment. A little humor can go a long way with building rapport with your network.
11. Add a reference or joke to your message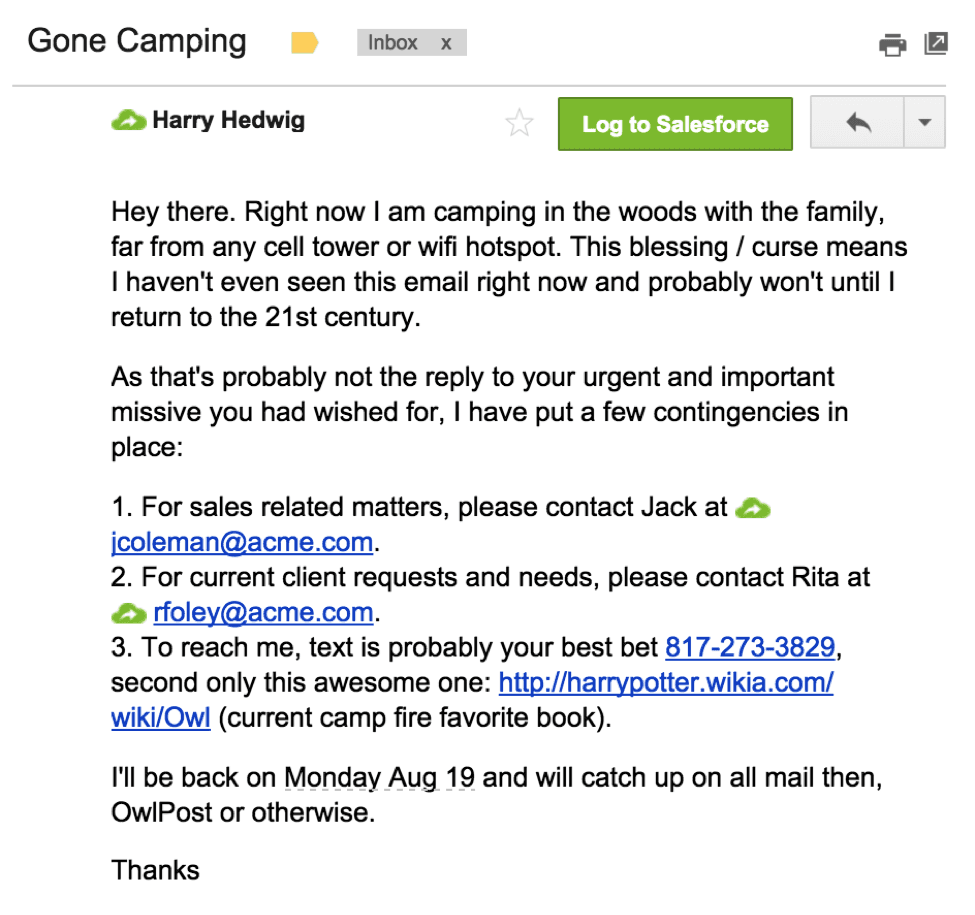 12. Use a fun fact in your autoresponder to let people get to know you
Have some interesting facts up your sleeve? This one's for you.
Behold @christerickson's out-of-office email response pic.twitter.com/Rx905Ds5WE

— Brian A. Hernandez (@BAHjournalist) July 11, 2014
13. Use your autoresponder to remind people you are human

TL;DR Robots > Humans.
Best out-of-office auto email reply ever. pic.twitter.com/OY66YEV28n

— Jim Julius (@jjulius) July 31, 2014
Free For The Taking: 8 Out-Of-Office Email Templates
Ready to write your own, but not wanting to start from scratch? Here are 8 examples to copy and paste (then customize).
We surveyed our team, did some research, and asked around to compile the top 8 out-of-office email examples.
Next time you find yourself on the cusp of vacation or a work trip, consider these out-of-office email template examples. Copy and paste as you like.
1. Not All Heroes Wear Capes
Subject: I'm Out, But My Colleague Is In

Thanks for your email. I'm currently on holidays with my [friends/family] for the first time in (what seems like) forever.

For urgent matters, [first name of colleague] will help you. [S/he] doesn't have a cape, but [s/he] is basically super[man/woman].

[Your first name]
2. Smoke Signals Welcomed
Subject: Bonding with Nature

I am out of the office and bonding with nature from [date of departure] to [date of return]. I have little to no cellphone service and no wifi. Smoke signals are the most reliable form of communication.

[Insert colleague or team's contact information].

Thank you, and if your matter isn't urgent, I will talk to you on [date of return].
[First Name]
3. Fun Facts
Subject: Not here but facts for you

Hello! I am off for the week—gone from [Day of week departing] to [Day of week returning] with limited access to email. If you require immediate attention, please contact [colleague name] at [colleague email address].

If not, here are some facts that you might find interesting, before I return:
[Fun fact 1] [Fun fact 2] [Fun fact 3] [And so on] [Your first name]
4. Adorable Animal
Subject: Out of Office But

Hello! I am off for the week—gone from [Day of week departing] to [Day of week returning] with limited access to email. If you require immediate attention, please contact [colleague name] at [colleague email address].

If not, then please enjoy this [picture/video] of an [type of animal] [action it's doing]:

[Image/video here] [Your first name]
5. Expect Delays
Subject Line: Will Reply, But Expect Delay
Hello — I'm out of the office today [doing X]. While I will be able to answer you today, please expect a slight delay. For anything urgent, please contact [team distribution email].
6. Conference Connection
Subject Line: I'm at [Conference Name], Are You?

Thanks for your email. I'll be away from the office until [date returning] and will respond as soon as I can.

For all support requests/needs, please reach out to [team distribution email] and one of my colleagues will be happy to assist you.

If you're interested in signing up for [your product or service], feel free to reach out to my manager [First Name Last Name] at [manager email address].

If you'll be at [conference name] [Month gone, date leaving – date returning], let me know and I'd love to find a few minutes to connect. You can learn more about [your company name]'s [conference name] presence ["here" — hyperlink applicable landing page], including [X], [Y], and [Z].

Don't forget to smile!
7. I'm On a Plane
Subject Line: Out of Office: [Day of Week You're Out, Date]

Hi,

Thanks for reaching out.

I will be out of office on [Day of Week], [Date] with limited availability (depending on the plane's internet!).

I'll respond to your message as fast as possible, and/or you can call my cell phone and leave a voicemail at the number in my signature. In the meantime, please contact [colleague name] at [preferred method of contact].

Have a great day!
8. Lead Gen
Subject Line: Helpful Content While I'm OOO

Hey there,

This message is automated because until [date return] because [reason you are out of office]. I'll get back to you when [something pithy here or a simple "I return to the office"].

Did you email me about [your company's realm of expertise]? Well then, no need to wait. Get our [piece of lead gen content–insert link here] now.

Talk soon,

[First Name]

Here
Want to file more than one for the future? Good news: you can stash them right in your Gmail or Outlook inbox.
---
Originally published October 16, 2018, updated October 2020.
Get expert sales tips straight to your inbox to win more deals
Related Articles
Sales, deal management, and communication tips for your inbox