7 Sales Techniques With Proven Success [Updated 2021]
Salespeople are always looking for new and effective sales techniques. With the rapidly changing sales space, these techniques are evolving constantly.
But there are some methods that are tried-and-true.
We compiled 7 proven sales techniques that have consistently yielded results to help you close deals faster. These techniques, backed by science, will help you build trust and break down barriers in the sales process.
Our 7 Tried-and-True Sales Techniques
1. The 1-2-3 Close
When you're writing a sales email trying to convince a complete stranger to take action, it is important to build rapport and convey value.
This strategy is a simple way to turn on persuasion. You use a list of three to convey a main point. It could be three words separated by commas, or more complex phrases sorted by bullets or numbered lists.
Some ways to use this sales technique: 
Identify three pain points your recipient has.
List out three end-picture benefits of your product.
Mention three of your top customers.
See what I did there? It's a 1-2-3 close in action!
Why it works:
It's the charm of three. People like patterns, and three is the quickest pattern a person can find. A study by UCLA also found three to be the perfect number in settings like sales emails where consumers know that the message source has a persuasion motive. Anything above three sparks skepticism from your prospect.
Example:
Save emails as templatesReady-to-go messaging for the entire sales cycle
2. The Similarity Close
Telling a story is something we all learned to do at a very young age. This sales technique takes that skill and applies it to an email.
You bring your prospect through a journey similar to their own to show that their challenges are solvable.
Here's how:
Identify your prospect's job title, responsibilities, and industry.
Think of a customer contact or account that was in a similar situation.
Find one pain point that the customer had that your prospect could relate to.
Tell the story in a way that you present the problem and then the solution.
Why it works:
Research shows that when we possess characteristics similar to a character in a story, it helps us easily identify with the character and drives persuasion. According to author Erik Luhrs, "In sales situations, stories allow the subconscious mind of the prospect to truly 'get' and see the valuable application of the solution."
Example:
3. The Testimonial Close 
Happy customers breed new customers. Use this as a sales strategy and show your prospects that your product works for others.
Instead of stating what your company can do, show what you've already done for others. This makes your email more persuasive in two ways:
It moves from hypothetical language to true results.
It transfers the perspective from you touting your own services to a peer validating you.
Here are a few different ways to do this:
Link out to a written or video customer testimonial for your prospect to see firsthand.
Include a customer quote with their company name and job title.
Tell a story about a customer using the BAB or PAS cold email formulas. If you do this, make it very clear what the initial problem was, and have a specific role at the customer account validating the metrics that you're including (check out examples here).
Why it works:
According to research, third-party product reviews are 12 times more trusted than product descriptions from the companies themselves. People trust their peers, not vendors with sales motives.
Example:
Yesware employees include customer testimonials in their email signature. This is an easy way to work the power of the testimonial close into every outgoing email you send, without having to do the work each time.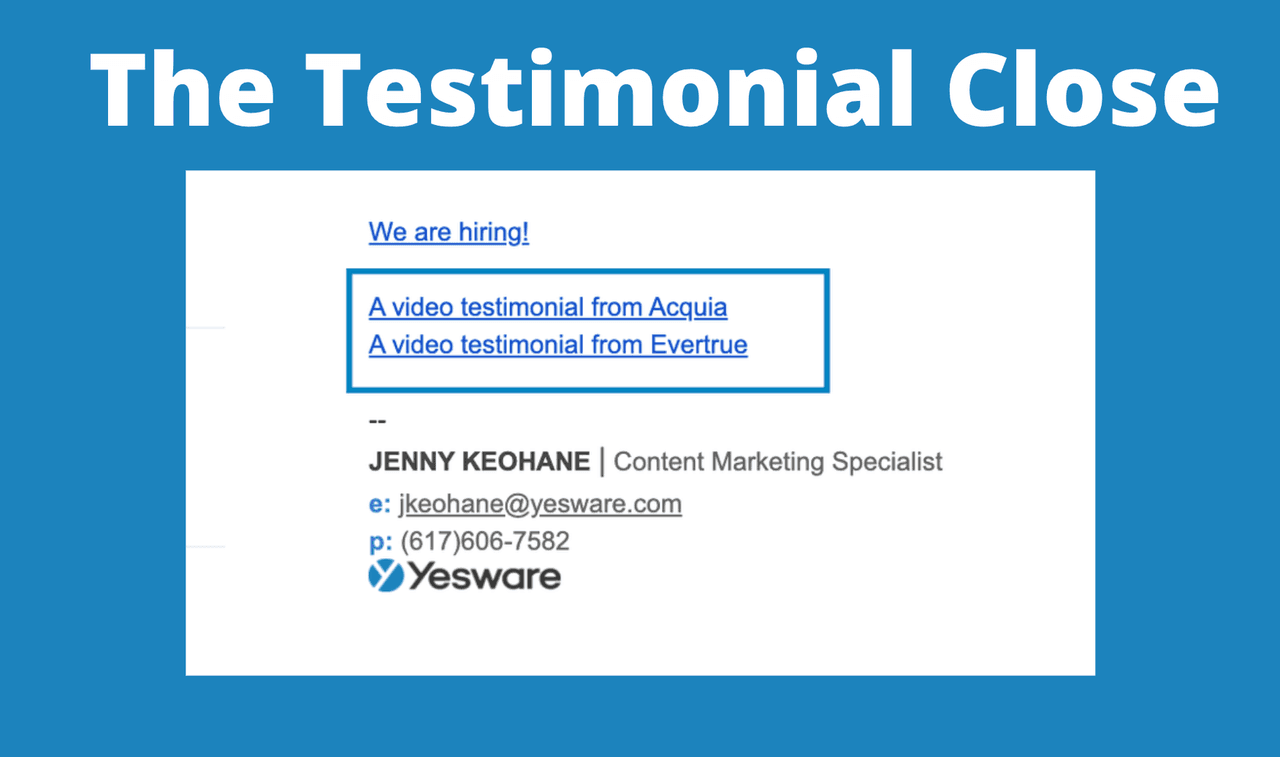 Know when recipients click on linksGauge the interest level of your prospects
4. The Emotion Close
Emotions unify all human beings, so why not appeal to them through the selling process?
Instead of relying solely on the facts and figures, take a step back and think about feelings.
Here are some applications for this sales technique: 
Look for recent personal or company accomplishments, and send along your congratulations. A recent study indicates that insincere and genuine flattery are equally effective, meaning that if your compliment is forced, it still works to your advantage.
Let them know you're thinking of them by offering articles they would enjoy.
Find an uncommon commonality such as having the same birthday, initials, or alma mater.
Why it works:
As human beings, we're driven by emotion. According to Harvard Business School professor Gerald Zaltman, 95% of our purchase decisions take place unconsciously. Emotion is an innate, powerful, and principally unconscious process. The decisions we make are easily persuaded by them.
Example: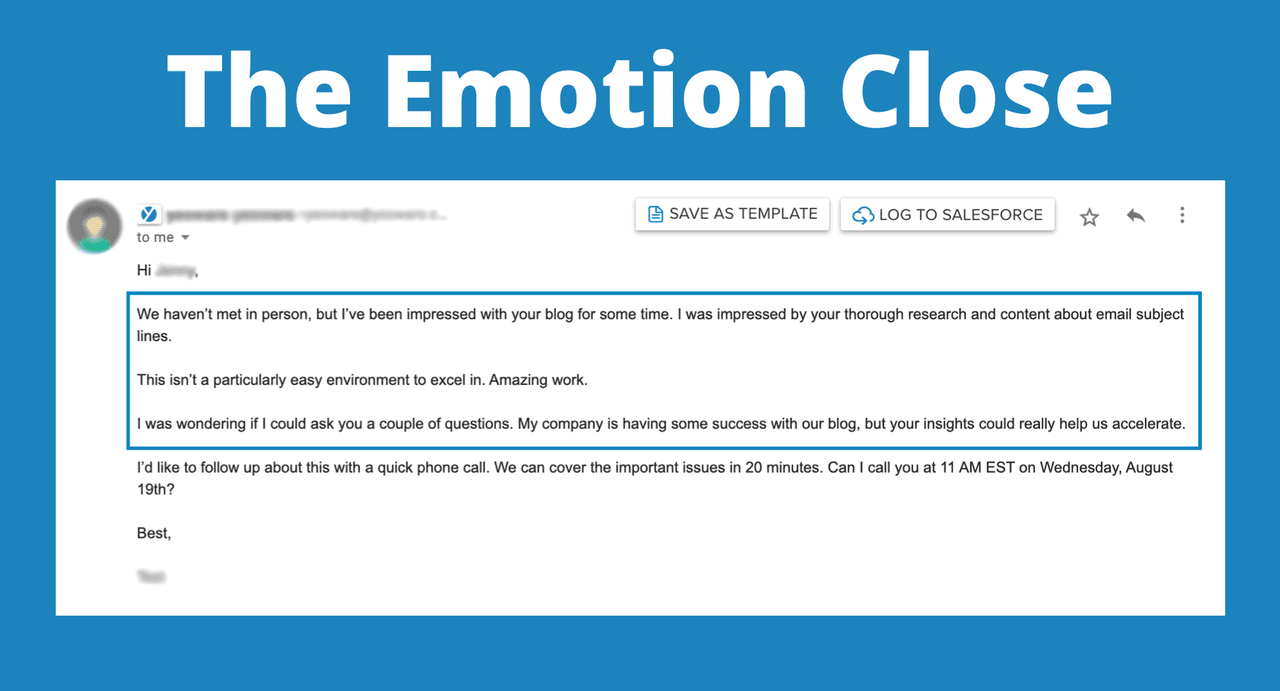 5. The Humor Close
Humor can disarm a prospect who is otherwise turned off by sales emails.
Break out from the stale selling techniques that other sales professionals are using by showing you have a sense of wit. Chances are you'll get a smile and reply.
How to use humor in action:
Incorporate a funny gif into your email.
Do research on a social media account (like Twitter) to find a unique interest or hobby that your prospect has and reference it in a funny way.
Use self-deprecating humor to show your awareness of an unpleasant situation (think unanswered emails).
Why it works:
It's simple – funny people are likable. Humor goes against societal norms or expectations in a subtle way. Sales emails are known to make people feel frustrated, put out, and annoyed. Humor has the opposite effect by putting a prospect in a more relaxed mood.
Note: Remember to think of your specific target audience before making a joke. Sarcasm comes off much differently over email than it does on sales calls.
Example:
Looking for more email findings and sales techniques?
Check out our free ebook below.
Sales Engagement Data Trends for Sales Managers to Know Going Into 2022Looking at hundreds of millions of tracked email activity over the past year, this ebook is filled with our top studies & findings to help your sales team accelerate results in 2022.
6. The Alternative Close
This or that.
Making decisions can be overwhelming. Simplify the process by offering two options for them to choose from.
Ways to accomplish this sales technique:
List two different times you could schedule a call.
Offer a free trial or to schedule a demo.
Ask if you should reach out at a later date or simply let it be.
Why it works:
Decision-making can be difficult. Whether choosing where to eat dinner, or whether or not to buy your product, people struggle with making certain calls.
A study from New York University suggests that restricting choices by limiting options actually enforces more creativity. We are bound to make better decisions by having fewer options. With fewer options, we can actually expand our thought processes.
Example: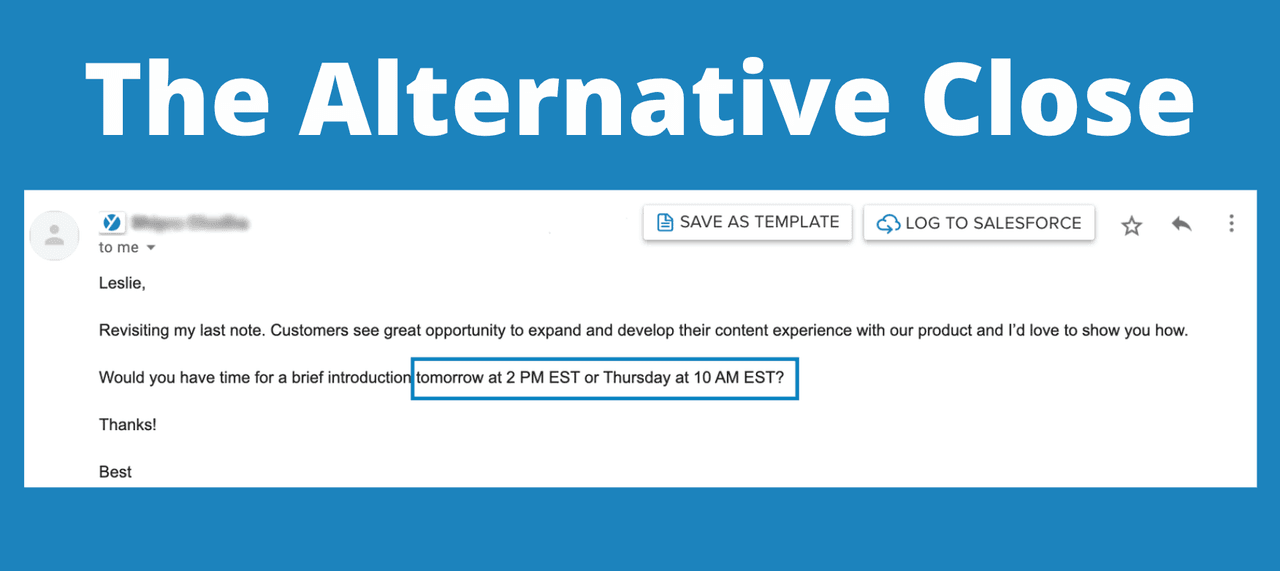 7. The Empathy Close
Nothing's more persuasive than being shown that someone understands your point of view. It's true in sales, politics, and everyday life.
Different ways to accomplish this sales technique:
If a prospect is hiring for a role your service could eliminate, reach out to show how you can make their situation easier.
Suggest ways to solve their problems by researching articles they have shared on LinkedIn.
If your competitor is having issues, reach out to your prospects to show that you can assuage their situation.
Why it works:
A report from Harvard Business School shows that empathy increases sales persuasion specifically when you show a prospect the utility in what you're selling. By identifying concerns and going above and beyond to help solve their problems, you'll earn your prospect's respect.
Example:
Extra techniques: Sales Tips — 28 Actionable Tips and Techniques.
Conclusion
Keep trying different sales techniques in your sales process and see what resonates with your audience.
Some closing techniques resonate and others don't. It's important to find what strategies click with your particular audience and the product/service you're selling.
And remember to always track and test your emails.
Keep track of open/reply rates and your recipient's level of engagement to gauge what's working and what's not. Then continue to share your successes with your sales team.
Make improvements, track, repeat. And you'll have your own tried-and-true sales techniques in the back of your pocket at all times.
Get expert sales tips straight to your inbox to win more deals
Related Articles
Sales, deal management, and communication tips for your inbox