How To Make The Most Out Of The New Gmail Interface
Ah, the new Gmail interface.
It's a good time to be a Gmail user and an even better time to be a Yesware user.
Let's walk through the basics of the new Gmail interface and how, with Yesware, you can take your email productivity to the next level.
Supercharge your email productivity with a free trial of Yesware.
3 Exciting Inbox Additions That Will Help You Work Smarter
1. Take Control of Your Emails With Hover Actions 
Now, you can minimize the time spent clicking through emails to take actions (think: 'Delete,' 'Archive,' 'Mark as read,' 'Snooze'). You'll see the icons in each of your emails.
You can view each icon in the inbox or sent folder:
Want to take this to the next level?
With email tracking you can get even more valuable insight brought right into your inbox.
When you use Yesware, you'll see different activities based on your email opens (also available in the inbox or sent folder):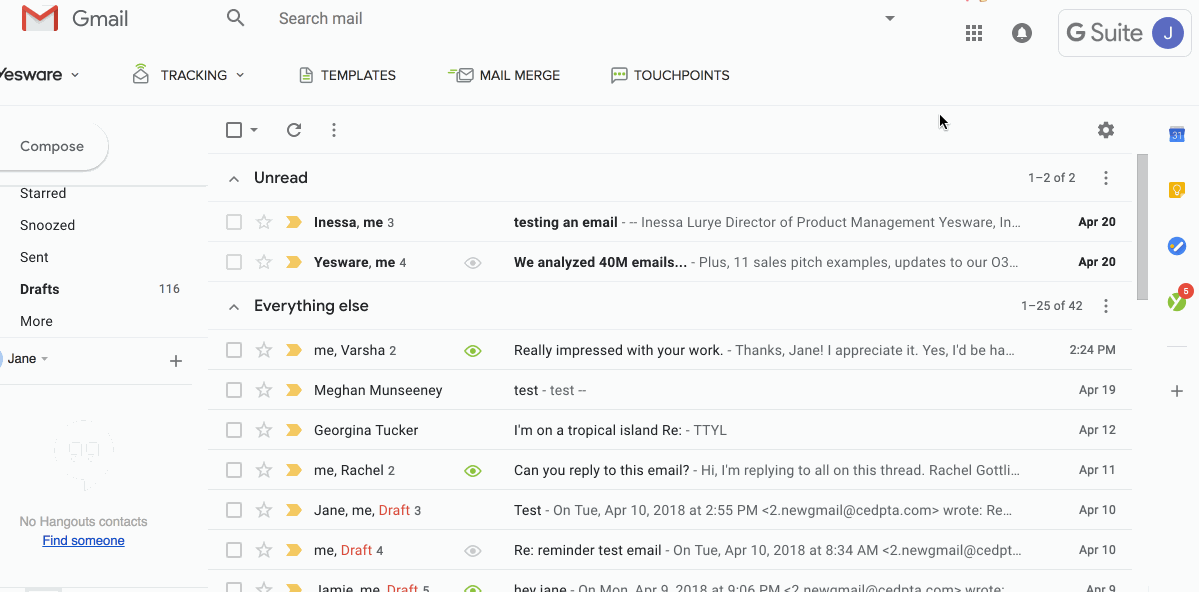 You get to see when your messages are interacted with to reflect views of tracked emails, presentations, links, and attachments.
All you have to do is hover over the green eye: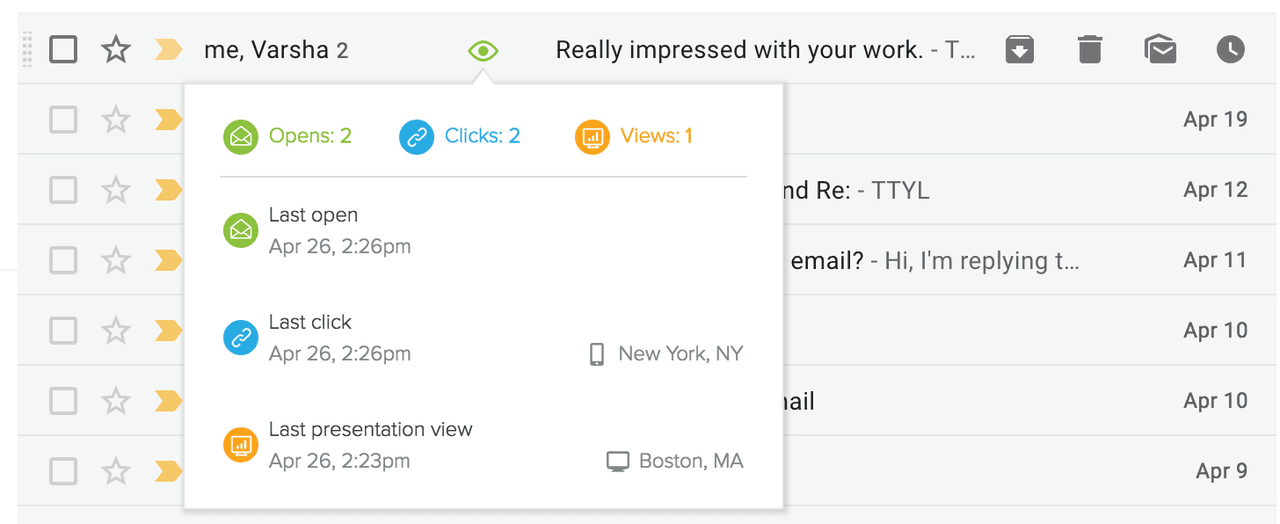 To see more detailed tracking engagement, you can click into the email for a full tracking feed:
Note: All unread emails will include a grey eye icon:

So, what are you waiting for? It's time to start tracking your emails.
2. Your New Best Friend: The Trusty Gmail Sidebar
We believe in being productive exactly where you work — your inbox.
This holds true for the new Gmail interface. Especially in the new sidebar.
Here's what the collapsed sidebar looks like:
By clicking the icons, you get a sidebar version of the following features:
Google Calendar: See your meetings without leaving your inbox.
Keep: Jot down notes throughout a busy day.
My Tasks: Keep track of your general to-do's.
When you add Yesware to your inbox, you get a bonus icon. By clicking into Yesware, you'll see a Salesforce Sidebar that links your Contacts or Leads directly into your inbox: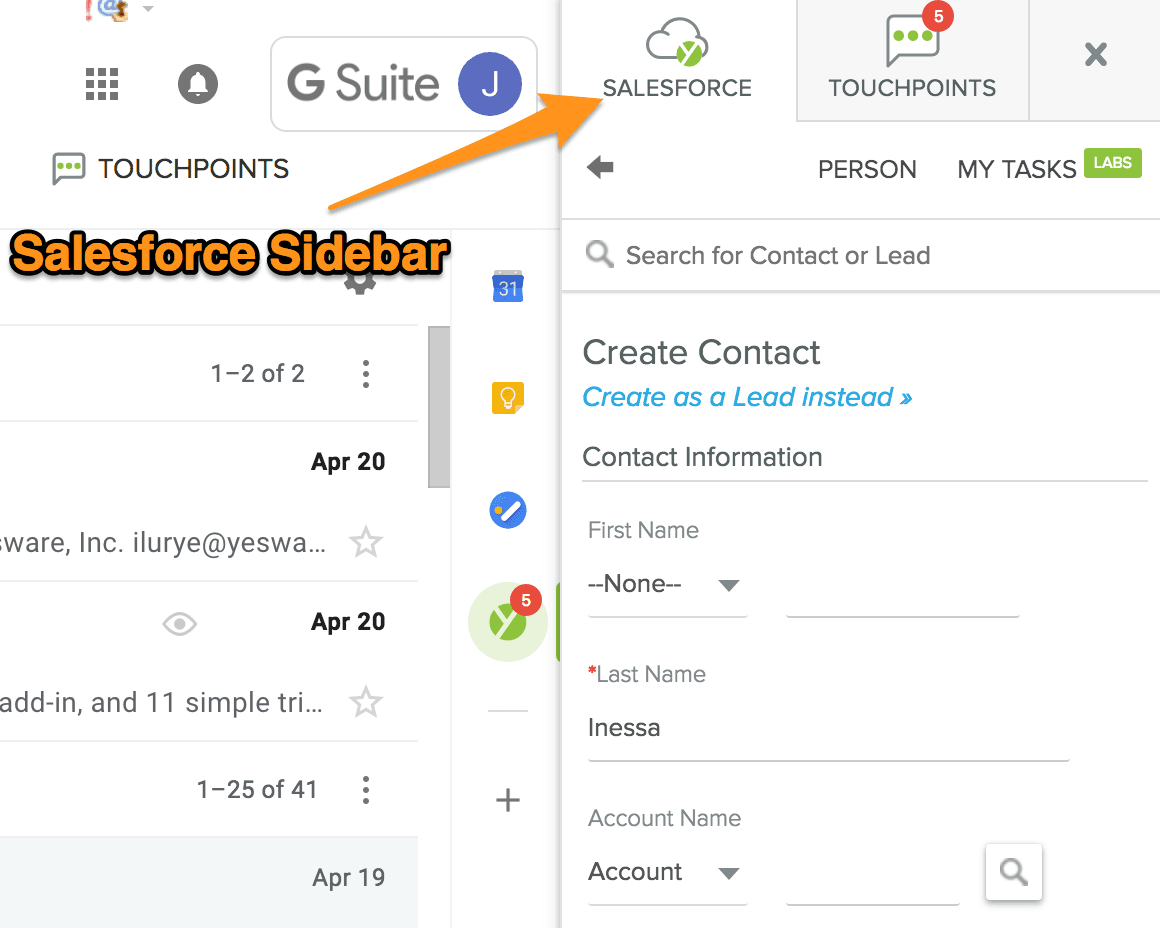 Note: Users on our Gmail Enterprise plan will also get access to Touchpoints. If you'd like to know more about getting started with Touchpoints and setting up email campaigns, click here.
3. Start Working Smarter With These Inbox Productivity Tools
Want to maximize your productivity? We know how.
When you sign up for a free trial of Yesware, you get access to some pretty awesome tools:
Email/Attachment Tracking: Shows you where and on what device your emails are being read (don't worry — it's completely invisible for recipients).
Email Templates: Lets you customize and send emails in seconds. Plus, access to reporting so you can understand what messages work with your audience.
Book A Time: Eliminates the back-and-forth of meeting scheduling so you can send the times you're available and your recipient can book right away.
Send Later: Schedule the emails you write now to send at the time of your choosing (includes a time-zone picker).
Reminders: Allows you to leave notes for yourself that are delivered straight to your inbox, when you need them.
All of the tools live directly in your inbox and are accessible through the compose window: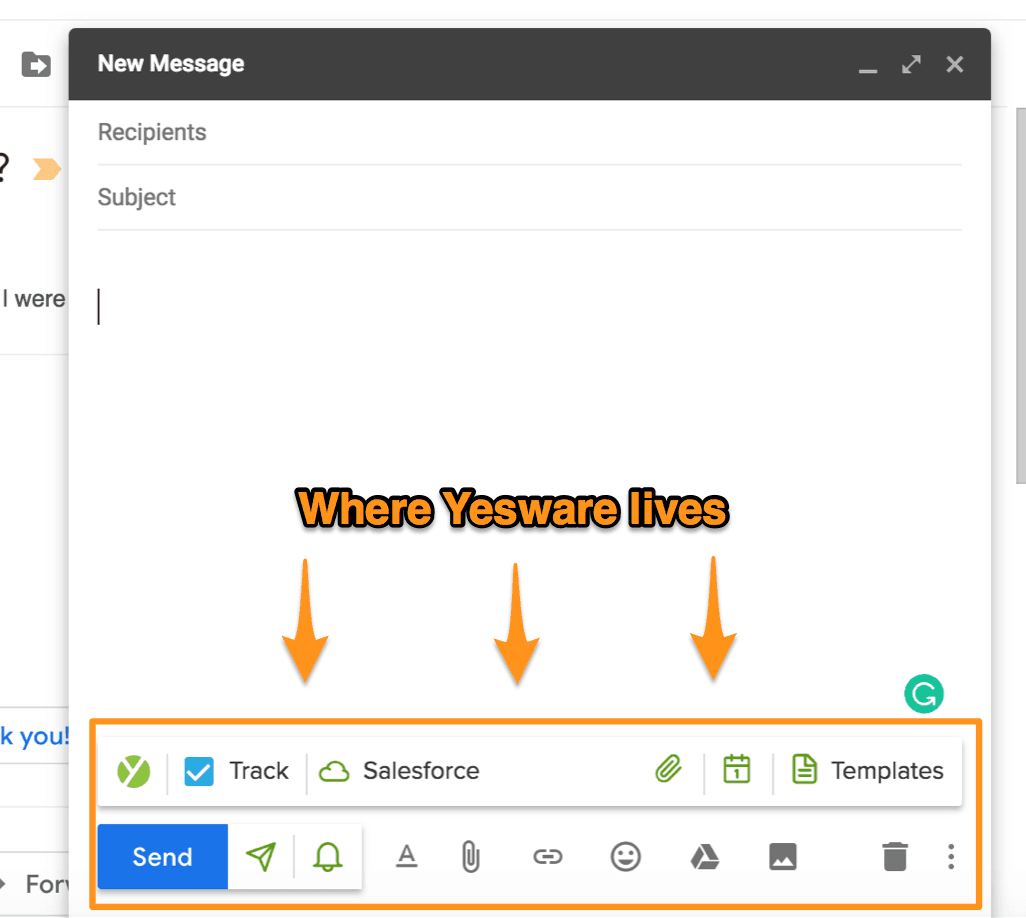 And here's a quick overview of each icon: 
What's Next
There are plenty of exciting features in the new Gmail interface. We're constantly working to improve our features and look forward to what comes next.
Get expert sales tips straight to your inbox to win more deals
Related Articles
Sales, deal management, and communication tips for your inbox