[et_pb_section fb_built="1″ _builder_version="3.22.2″][et_pb_row _builder_version="3.25″][et_pb_column type="4_4″ _builder_version="3.25″ custom_padding="|||" custom_padding__hover="|||"][et_pb_text _builder_version="4.9.0″ hover_enabled="0″ sticky_enabled="0″]
Happy October!
You may have noticed some changes to Yesware over the past few weeks. We're working to help you craft engaging content and spend time where it matters, and this month's features were developed with those goals in mind.
P.S. Wondering where your September Product Update went? We're now sending the Product Update on the first day of the month versus the last so we don't disrupt our amazing salespeople. We all know that the end-of-month requires crazy focus. 💪
We hope you enjoy this month's updates.
Advanced Reporting Filters
If you haven't seen your and your team's summary data in Yesware's all-new reporting yet, check it out!
New this week to reporting, advanced reporting filters allow you to:
1. Exclude your own data from team stats, especially important for managers/leaders who don't want to see their data in the report.
2. Exclude data of team members without activity to better compare yourself to other active team members.
3. View template reporting just for shared team templates, by excluding personal templates from the stats.
If you're a current Yesware user, view your reports HERE.
Want to start a new trial? Sign-up HERE or contact support for a bonus free trial today.
Turn Emails into Templates Instantly
Save your next email as a template in a snap!
Open any email and check out the new 'Save as Template' button at the top of your email thread. You can save emails you wrote yourself or a great email you received from someone else. One click and that engaging content is saved forever in your Template Library.
The 'Save as Template' button also exists in your compose window (in the Templates modal) so you can save emails as templates while you're composing.
Campaigns Quoting
When you send a follow-up email through Campaigns, your recipient will now see a quoted thread of your past email(s). This provides continuity for your recipient and makes it a lot easier for you to reference past messages.
Dynamic Merge Fields for Better Personalization
The text fields in the Templates Preview now expand as you type so you can thoughtfully craft entire sentences that don't get clipped. Personalization doesn't just mean changing up a word or two – it can mean adding multiple sentences or switching out full value props as they apply to different prospects.
Beta: Template Insights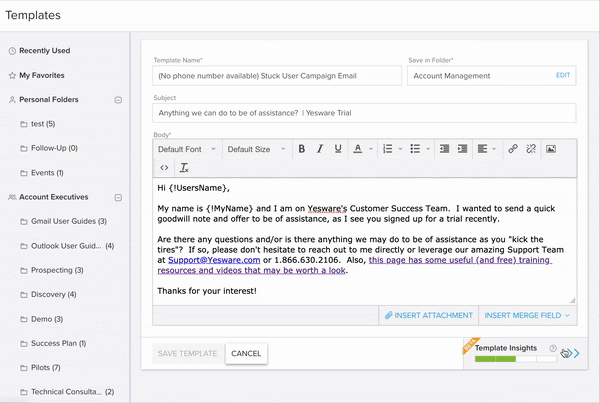 Want better engagement with your templates? In your Templates compose window, you'll now see a beta for our 'Template Insights' tool. This tool will analyze your current template and provide feedback based on criteria like word count, question count, and readability. From these insights, you'll also get recommendations to gently guide you to craft the perfect message.
Please leave feedback using this form.
Coming Soon: More Enhancements to Reporting
By now, you've hopefully seen your own summary data and your team's summary data in our brand-new reporting. Heads up that we'll soon be adding the following features, and more:
– Template reporting that allows you to see the performance of templates across your team.
– Custom date ranges to see reporting for the dates of your choice.
– A beta version of the all-new recipient engagement report that allows you to view engagement data by the people you are communicating with.
– Ability to exclude colleague data from reporting.
– Quick access to your reports from the inbox.
[/et_pb_text][/et_pb_column][/et_pb_row][/et_pb_section]
Get expert sales tips straight to your inbox to win more deals
Related Articles
Sales, deal management, and communication tips for your inbox