Email Activity Report and Template Report
We're excited to release a brand-new reporting experience that's sure to provide you with deeper insights into your recipients' engagement. On top of this, these reports put the power in your hands, allowing you to see not just your own performance stats, but those of your teammates so that everyone can improve together. 
All New Email Activity Report
Our customers have spoken, and you want your data democratized. Instead of team leaders having exclusive access to team performance metrics, all team members want access to team performance stats to learn from one another and improve together
The new Email Activity Report delivers a solution that works for everyone. Not only does it give team leaders an easy-to-read view of team tracking performance, but allows team members to view the email activity (including Sends, Open %, and Reply %) of the other members of their team(s). Their own email activity and that of their entire team(s) can be easily viewed at the top of the report. All information in the report can be sorted by reporting period, team, and performance-metric for a customized experience.
All New Templates Report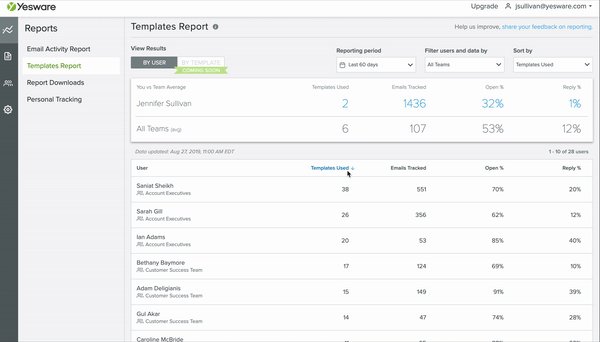 Sales is a team sport, and where one person succeeds – everyone succeeds. That's why we think you'll love the all-new Templates Report 'By User' view. The report breaks down template usage by individual user, so sales leaders can guide their team strategy and individual team members can see how their colleagues work – and how their own performance stacks up.
Breakdown of the Reports
At the top of the Templates report, you'll have a summary overview of your own Template performance stats, as well as those of your team(s). By seeing these numbers at the top of your report, you'll have immediate visibility into how you're performing compared to your team(s). We think this perspective is so important for individual members to have in order for the team to improve together. If there is a week you're falling behind, for example, we think this report can nudge you to reach out to your teammates and find out what's been working for them recently so the team can improve together. 
For sales leaders, we think this report is going to prove to be invaluable. Templates are one of the most relied upon features for your sales team, and this report serves up a concise, accurate, digestible look at how individual team members are performing. By adjusting the reporting period, team filter, and sort by options, you'll be able to organize the report in a way that makes sense to you and see what's working and what's not within your team. Additionally, this report can be used to view individual usage of Templates in general so you can identify users who aren't taking advantage of Templates and get them up to speed.
With the new Template Report and Email Activity Report, the data will be in your hands to help you make real connections even faster. We hope the information in these reports encourages team collaboration, encouragement, and improvement on a daily basis. 
Also, stay tuned for exciting additions to reports – including custom date ranges, a colleague email filter, and a 'By Template' view – all coming soon!
Get expert sales tips straight to your inbox to win more deals
Related Articles
Sales, deal management, and communication tips for your inbox