Build a Sales Enablement Strategy in 8 Steps
Sales enablement is the practice and process of equipping your sales team with the content, training, and/or coaching they need in order to:
Increase sales productivity,
Systemize and optimize the selling process, and
Close more deals
The ultimate goal of sales enablement is to enhance the value that salespeople offer to buyers throughout every step of the sales process, thereby leading to better relationships and higher conversion rates.
In this article, we'll go over everything you need to know about sales enablement, including why it's so important to high-performing sales teams, and the exact steps your sales team needs to take in order to create your own sales enablement program.
Here's what we'll cover:
What Is Sales Enablement?
A well-defined sales enablement program is a hallmark component of any highly successful sales organization.
Companies who prioritize sales enablement enjoy: 
Increased predictable sales 
Happier and more loyal customers
A well-equipped empowered sales force that readily engages with buyers in ways that enhance the buyer experience
Successful sales enablement has three main components: content, training, and coaching. 
Under those three primary tiers, sales enablement can include (but is not limited to) any combination of the following:
Creating, updating, and organizing sales content
Managing the CRM and other technology tools
Designing and executing a sales training or coaching plan
Streamlining the onboarding process
Refining the company's branding and messaging across LinkedIn and other social media
Offering increased visibility into customer behavior
Optimizing the sales playbook
Integrating the tech stack and training the team around it
None of these sales enablement efforts should exist in isolation. Instead, an effective sales enablement plan is meant to be a cohesive, integrated approach that, collectively, will significantly improve your team's sales performance.
Despite the many components and moving pieces of a successful sales enablement program, the primary goal remains the same throughout: optimize the sales process and seller activities by aligning them with the buyer's journey.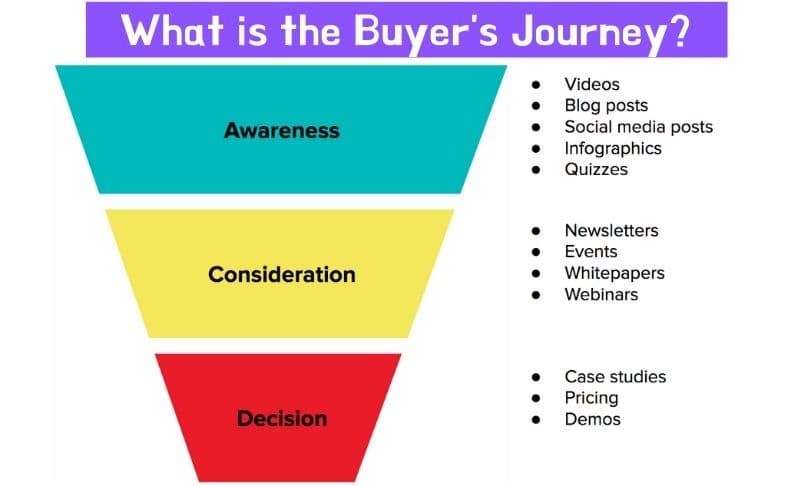 The content, tools, and training that sales enablement teams make available to their sales force are all considered from the perspective of adding value to the customer throughout the sales process.
This means that sales enablement professionals need to have a strong grasp on their ideal customer profiles and buyer personas. They need to have a deep understanding of buyer pain points and motivations and design their enablement program accordingly. 
Automate sales activitiesSave hours scaling outreach, follow-ups, and tasks
Why You Need a Sales Enablement Strategy
An effective sales enablement program can make a dramatic impact on your team's sales performance.
With the right sales enablement tools, your sales organization can expect:
Increased revenue
Improved client acquisition volume and decreased client acquisition cost
More selling time for sales reps
Improved relationships with buyers
Alignment between the sales and marketing department
Not only that, but a sales enablement program is quickly becoming a standard component of most sales teams.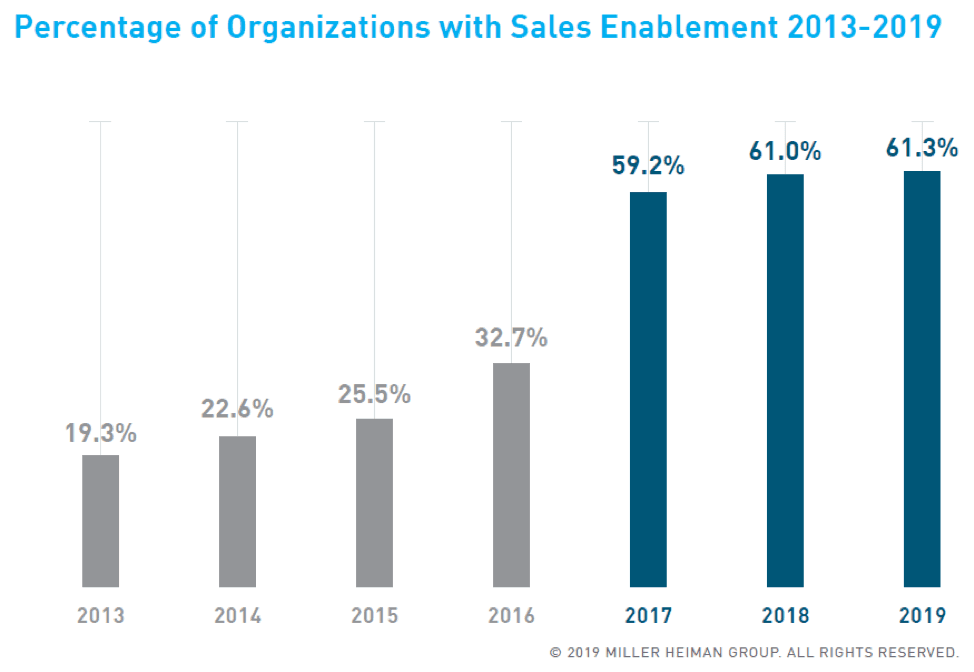 No longer reserved strictly for large enterprise or Fortune 500 companies, sales enablement programs are becoming a more and more necessary component for any sales team that wants to remain competitive.
More importantly, though, sales enablement plays a crucial role in the proper optimization of the sales process. 
With consumers requiring less engagement earlier in the sales process — and some not engaging at all until it's time to negotiate — it's critically important that salespeople make the most out of every buyer interaction available to them.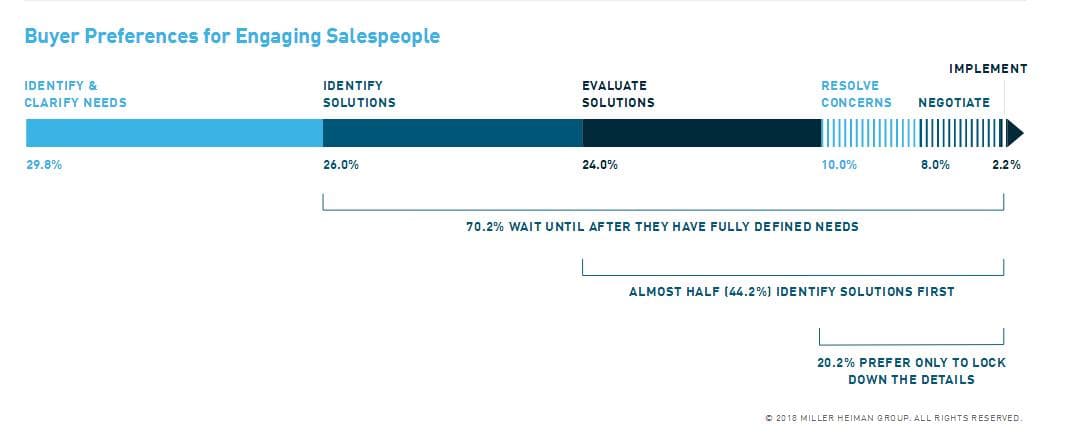 The job of sales enablement is to equip and empower team members with the tools they need to engage with buyers in the way that is most relevant to them, no matter where they are in the buying process.
In today's sales landscape, the way you capitalize on these interactions is by offering value to the customer. Sales enablement ensures that the opportunities and resources necessary to provide that value are readily available to salespeople. 
What Your Sales Enablement Program Should Accomplish
An effective sales enablement program should empower the various stakeholders in the selling process (primarily sales and marketing) in speaking directly to the needs of the buyer. 
It integrates and optimizes the various tools and resources available to your team, which will ultimately improve your customer relationships and win rates.
Teams with access to sales enablement resources enjoy a number of other benefits and improvements to the sales process. Take a look: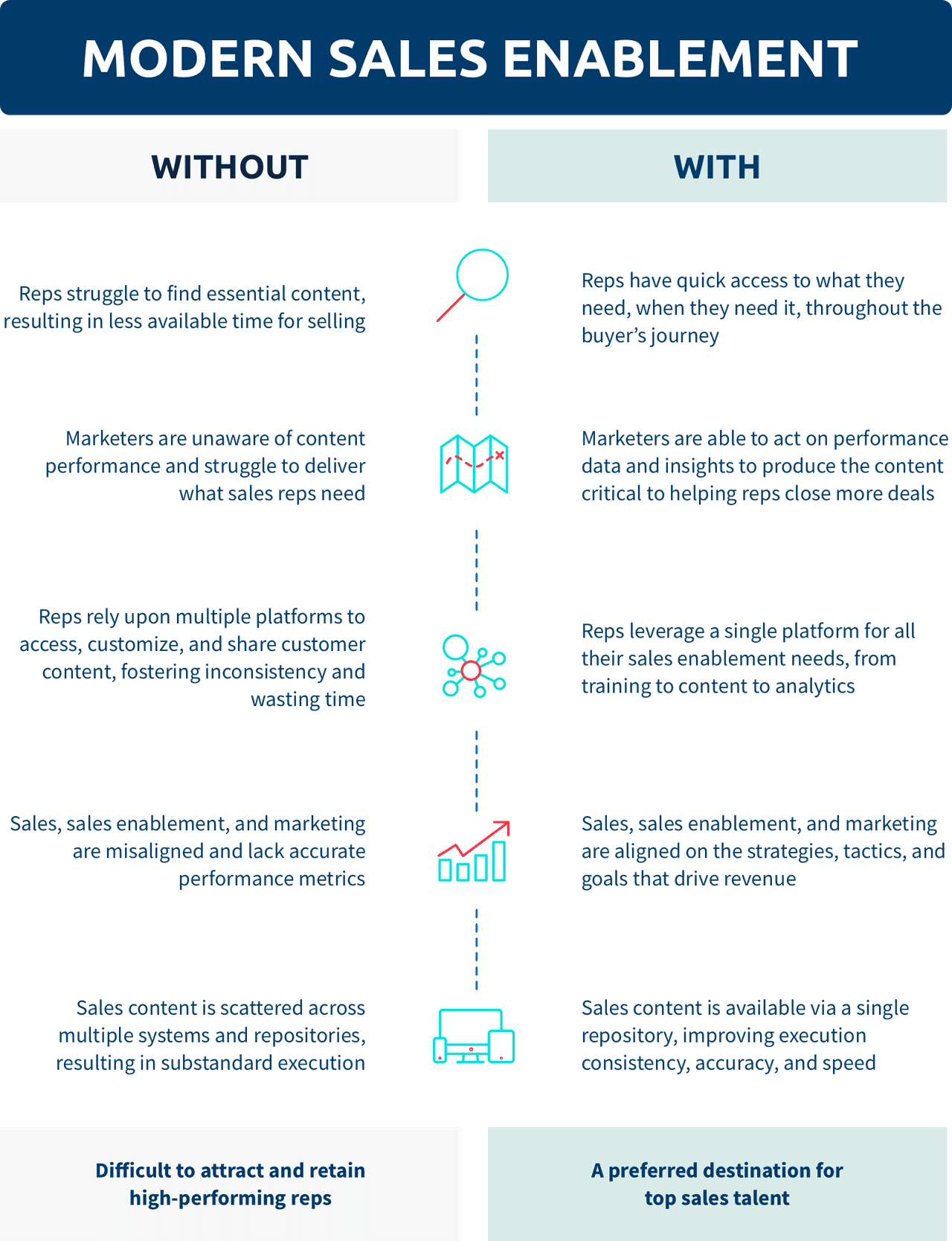 Ultimately, the work of the sales enablement team produces three major outcomes when implemented effectively.
Align Sales and Marketing
Before addressing any customer-facing interactions, it's up to the sales enablement team to work with marketers and salespeople in aligning their messaging and content. 
Do not overlook this step — businesses that align their sales and marketing teams are 67% better at closing deals than those who don't.
Sales enablement can also identify opportunities for marketing automation, further easing the process and empowering both teams to make each customer touchpoint as meaningful as possible. 
Leverage Technology, Tools, Training, and Content
The sales enablement team should also take a good look at the tools, training, and content available to the team.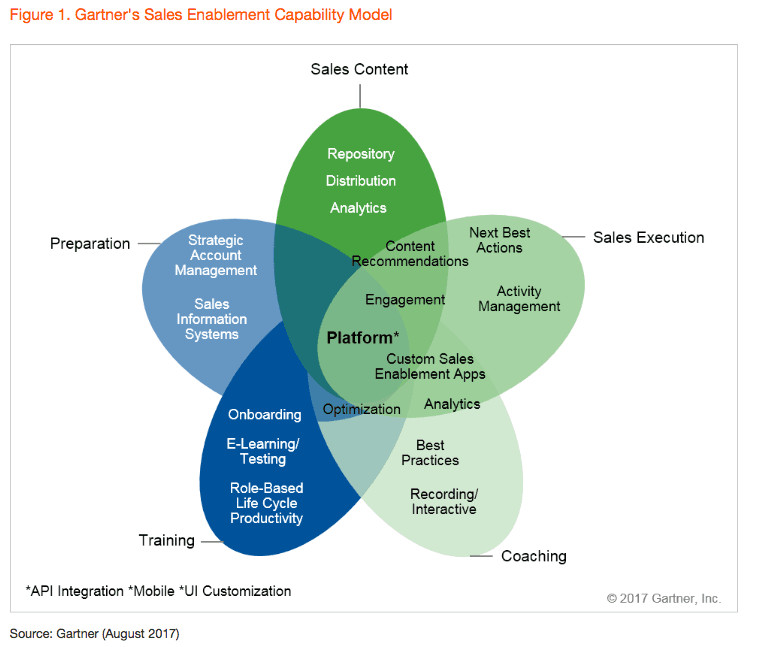 Each of these resources should be considered in terms of how they contribute to the overall effectiveness of the sales funnel. 
Ideally, the sales enablement team will work to integrate the many resources available in a way that's manageable, intuitive, and productive for every team member. 
The Optimal Technology Stack for B2B Sales TeamsUsing data from the most successful business-scaling models, we designed a blueprint for the exact technology your business needs at each phase of growth.
Enhance Relationships Between Buyers and Sellers 
Perhaps the most important outcome in the sales enablement process is the enhancement of the relationship between buyer and seller.
With the right enablement tools and processes in place, salespeople can customize their outreach and prospecting activities to foster authentic, valuable relationships at every stage of the sales pipeline.
Sales enablement should help salespeople anticipate what customers will need to move through the funnel, and make sure those resources exist readily.
8 Steps to Build a Sales Enablement Strategy
Your sales enablement strategy should be a living, breathing process, and you should expect to update and refine it over time.
Whether you're just starting out or looking to level up an existing program, the following steps will help you launch, streamline, or refine an effective sales enablement program for your organization. 
Step 1: Create a Charter
In order to get the most out of your sales enablement program, you'll want to first create what LinkedIn calls a "Sales Enablement Charter."
Let's have a look at an example:
A sales enablement charter outlines the goals and expectations of the sales enablement program. It will also give a high-level overview of the tools, methodologies, and processes to implement in order to reach those goals. 
Step 2: Gather Benchmark Data
Once your charter is in place, it's time to take stock of your team's current level of performance.
Spend some time analyzing your sales cycle and the key metrics you're hoping to improve through an enablement program. This step is critically important for how you'll ultimately measure the effectiveness of your efforts later on in the process, so don't skip it.
You won't know how far you've come if you don't keep track of where you start.
Step 3: Align Your Sales Process With the Customer Journey
One hallmark of any successful sales enablement program is the careful alignment of the sales process and the buyer's journey.
Your sales enablement team should work to optimize the sales process from the perspective of the customer. This represents a huge chunk of this process, so take your time and don't be afraid to make changes or improvements as they become known to the team.
Step 4: Inventory Your Available Resources
Once you're confident that your team is ready to approach the sales process through the eyes of the customer, it's time to take stock of what resources you currently have available to do that. 
Depending on how developed your marketing efforts are, you may or may not have appropriate customer-facing material. If any tool, resource, or training does not offer the potential to add value to a customer interaction, scrap it in favor of something that does.
Step 5: Fill In Gaps as Needed
If you find that your team needs different and/or additional content or training, it's up to sales enablement to outline how those things will become available. You may need to alter what you already have or create new resources entirely.
With that in mind, it's okay if you take a multi-phase approach to this step. Don't hesitate to spread it out over time; it may be that not all resources will be immediately available. The point is to have a plan in place for creating and making them accessible. 
Step 6: Identify and Standardize Your KPIs
You may choose to use any of the following to track the effectiveness of your sales enablement program.
What you choose to track, and how effective your program is, will ultimately be determined by your enablement charter and your company's overall business goals. 
Step 7: Implement Sales Enablement Technology
With a thorough bird's-eye view of the sales process in place, it's time to integrate and implement your tech stack and leverage it to its fullest potential. 
There are many sales enablement platforms available to salespeople that will help automate, evaluate, and scale your enablement program. The sales enablement team should work to make sure each team member is trained in the full scope of the technology available to them.
Data that helps you sell smarterDaily activity, engagement data, and outcomes
Step 8: Measure, Optimize, and Scale
Once the process is up and running, it's time to streamline it. It may take a few sales cycles to determine how well your enablement efforts operate; don't make the mistake of becoming locked into the process too soon. 
Tweak, add to, and refine the process and strategy as many times as needed to ensure your team is fully equipped with the tools and training they need for outstanding customer interactions.
For a more detailed breakdown on how to build a productive sales enablement program, check out our post here.
How Yesware Can Enhance Your Sales Enablement Strategy
Yesware's all-in-one sales toolkit goes hand-in-hand with a successful sales enablement strategy. With our intuitive and productivity-boosting features like Email Templates, Attachment Tracking, and Reporting & Analytics, you can get to the heart of what matters most to your customers.
Email Templates
Yesware's Email Templates allow you to maximize meaningful customer interactions. Offering the perfect mix of automation and personalization, our templates help you reach more customers with more value.
There are virtually endless template and customization features available, helping you create a library of ready-to-go messages that have been proven to increase your win rate.
Attachment Tracking
Our Attachment Tracking feature helps you identify and scale your most winning content.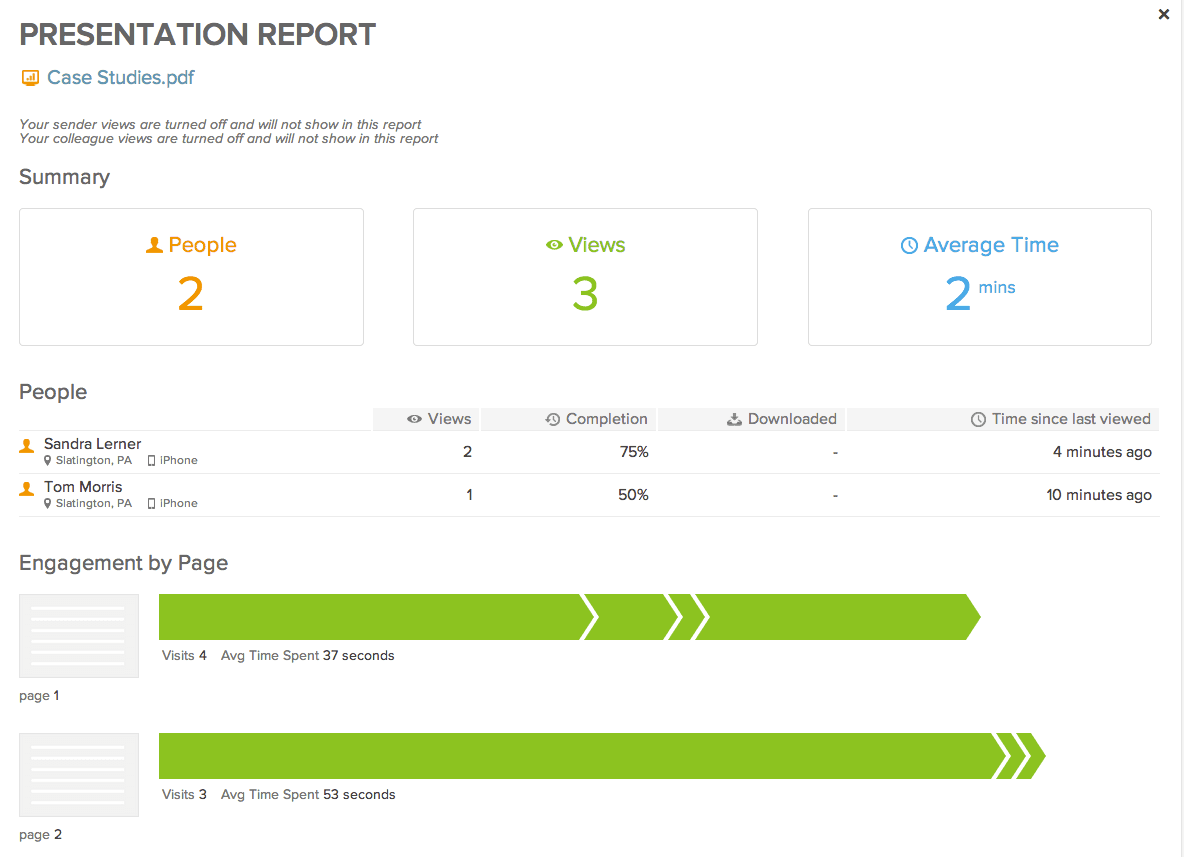 The Attachment Tracker empowers salespeople to focus their follow-up on the most engaged prospects for further optimization of the pipeline. 
Reporting & Analytics
Yesware's Reporting & Analytics feature helps you use data to win more business. 
The analytics features will help you pinpoint which content resonates with which customers, as well as the perfect time to send it. There are a variety of reports and dashboards available to users, so you can easily see the information that matters most. 
Sales enablement is quickly becoming a necessity for any sales team that wants to improve their sales team's productivity and stay competitive in their field.
Get expert sales tips straight to your inbox to win more deals
Related Articles
Sales, deal management, and communication tips for your inbox