Top Sales Statistics of 2020 & Takeaways to Guide Your 2021 Strategy
The reality of sales is that it is constantly evolving, but numerous of the "top sales statistics" articles out there today pull stats from 2015 and earlier. Let's face it, those statistics are completely outdated. And they're certainly not helpful for guiding your 2021 strategy.
The momentum of sales transformation is only accelerating. So, it's time to let go of the age-old stats and outdated tactics that were prevalent before technology paved the way and the modern buyer's journey had evolved.
For this guide, we combed through numerous 2020 studies and pulled our favorite sales statistics from each plus valuable takeaways.
Let's look at some new and fresh sales statistics that are all found in 2020.
2020 Sales Statistics:
Sales Prospecting Statistics
1. Revenue driven by non-traditional channels has skyrocketed by 69%.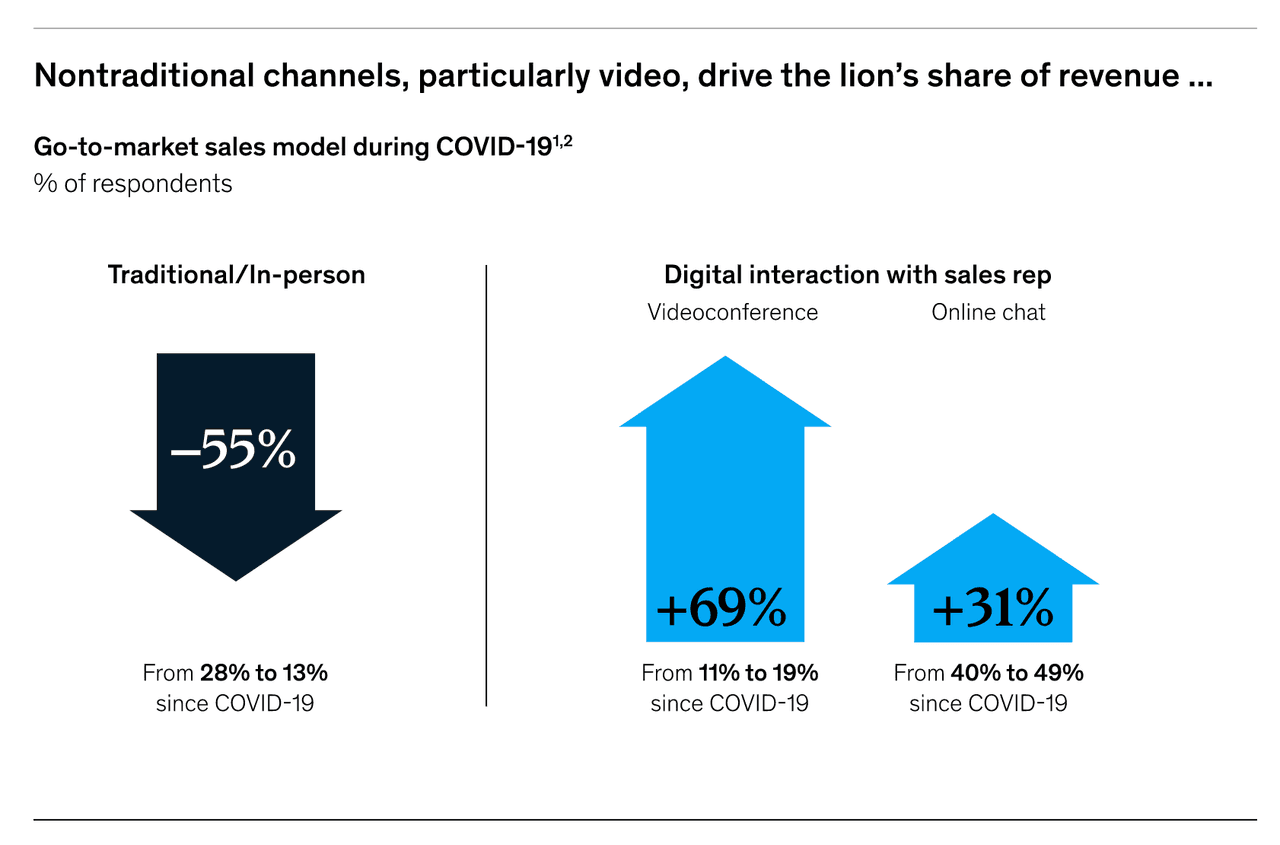 Source: McKinsey B2B Decision-Maker Pulse Survey
Date: 2020
Takeaway: As B2B buyers have shifted to remote interactions, they've increasingly come to rely on digital channels. And with that, buyers are demonstrating a growing preference for engaging across a wide range of channels. B2B buyers are now seeking a more omnichannel experience. Specifically, in the last year, video conferencing had a strong impact that'll likely have a lasting influence on the sales space.
2. Buyers are more likely to consider a brand when a sales rep demonstrates a clear understanding of these categories.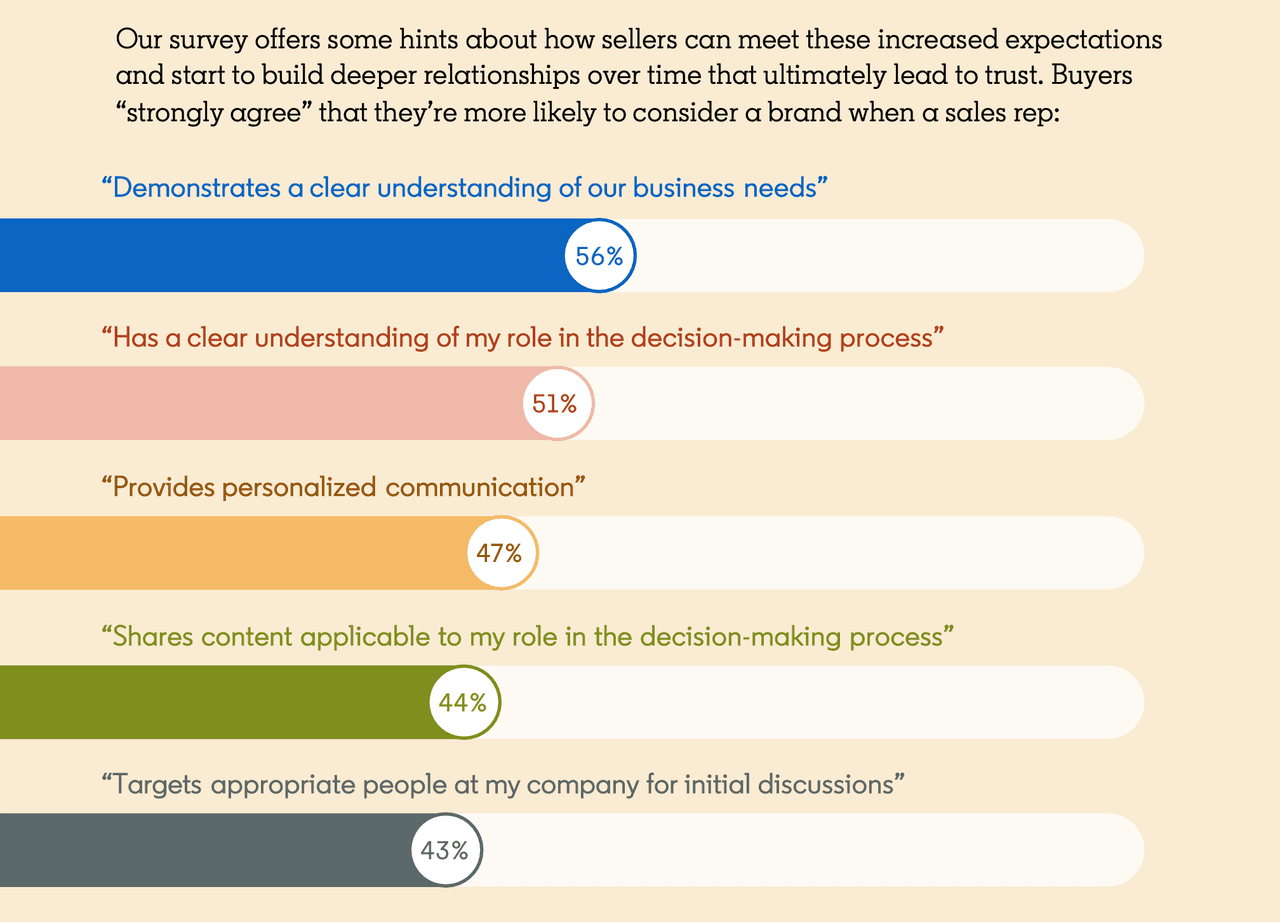 Source: The LinkedIn State of Sales Report 2020
Date: 2020
Takeaway: In 2021, trust is becoming even more critical in sales conversations. Before reaching out to prospects, it's crucial to understand the buyer and their needs. And then demonstrate your understanding in the conversation. Building rapport in sales has become more and more significant with the increase in buyer concerns as well as the expanding range of options in the space.
Cold Emailing Statistics
3. The best time to send emails based on reply rates is 1 PM and 11 AM.
Source: Yesware Study
Date: 2020
Takeaway: Scheduling your emails for a time that they're most likely to be replied to will ensure your email lands at the top of your prospect's inbox at the right time. These sales statistics are created so you can test the suggested times and measure the impact. It's important to always track your emails so you know what is and isn't working for your particular audience. Once you've found the most successful time, create an email block during this hour or schedule your emails to be sent at that specific time.
Uncover the most effective timesTrack all emails to dissect what is/isn't working
4. Monday and Tuesday are the most active time periods when replying to emails.
Source: Yesware Study
Date: 2020
Takeaway: It's also important to stay on top of what days prospects are most active in their inbox. Based on the above study, Monday and Tuesday are the most active time periods when replying to emails. And the most inactive day of the week is Friday. Again, test this for yourself and see if you get the same results with your audience. Then, plan your outreach strategy accordingly.
5. In 2020, sales professionals are leveraging more warm outreach than cold outreach.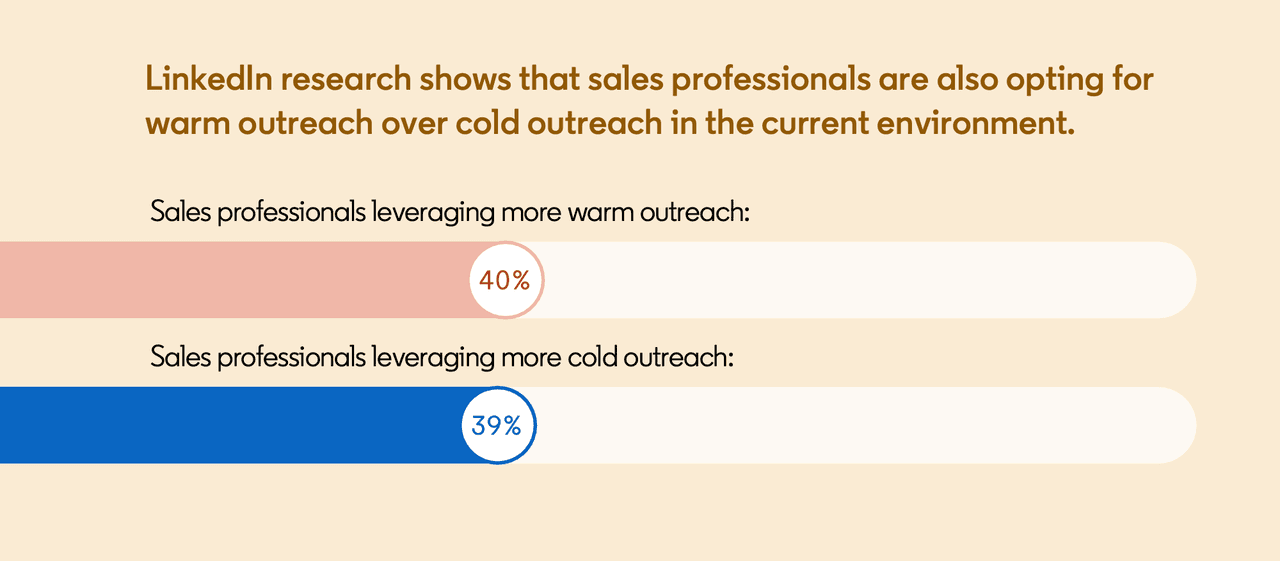 Source: The LinkedIn State of Sales Report 2020
Date: 2020
Takeaway: Unlike past years, warm outreach is becoming more prominent in sales strategies than cold outreach. This is because of the growing desire for personal conversations and trustful reps in the current state of sales. It's important to make connections with prospects so they feel more comfortable with you and the trust can be built. One of the easiest ways to warm up your outreach is by reaching out to your prospects on LinkedIn through connection requests beforehand.
Cold Calling Statistics
6. Call answer rates peak between 10 AM and 11:30 AM.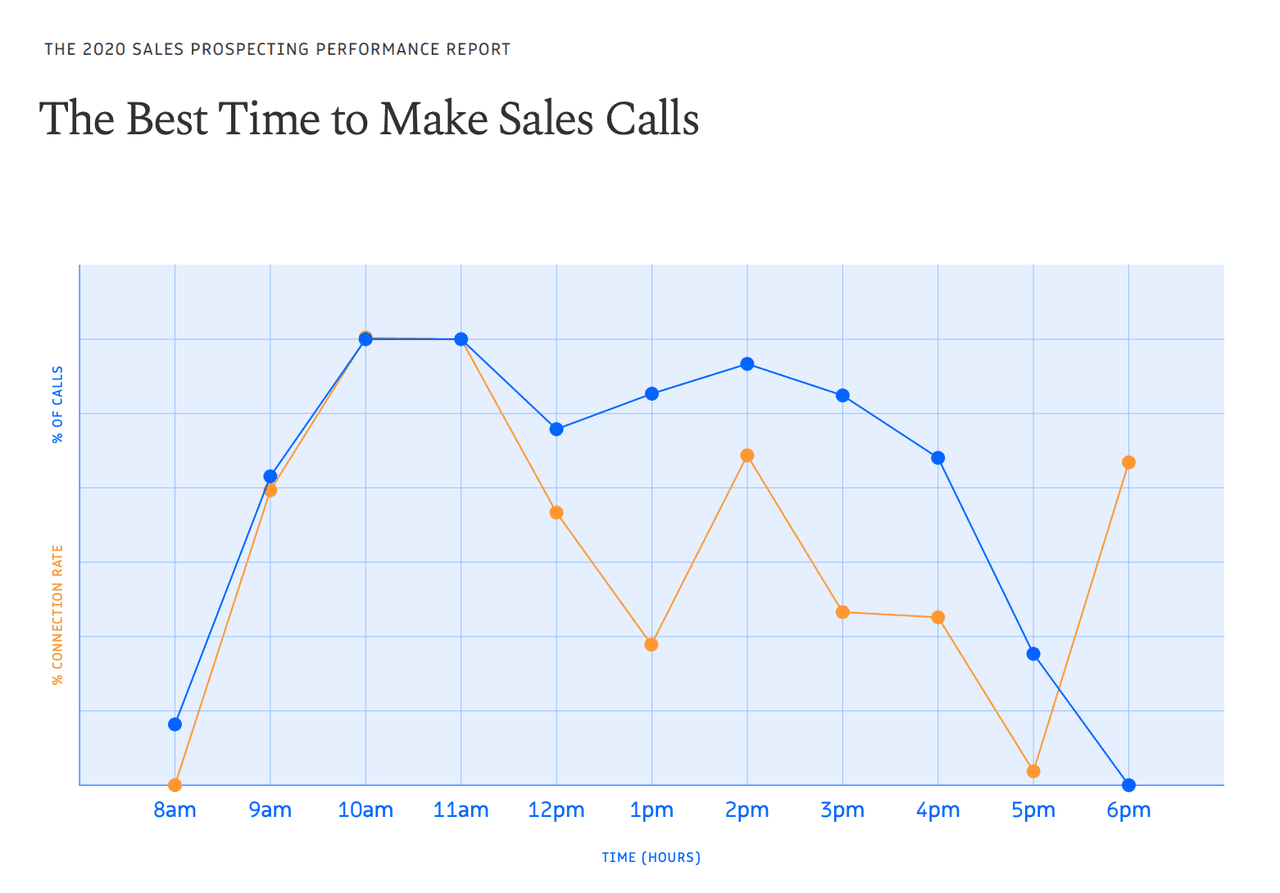 Source: The 2020 Sales Prospecting Performance Report
Date: 2020
Takeaway: There are various studies and sales statistics out there that suggest the best time to make a sales call. But tons of these studies are outdated. This finding is from a 2020 study by RingDNA that was found in an analysis of 130 million sales conversations. Try the times suggested and see if you get an increase in answers. Depending on your particular audience, results may be different. If you see a spike in answer rates for yourself, dedicate this time frame to sales calls.
7. Calls that result in a demo contain longest rep talk streaks that average 67 seconds, balanced with listening.
Source: The 2020 Sales Prospecting Performance Report
Date: 2020
Takeaway: Although top reps talk for an average of 67 seconds, these monologues are balanced with extended periods of listening. This indicates both that the reps have more detailed and personalized pitches that result in demos, as well as they're asking open-ended questions to get their prospects to talk as well, so it's not a one-way streak.
B2B Sales Meeting Statistics
8. Win rates are 94% higher for deals where sales professionals sell with video on.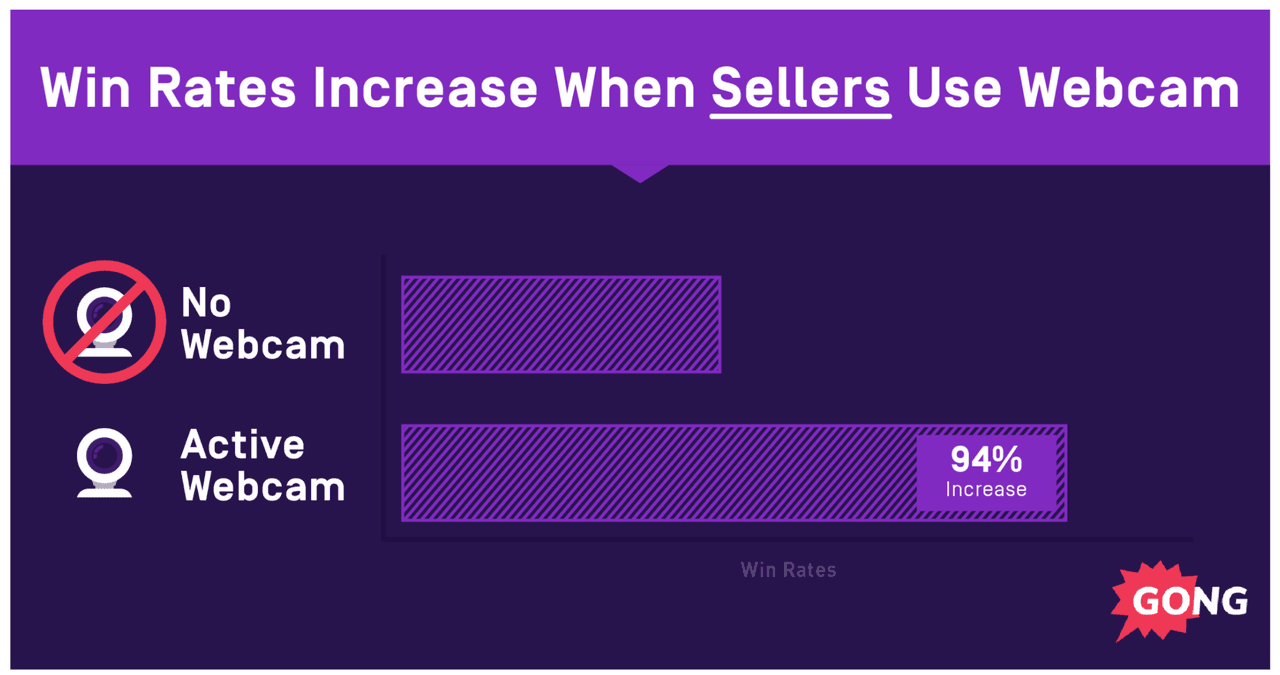 Source: Gong Labs 2020
Date: 2020
Takeaway: Turn your webcam on when talking to buyers. Think about it, the conversation is much more personable when you can see the face and body language of the person you're listening to. It humanizes the conversation. Also, in 2021, we are a visual society. Visual communication impacts the way we perceive others, and in 2020 this impact was very prominent in sales conversations. Gong also found that if both the buyer and seller have their webcams on, the win rate is even higher.
9. The best time to send invites to book meetings is 2 PM.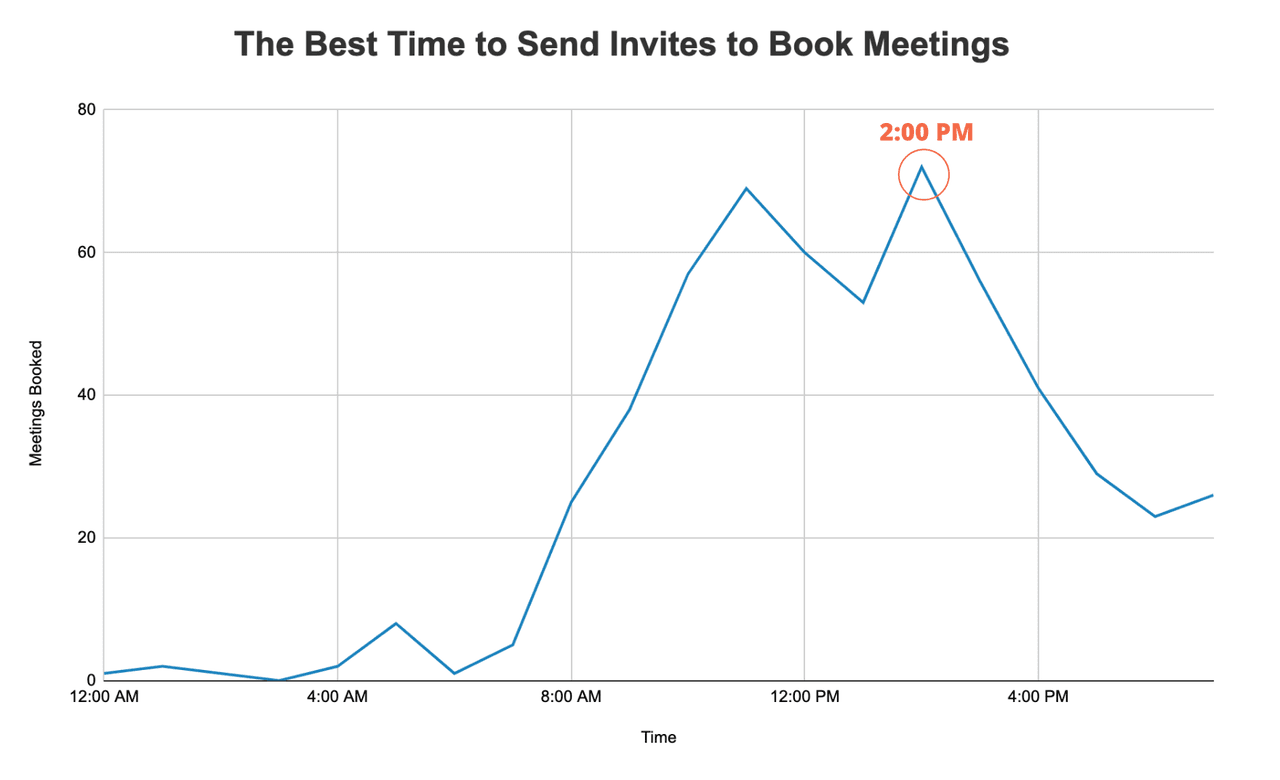 Source: Yesware Study
Date: 2020
Takeaway: Although we looked at the best time and day to send emails based on reply rates, this study pulled the best time to send emails that'll most likely result in meetings booked. So, if you're sending a meeting scheduler link to prospects, try 2 PM and see if you get a boost in meetings booked that sync to your calendar.
Easiest way to book meetingsSend customizable links that sync to your calendar
10. 54% of companies have 4-9 people involved in the purchase process for B2B solutions.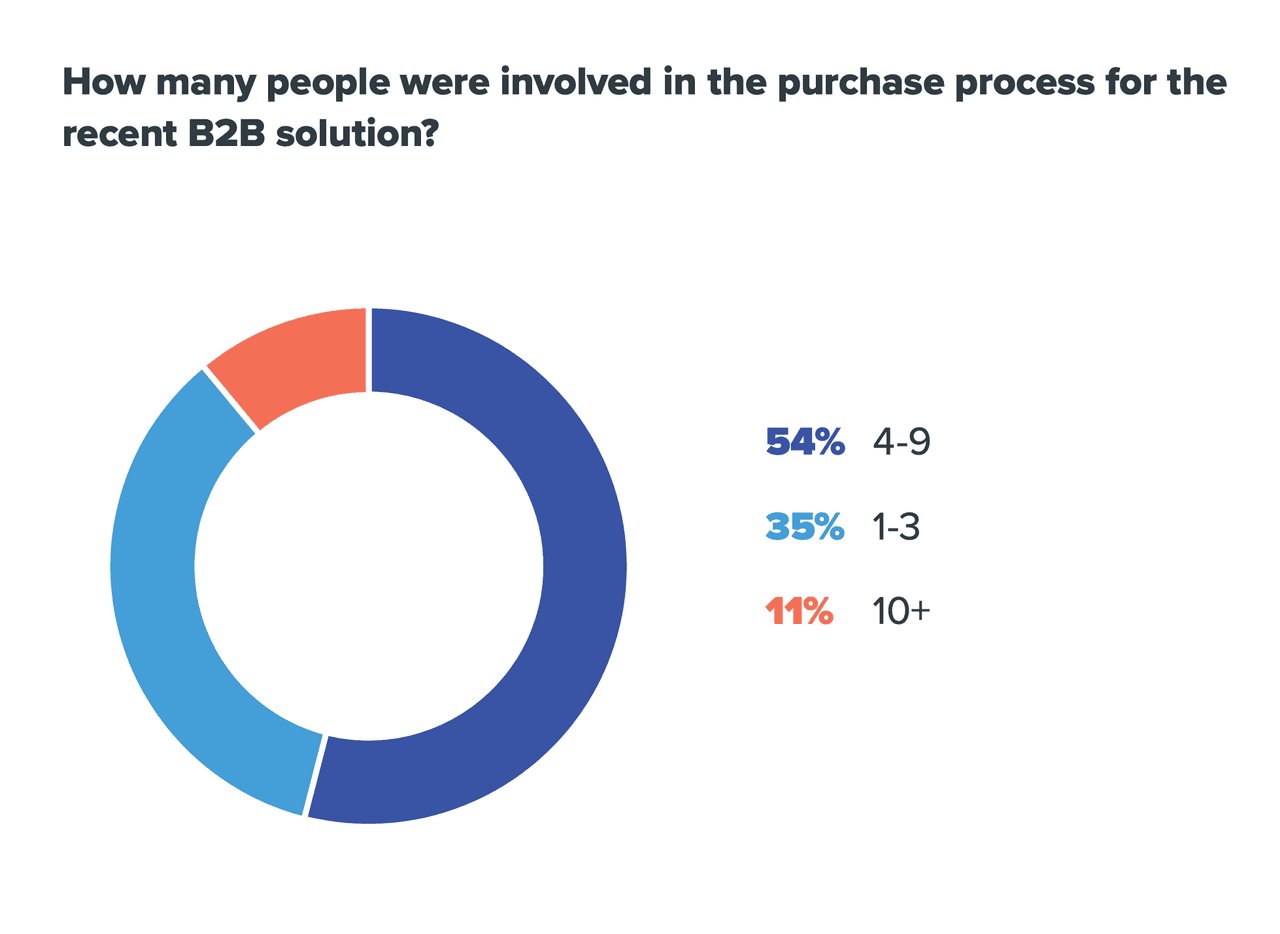 Source: 2020 B2B Buyer Behavior Study
Date: 2020
Takeaway: When talking to companies, make sure you're either talking to all decision-makers or providing the point of contact with the right sales collateral and material to share with all decision-makers. In 2021, there are almost always various people involved in the purchase process. So it's important to make sure that you're communicating what you want with all parties.
Sales Follow-Up Statistics
11. Campaigns with 4-7 emails in a sequence have 3x higher response rates than campaigns with 1-3 emails.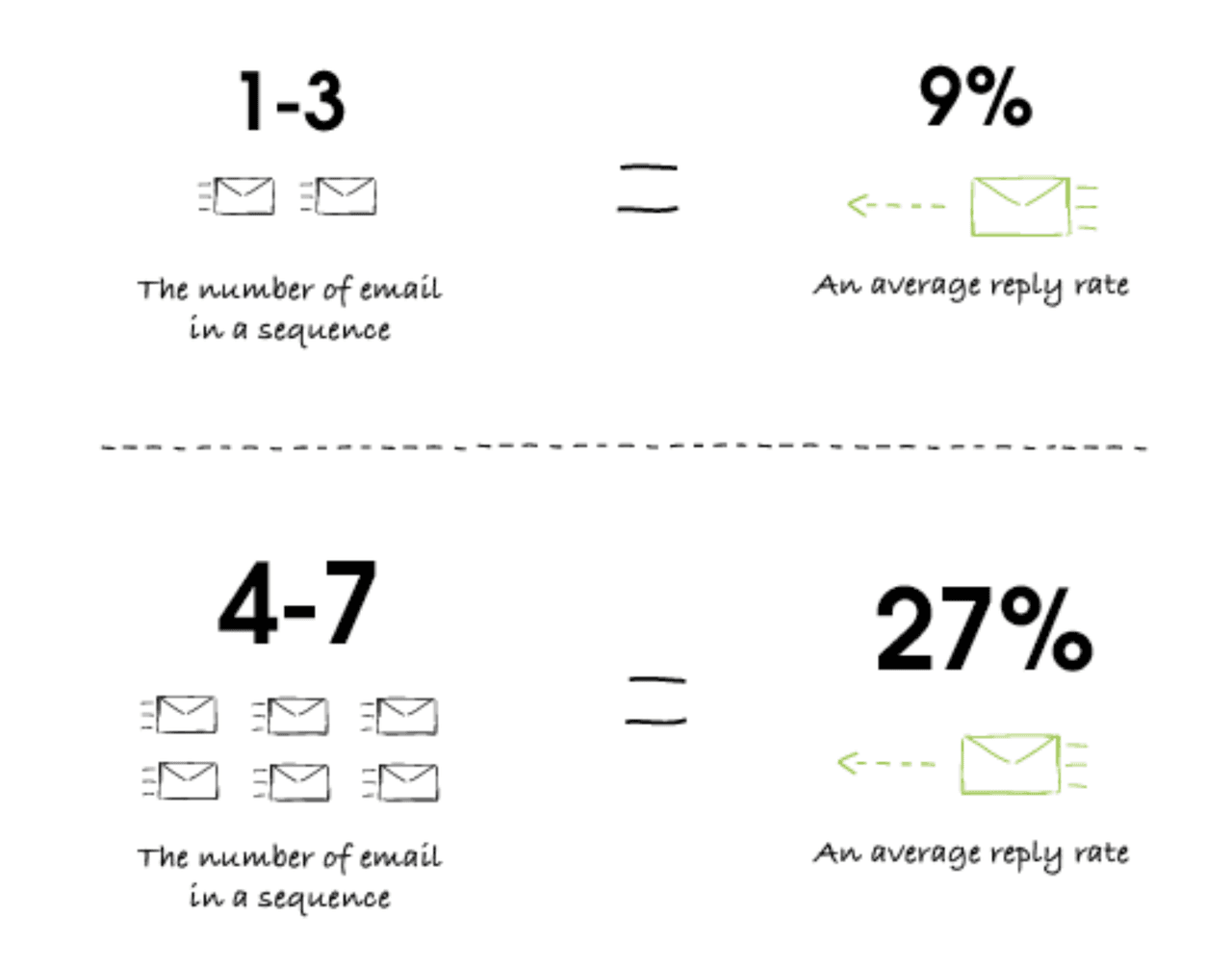 Source: Woodpecker Study
Date: 2020
Takeaway: Always, always, always follow up. Remember, your prospects are busy. Sometimes they need that extra nudge to get them to respond or even read your emails in the first place. All recent follow-up sales statistics demonstrate the significance of following up and the influence it has on generating a response. Consistent follow-ups not only help you stay top-of-mind but allow you to re-iterate your messaging to see what resonates with your prospects.
12. If your email is going to be opened, 95% of the time it's opened within a day after you send it.
Source: Yesware Study
Date: 2020
Takeaway: This sales statistic sends a clear message that it pays to be proactive. After you send a tracked email and can see that it's opened, the countdown is on. Any replies will most likely occur within 24 hours, so don't sit around waiting for a reply if you haven't received a response within a day or two. Send a follow-up email. 
New 2021 data reveals top sales follow-up statistics.
Automate your follow-upSend personalized follow-ups at scale
Sales Manager Statistics
13. Sales leaders recognize that customer flexibility is their top sales tactic for 2021.
Source: Salesforce State of Sales Report
Date: 2020
Takeaway: With the vast information at all buyer's fingertips, customers are more informed than ever, but they're also more overwhelmed than ever. Making a decision isn't easy, especially when purchasing complex solutions and software. That's why the best thing you can do as a salesperson is to make the purchase process as easy as possible for buyers — i.e. a personalized experience and prescriptive approach, free trials, etc. Cater to their needs, not yours.
14. Companies that adopt sales team collaboration grow 2.5x more than companies that don't.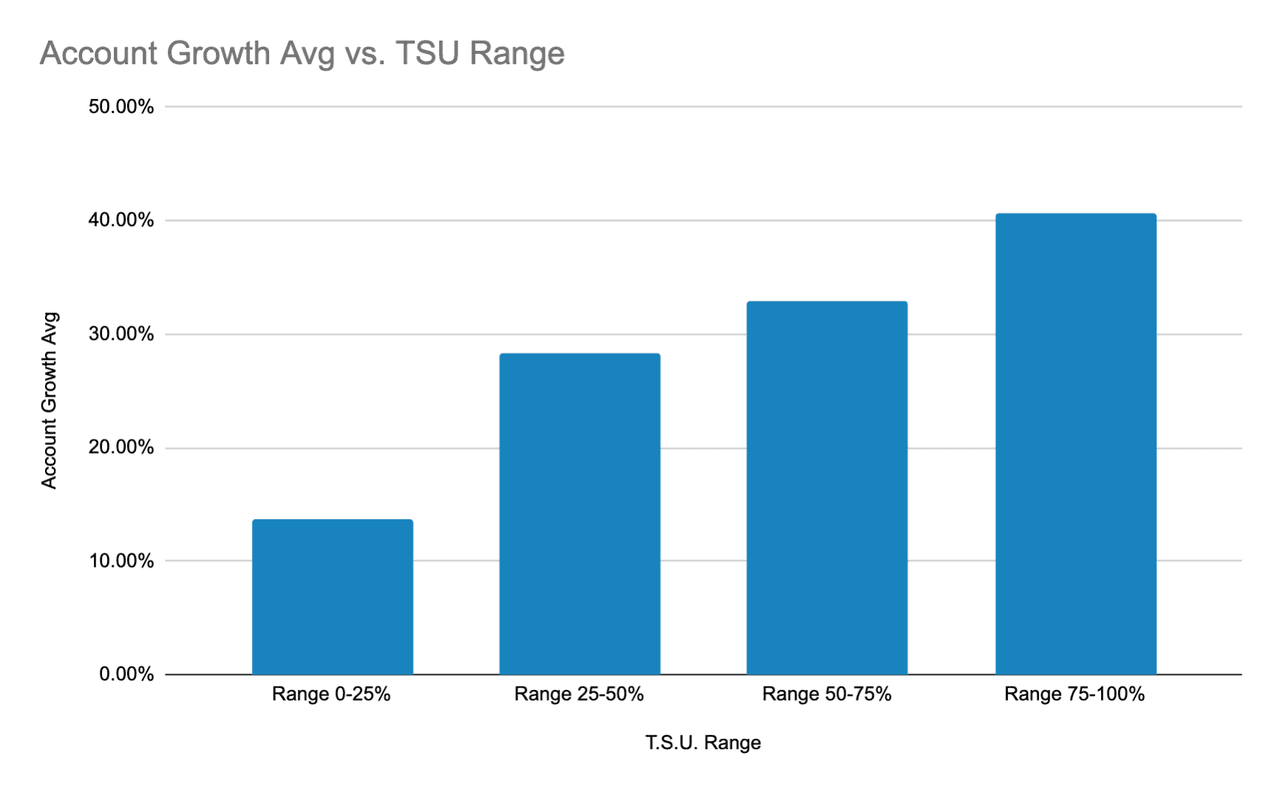 Source: Yesware Study
Date: 2020
Takeaway: Encourage your sales team to collaborate. This study shows that content/best practice sharing (i.e. sharing best-performing templates and campaigns) among sales teams is positively correlated with account growth in 2020. Sales team collaboration helps your team to develop an internal knowledge base and help develop more diverse ideas and perspectives. Selling is a team sport, after all.
The Future of Sales
15. 80% of B2B sales interactions between suppliers and buyers will occur in digital channels by 2025.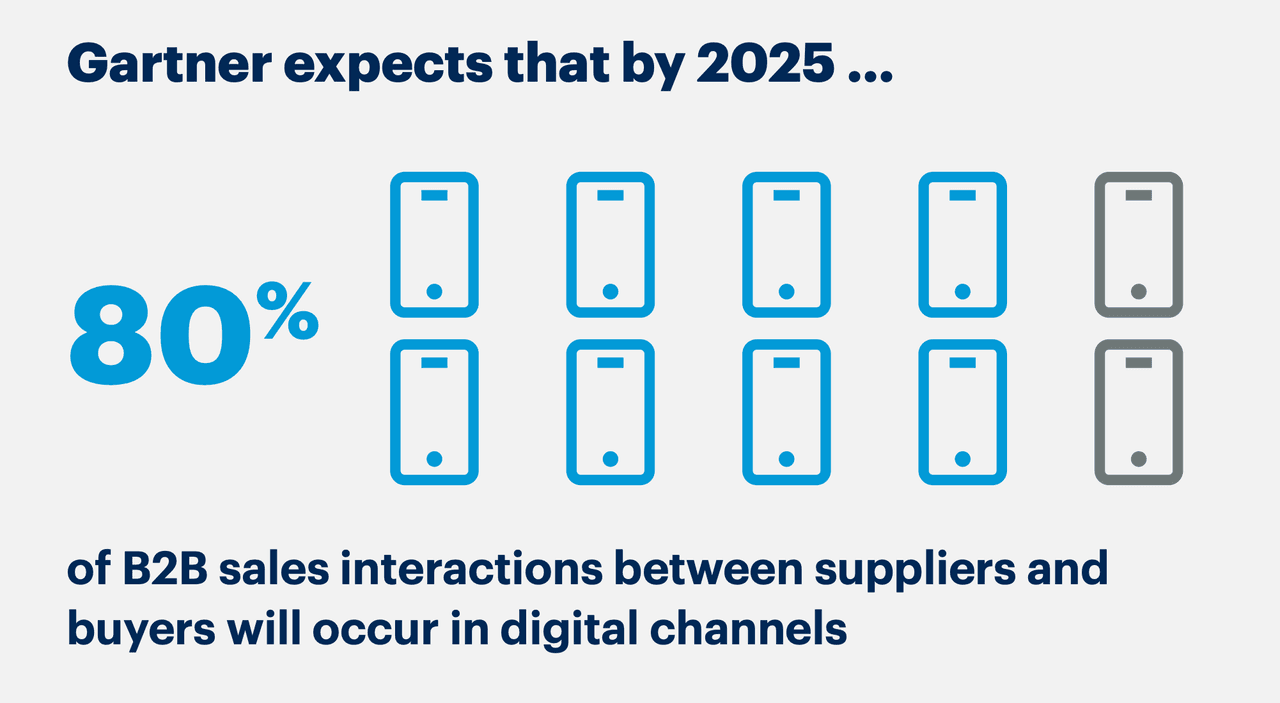 Source: Gartner Future of Sales Study
Date: 2020
Takeaway: The need for digital channels and self-service has been increasing significantly in the past years for the B2B sales process. With predictions similar to this one, it's important to keep in mind the shift to a more digital experience as technology continues to take over. Gartner predicts a permanent transformation from seller-centric to buyer-centric in the sales space. This indicates a push for teams to start building adaptive systems.
Bonus: 2021 Sales Statistics Free Ebook
Hungry for more?
Download our new ebook that includes all of our top 2021 findings.
Sales Engagement Data Trends for Sales Managers to Know Going Into 2022Looking at hundreds of millions of tracked email activity over the past year, this ebook is filled with our top studies & findings to help your sales team accelerate results in 2022.
Conclusion
Make sure when you're reading sales statistics, they're not linked to studies conducted over a few years ago. Staying up-to-date with the changing sales landscape will help you and your team adapt and evolve.
Keep measuring the success of your sales strategies and sharing them with your team for constant improvement and alterations to the changing environment.
Take these stats as inspiration for your own strategies and continue to track, analyze, and measure the evolving buyer behaviors.
Get expert sales tips straight to your inbox to win more deals
Related Articles
Sales, deal management, and communication tips for your inbox