Rethink Email Follow-up with Our New Activity Feed
If you're looking to annoy your prospects and ultimately give Sales a bad rep, then maybe Grant Cardone's strategy is the one for you:
"Cram the message down their throats until they're forced to swallow."
Sure, you can probably cast a wider net with this approach, but people will probably see through your disingenuous words and you are likely to ultimately hurt your brand.
We know that there's an art to authentic conversations and we appreciate how much time and effort it takes you to build rapport and trust with prospects and customers. That's why we're empowering you to make these conversations more informed and timely with Yesware.
We've redesigned Yesware's Activity Feed and Tracking experience, with the aim of helping you understand when and how your prospects and customers are engaging, allowing you to follow up in a timely and meaningful way.
Note: The Activity Feed is being rolled out now, and should be in your inbox shortly (Gmail only)!
How Yesware is Making Tracking Data More Actionable
We realize that presenting the data isn't enough when it comes to Tracking – we need to make it actionable. Our revamped Activity Feed is just part of our effort to do just that.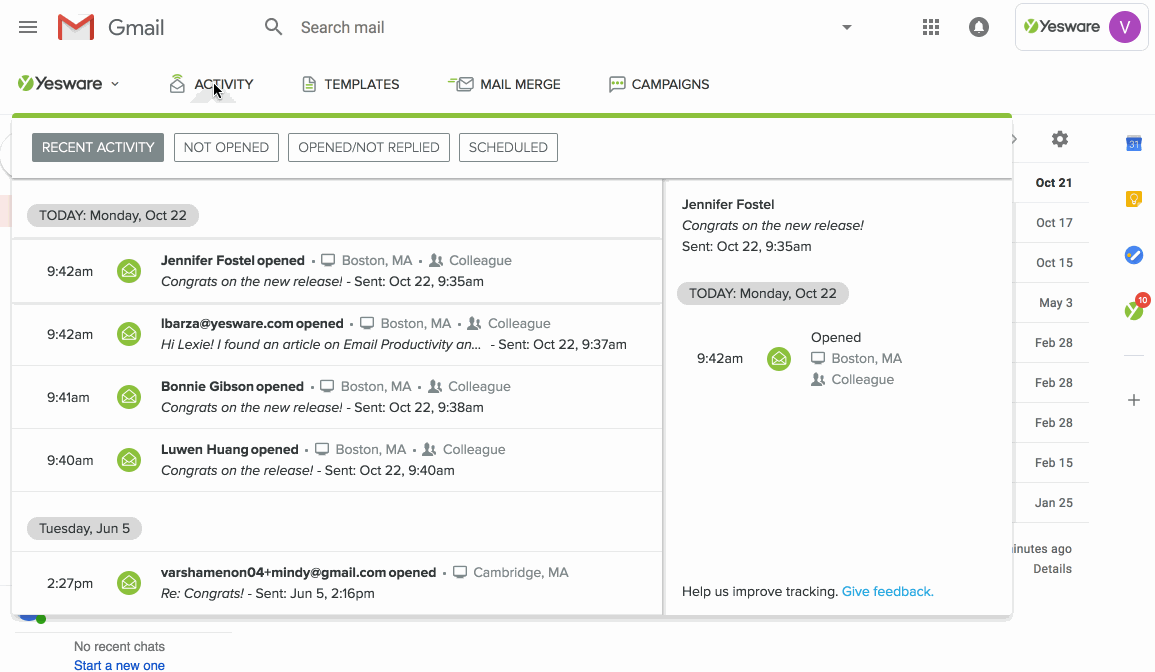 Here's why our new Activity Feed is more than just a UI refresh.
1. Total Visibility Into the Past and the Future
As a salesperson, you're likely juggling multiple deals at various points of the sales cycle, with some deals taking longer to close. Time is of the essence. If you're able to see when someone that's been cold for a while suddenly responds, your timely follow-up can be the thing that moves the deal forward.
Yesware is your historical record and crystal ball, rolled into one. We give you total visibility into past message engagement (Open, Link, and Attachment/Presentation Tracking) and any future, scheduled activity (including Send Later and Reminders).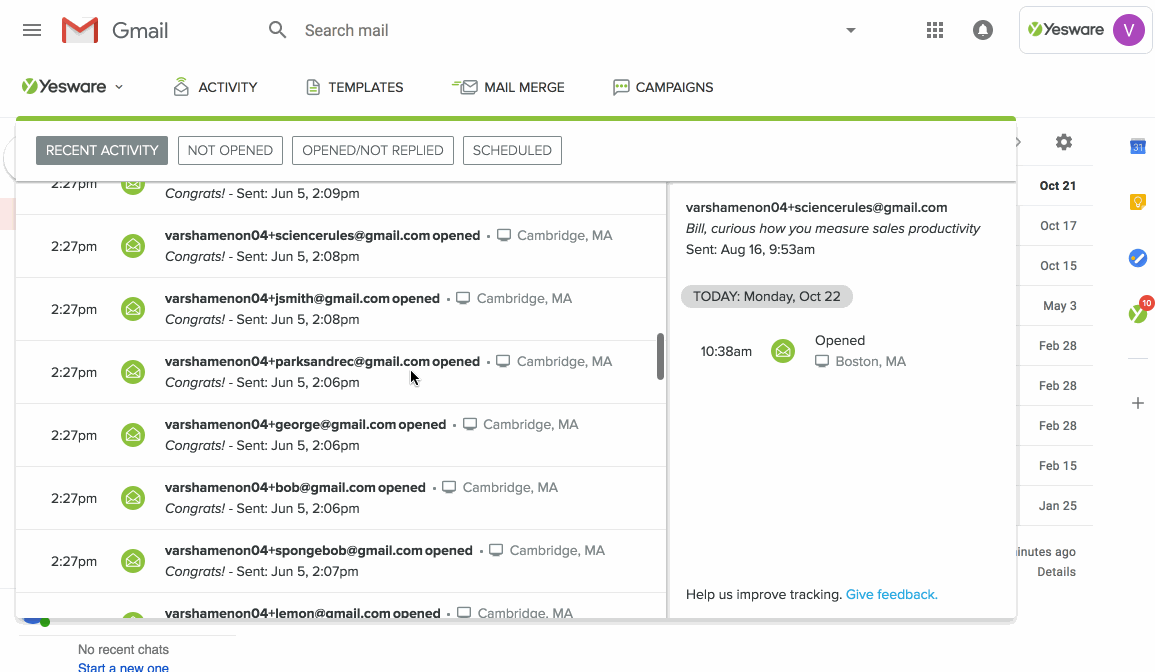 And our New Activity feed takes you to infinity and beyond! You'll be able to see all of your Tracking Events – many months of activity – without leaving your Inbox.
Here are some of the icons you'll see in the activity feed:
Email opened
Link opened
Attachment or Presentation opened
Recommended Action: You can click right on the email subject line to access the email and follow up right when recipients are engaging.
Do you have a lot of email activity to keep track of? Prioritize and organize your follow up by leveraging the Activity Feed Filters.
Recent Activity
This filter shows your Recent Activity (including Open, Link, and Attachment/Presentation Tracking, with the most recent activity at the top.
Recommended Actions:
Follow up with a call right after someone engages, when you're top of mind
If someone's engaging with a Presentation you'd sent, review the Presentation Report (right from the Activity Feed) and follow up with relevant content, based on the pages with the highest engagement
Opened/But Not Replied
See who's engaging with your email (i.e. Opened), but hasn't replied.
Recommended Actions:
Not Opened
See emails you've sent that haven't been opened yet.
Recommended Actions:
2. Context to Follow up Smarter
We don't just want to give you a bunch of data. We want to give you the context you need to craft and send highly authentic and personalized messaging to your recipients.
That's why we built in an expanded message view into the Activity Feed so that you can see the full context of an email exchange without having to piece everything together.
Recommended Action: Use overall email thread engagement to gauge interest and respond accordingly. Leverage Link and Presentation Tracking to see which content is being engaged with and craft a follow-up message that focuses on what's resonated.
3. Insights Where You Work
The insights you need to do your job should live where you do your job. It's that simple.
We've wanted to improve the Activity Feed because it lives where you work: your inbox.
And we get that everyone has a slightly different workflow, which is why we show you tracking engagement in multiple spots in your inbox.
Use the Tracking Icons in your inbox/sent folders to see at a high glance who's engaged.
Recommended Action: Looking to see an individual recipient's overall engagement over time? Use Gmail search to essentially have a per-person Tracking feed literally within your inbox.
If you're in a thread, you can click on Tracking to see all Tracking activity on a thread.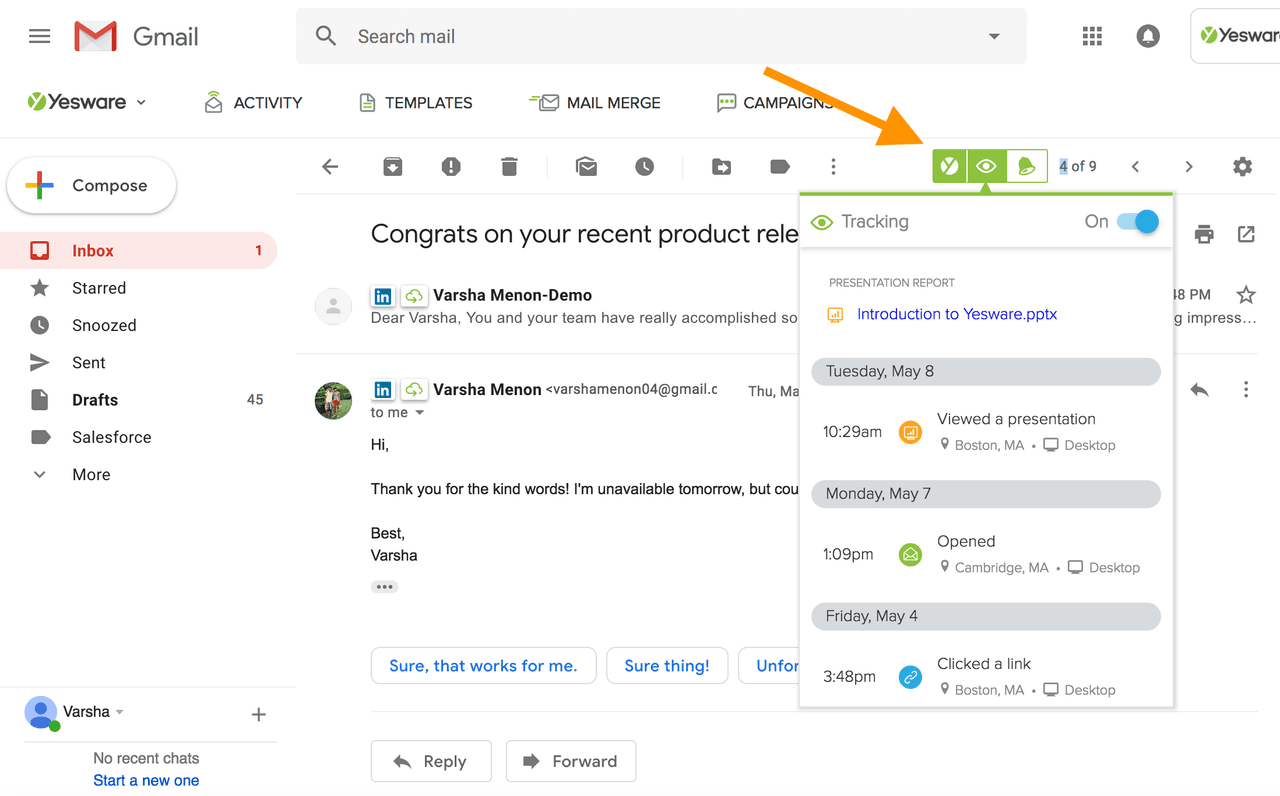 Lights! Tracking! Action(able)!
At Yesware, we're committed to actually making Tracking data actionable and we're just getting started.
If you have any questions, you can go to our Help Center or send a question directly to our amazing Customer Experience Team.
Get expert sales tips straight to your inbox to win more deals
Related Articles
Sales, deal management, and communication tips for your inbox