The Smart Salesperson's Guide to Email Drip Campaigns
Email drip campaigns can be a gift and a curse. Done well, they can help you build trust with potential buyers over time, laying the groundwork to eventually convert them into customers.
Done wrong, however, drip emails look a lot like spam. For every great cold email you send, it only takes one impersonal or poorly timed follow-up message to lose a prospect (and damage your reputation) forever.
The idea is intimidating enough for marketing teams using complex marketing automation platforms. Lucky for them, there's lots of great information out there explaining how to use drip marketing to nurture new leads.
But what about if you work in sales? Or real estate? Or customer support?
How do you build drip campaigns that work for you instead of against you?
If you're unsure, you're in the right place.
We've compiled everything you need to to know to write, build, and measure effective email drip campaigns — right from your inbox. These tactics are especially relevant to anyone working in b2b sales, real estate, account management, and any other profession that wants to use automated emails to build relationships and grow their business.
What Is A Drip Campaign?
The likelihood that someone will trust you enough to buy from you the first time they "meet" you or your company online is very low.
Enter: Email drip campaigns.
A drip campaign is a series of automated, pre-written emails that are sent to people over time. The overall goal of these emails is to get someone to know, like, and trust you enough to do business with you.
Drip campaigns in your inboxCreate multi-channel campaigns with email, calls, and social touches
Why Should You Use a Sales Drip Campaign?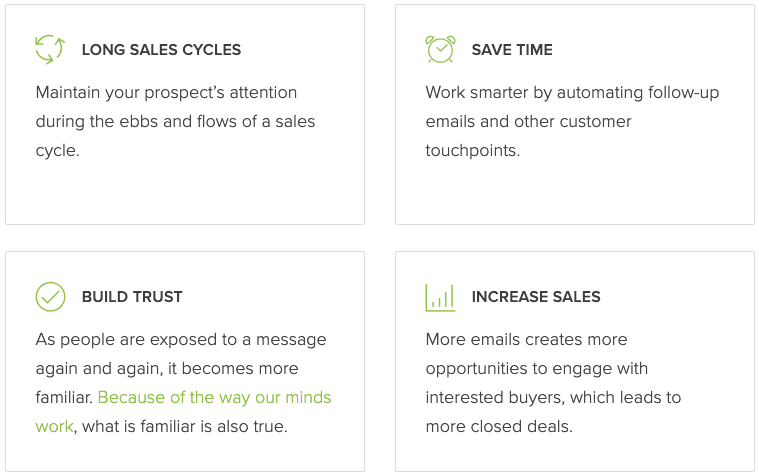 Marketing teams have been using this type of automated email — also known as lifecycle emails, autoresponders, behavioral emails, and lead nurturing campaigns — for years to onboard new users, build brand advocates, and fill the sales pipeline with qualified leads.
Today, thanks to the rise of sales acceleration tools, sales reps, and other customer-facing roles are also able to send their own highly targeted drip campaigns.
Two truths and a lie:
1. "Drip campaigns" get their name from drip irrigation.
2. Drip irrigation is when plants are fed small amounts of water over a long period of time.
3. It's safe to assume your prospect will appreciate this farming metaphor just as much as you do.
While similar to drip marketing, a sales drip campaign often differs in two key ways:
It is highly tailored to the unique deal being worked
Success is measured in email replies, with email opens and link clicks being secondary
Example Drip Campaign:
7 Drip Campaign Examples Worth Stealing (+ Free Email Templates)
Let's look at 7 ways you can use email drip campaigns to create a clockwork system that moves prospects forward in the sales process. We've also included sample email templates you can one-click copy to jump-start your own automated flows.
1. Prospecting
The conversation around outbound sales prospecting has been misguided in recent years, thanks to this popular Internet meme.
The problem is that these stats are bogus. It's fake data. The National Sales Executive Association doesn't even exist.
It all goes to show that sending more and more emails does not necessarily lead to more sales.
But there is a "secret sauce" that is guaranteed to make your prospecting emails more effective: personalization.
Research shows that personalized emails lead to nearly 50% higher open rates and roughly 22% higher reply rates. This ultimately creates more opportunities to drum up new business.
The best prospecting emails put the spotlight on the buyer — not your product.
Pro tip: It can be time-consuming to find and reference personalized details in every email you send. Check out the handy tool below to speed up and keep everything organized.
Introductory (or "cold") emails are the first step to starting business relationships. Both your initial outreach and additional follow-ups should be succinct yet sincere, showing that you can provide value without wasting their time.
One of the easiest ways to personalize prospecting drip emails is by scoping out recent job postings. The idea is to address the pain points that have prompted the company to hire additional resources, and then offer a more immediate solution than a new hire.
Here's how to use this tactic in the first email of your outbound prospecting campaigns. If the person doesn't reply, aim for four follow-up emails to automatically send over a period of seven days.
2. Top of Mind
On the highway to turning prospects into customers, top-of-mind drip emails are the road signs that move the sales process forward.
It could take a few weeks or months for your buyer to get internal buy-in, evaluate competitors, and make a final decision. In the meantime, you can continue to influence their thinking about what's under consideration by setting up a drip campaign that unfolds over the course of an entire quarter.
Each email should include content that your prospect would find helpful or interesting, such as relevant industry news, blog posts that address problems they experience in their line of work. You can even consider recording personal video or use a (free) online course platform and get some "face time" while sharing info/insights.

3. Pre-event
Attending industry conferences is a great way to get face time with busy decision-makers and push a deal through. Pre-event drip campaign examples like the one below can help you schedule these mission-critical meetings at scale, and automate follow-up emails to people who may not have seen your initial request to connect.
4. Cold Sales Lead
In an ideal world, all sales leads are piping hot and ready to buy.
Back here in the real world, it's safe to say there are times when you may be working your way through what is known as a "cold database." Generally, these are leads that have not interacted with your company in a while, were acquired from a trade show list, or may have come in through a list buy.
Cold sales lead drips are targeted towards these inactive leads.
The key is to craft a series of emails that are compelling enough to prompt your prospect to reply, indicating they're ready to enter the sales process.
The data-driven folks at InsightSquared offer a great example of how one of their sales reps used a 3-part email drip to turn cold database lemons into lemonade. The backstory:
"We were working through this huge list from a sales-specific event. It wasn't a great list; everyone on it was pretty cold. So I created a 3-email drip using Yesware. The initial email asked if the person was free for lunch Wednesday…and it was sent on a Sunday. The second email was automated to send on Tuesday to anyone who did not reply; it asked "are we still on for tomorrow?" If they didn't respond, they received a third email on Thursday, saying "sorry that yesterday didn't work out, happy to reschedule."
It's been their most successful prospecting email series to date, bringing in 9 unique opportunities, along with some seriously impressive email performance stats: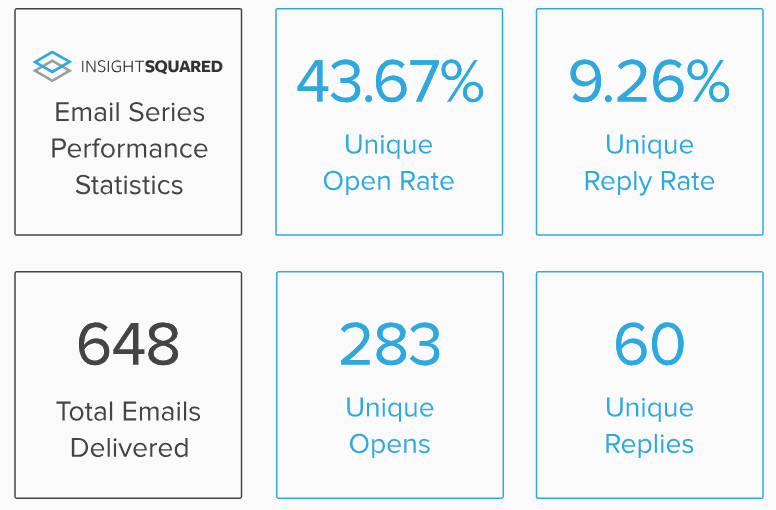 Here's the first email in that series: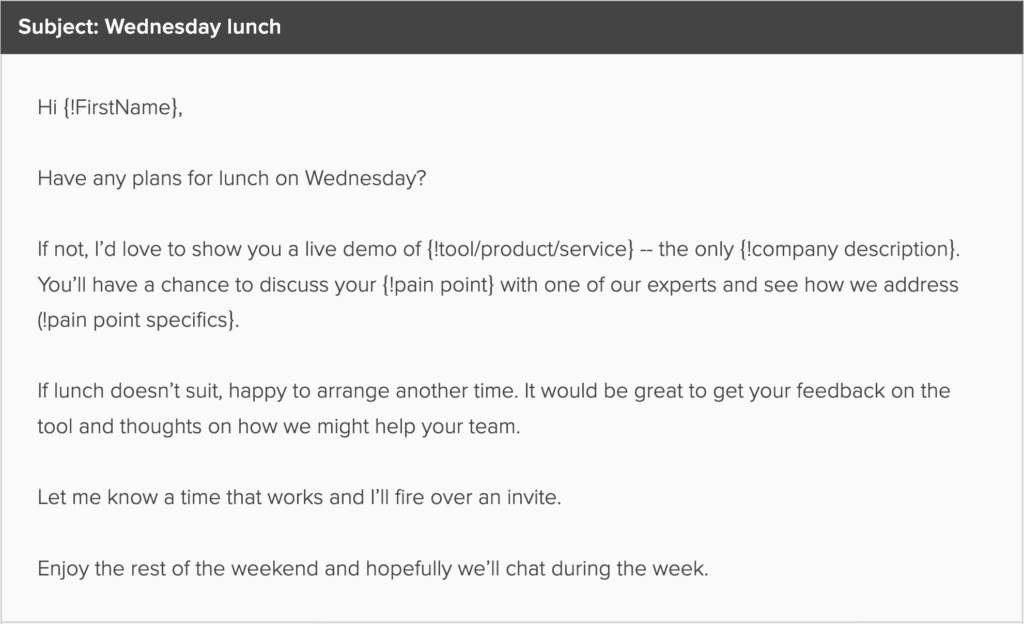 5. Upsell
Upsell drip campaigns are used to generate more revenue from existing customers. For example, your emails could offer the chance to purchase upgrades (better features, more volume, etc.). Or you could suggest a more expensive version of what they're already buying from you.
Remember: No one likes the feeling of being sold to – especially someone who is already paying you. You absolutely must explain how your proposal is:
relevant to them
adds value
will improve their life
Upsell emails are an important part of the sales cycle at B2C2B companies (e.g. Expensify, Yesware) that use a bottoms-up sales approach, where they first convince a large number of employees in a company to use a product. Once enough end users are acquired, sales reps use upsell emails like the one below to eventually convert the entire team or business into a paying customer.
6. Renewal
Setting up a renewal drip email sequence is an easy way to automatically remind your customers that it's almost time to renew their contract. Simply schedule an initial reminder email and subsequent follow-ups to send a month (or more) before their renewal date.
Just make sure that your email flow is turned off once they do renew to avoid any embarrassing overlaps.
7. High-Touch Onboarding
Sign ups and free trial users are great, but eventually you want that person to purchase something from you.
That's when an onboarding drip strategy comes in. The goal behind these emails is to turn unengaged trial users into active prospects with whom you can build a relationship.
Once someone signs up for your product/app/service, the flow usually goes something like this:
Glad to hear you're interested. Would love to tell you more. When can we connect?
Here's more info. Let me know when we can chat.
Following up again. Is this still of interest?
I see this is heading nowhere. Goodbye. (Sob).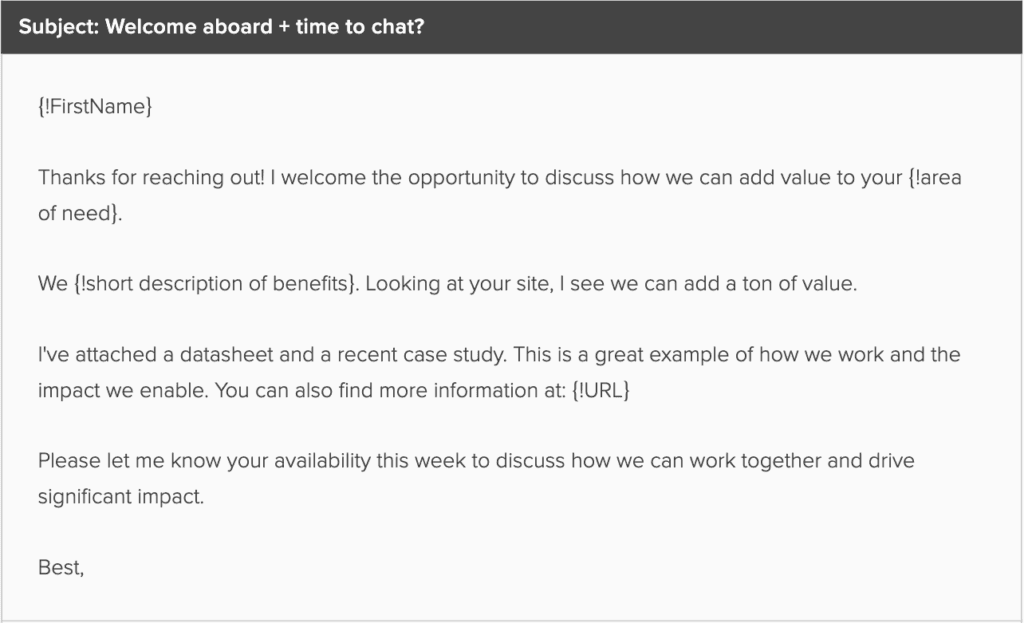 How To Set Up A Sales Email Drip
Once you've decided on a strategy, it's time to start sending. To do this, you'll want to find an off-the-shelf drip email tool that'll have you up and running in minutes.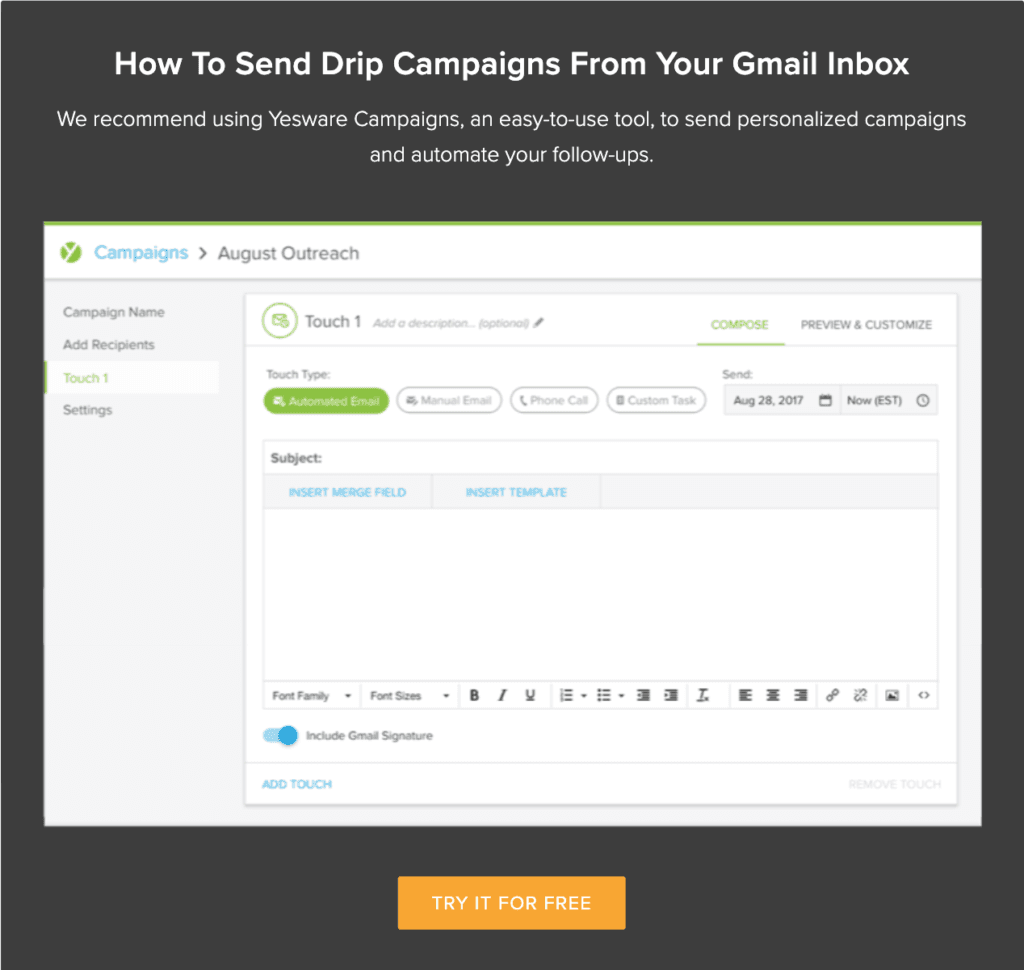 How To Schedule Your Drip Emails (Backed by Research)
How many emails should you send, when, and for how long?
There's no "right" way to sequence your drip campaign. You have to test, measure, and iterate to find which flow works best with your sales cycle, your goals, your contacts, etc.
But you don't have to start at ground zero. Here's what analyzing over 500,000 sales emails has taught us about when to schedule email sends and follow-ups to maximize your reply rates.
And here's a handy guide that discusses proven strategies, tips, and examples for your drip campaigns.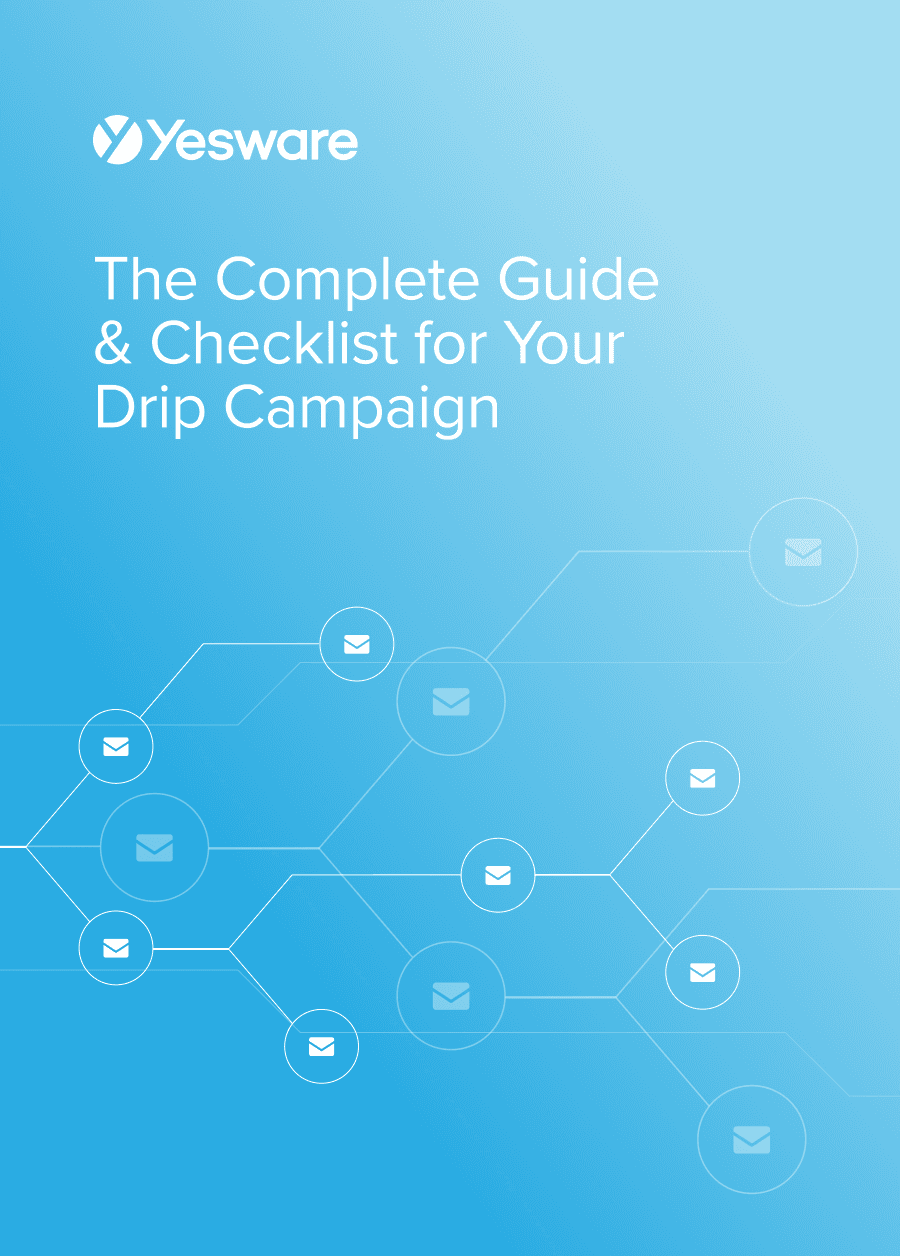 The Complete Guide & Checklist for Your Drip CampaignAn all-in-one guide for creating drip campaigns that improve your conversion rates across all stages of the sales funnel.
Put these findings to the test, and see what works for you.
Schedule drip emails to send in the early morning or evening
People are more likely to respond to emails they receive early in the morning between 6 and 7 am) or later in the evening (around 8pm).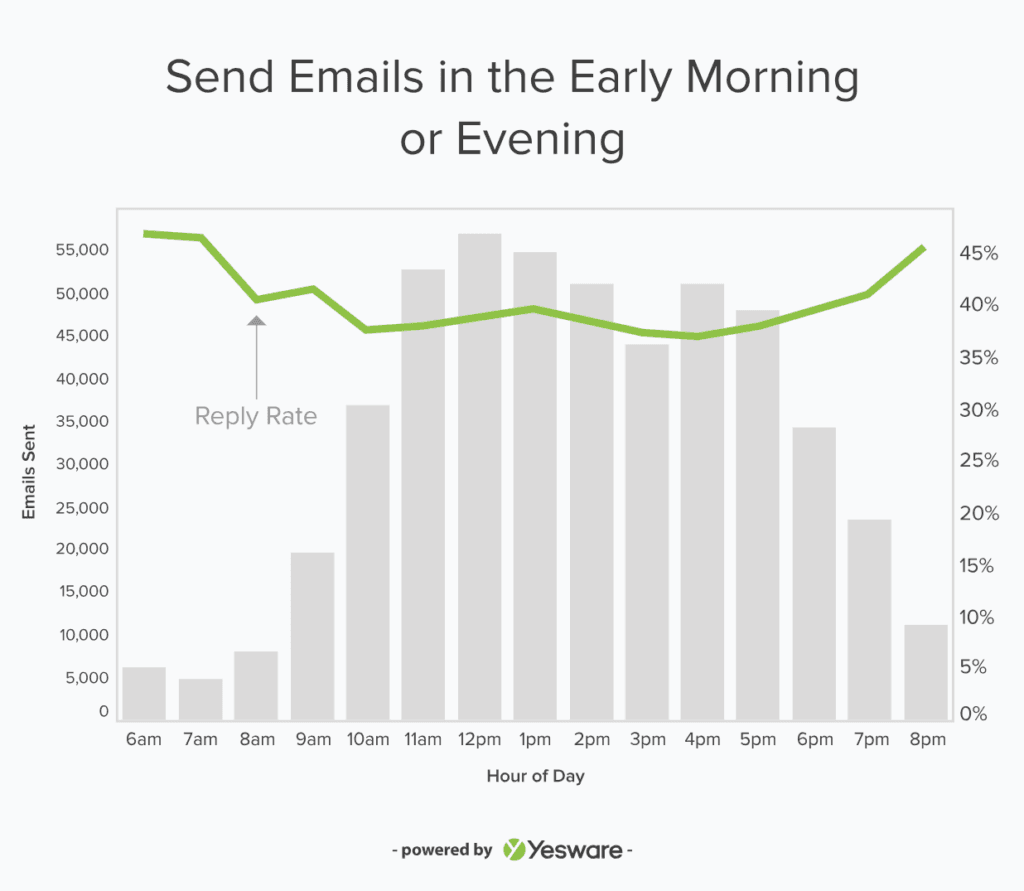 The chart above also shows us that significantly fewer emails are being sent during these hours. So with less to compete with, your message is more likely to stand out and get noticed, leading to better open and reply rates.
Don't worry about specific weekdays, consider weekends
In the world of sales drip campaigns, where replies are king, there is absolutely no "best" weekday to send an automated email.
According to Yesware's data, open and reply rates are pretty similar no matter what weekday an email is sent.
But here's where things get interesting: Email open and reply rates are highest on the weekends.
Again, this likely has to do with the fact that inbox competition is lower on these days.
Have your follow-up email sent 24 hours after your first email
Most emails are toast after 24 hours. 90% of emails that get replies are replied to within one day after they are opened.
The good news is that sending a series of follow-up drip emails really can be worth the effort.
If you don't receive a reply to your first email, Yesware found that you have a 21% chance of getting a reply to the second one. And if you continue to send even more follow-up emails, there's still a 25% chance that you will eventually hear back from your recipient.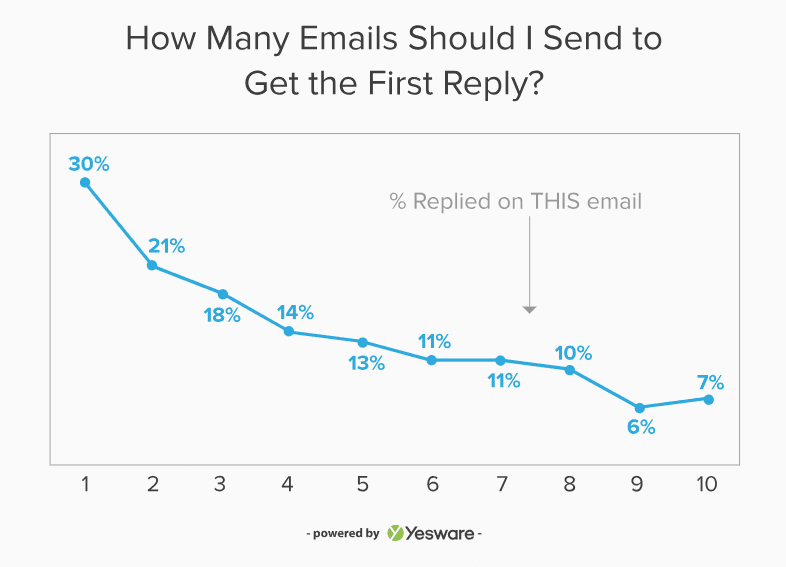 How To Avoid 5 Surprisingly Common Drip Email Mistakes
Ready…set…wait!
Before you start sending, it's a good idea to do a quick check to make sure everything is a-ok and ready to go. Here's five of the most common missteps to watch for.
1. Did I avoid using these words and phrases in my subject lines?
Research shows that they tend to trigger spam filters:
free
help
% off
reminder
$$$
extra income
prices
apply now
limited time offer
A general rule of thumb is to avoid language that's overly promotional. Write in a straightforward and concise manner and you should be just fine, provided you aren't accidentally getting caught by any of these nine spam triggers.
2. Are my custom fields pulling in the correct information?
No one's going to give you their time if they feel like you couldn't be bothered to take time error proofing your own emails.
3. Are there any upcoming holidays I should avoid?
True: Open rates on US federal holidays – Martin Luther King Jr. Day, President's Day, Memorial Day, Labor Day, and Columbus Day – are surprisingly similar to any other Monday.
But we wouldn't advise purposefully scheduling a drip email to arrive in someone's inbox on other widely celebrated days that are typically spent with friends and family. Everyone deserves a break from their inbox now and then ;).
4. Does each email provide context on who I am and why I'm reaching out?
Each follow-up email in an automated drip sequence should provide context as to why you're contacting them again. Otherwise, your reader has no idea what the heck you're talking about and even less incentive to respond.
This brings us to the next very important check box…
5. Will my automated follow-ups be appended to my original email?
Always double-check that your drip email platform automatically appends each additional email to your original, so that it looks like a true threaded follow-up email chain.
If your second, third, and fourth emails are delivered as separate threads, you're asking the reader to dig through their inbox to find the original for context. This is work. Nobody likes work.
Drip email tools that don't have this capability may not be worth the low reply rate. If you're interested in looking into alternatives, we've put together a handy checklist of what else is worth prioritizing when evaluating this type of software.
How To Measure Drip Email Campaigns
You've invested valuable time in setting the strategy, writing your emails, and scheduling your sends. It's equally important to keep track of how things are going so you can continue to improve on your results.
At minimum, be sure to keep a close eye on these three metrics:
Open rate
Reply rate
Bounce rate
Open rate: How many people opened your drip email?

What this number tells you: The average cold email open rate is around 23%. If you're seeing lower open rates across your automated drip campaigns, consider:
Reply rate: How many people responded to your drip emails?

What this number tells you: How effective is the message in the body of your email? Is your call to action compelling? What to watch for:
You see → High open rates, but low reply rates

It could mean → There's a mismatch between what your subject line is promising, and what the body of the email actually delivers. Something is grabbing their interest off the bat but doesn't hold attention enough to warrant a reply.
You see → Low reply rates

It could mean → Your email is too long. Shorter emails are proven to result in quicker response times. Your messages aren't as personalized as they should be. Personalized emails typically see 22% higher reply rates.
Whether you're trying to improve your open or reply rates, you'll want to make sure your messages are being effectively measured against one another. This is known as A/B testing. Here are 18 A/B testing email ideas to get you started.
Bounce rate: The percentage of email addresses that did not receive your sent message.

Email bounces can happen if an email address was incorrect or fake (known as a hard bounce), or if the server rejects an email because the recipient's inbox is already full, a connection cannot be established, or other temporary conditions (known as a soft bounce).
What this number tells you: Industry benchmarks estimate that bounce rates for "average companies" hover between 2-5%. If you're noticing a number higher than that on any of your outbound email campaigns, it's time to sit down and review your lists to make sure they're accurate.
If you're still seeing less-than-ideal numbers in this department, LeadGenius has a great article we recommend taking a look at. It covers eight of the most common reasons why email bounces may continue to occur.
Get expert sales tips straight to your inbox to win more deals
Related Articles
Sales, deal management, and communication tips for your inbox