Just a Reminder: How to Write a Reminder Email
Reminder emails are a great way to connect with someone regarding an upcoming appointment, a missed deadline, or as a follow-up to a meeting. 
Despite how frequently they're written, polite reminder emails can prove tricky to execute effectively. Finding the right tone, the right words, the right number, and the right time to send all require a little bit of finesse.
If your note is too blunt — or fired off too soon — you risk coming off as rude; if you're too passive, your email (and its enclosed request) may be overlooked or flat-out ignored.
We've created a handy guide of everything you need to know about how to write a gentle reminder email that gets your point across politely and effectively.
Here's what we'll cover:
When to Write a Reminder Email
If you find yourself in the position of needing to send a friendly reminder, don't stress — it likely has nothing to do with you.
The average business person gets nearly 100 emails in a single day; the sheer volume of incoming messages makes it no surprise that some are unintentionally overlooked or deprioritized.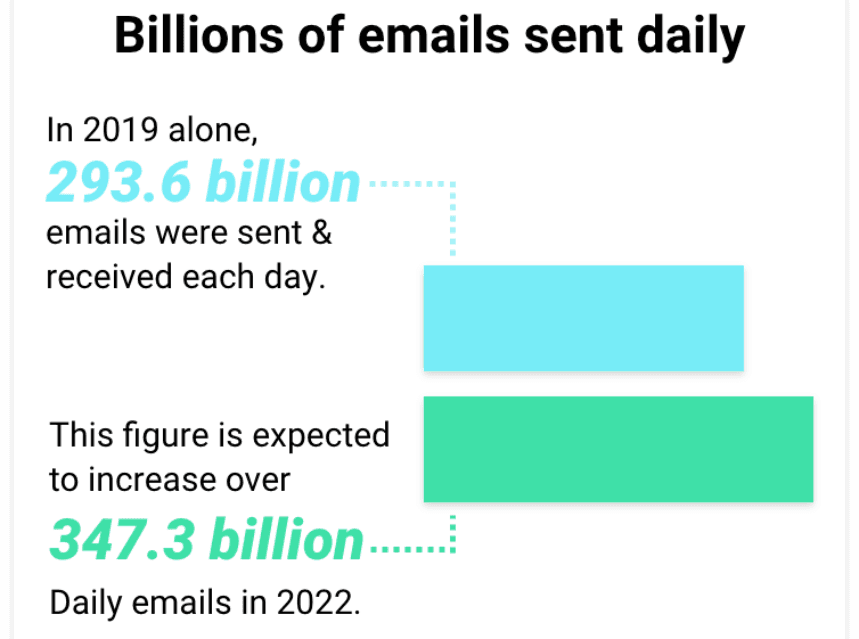 With that in mind, remember to give your recipient the benefit of the doubt as you draft your reminder. Remember the old saying: you catch more flies with honey than vinegar. 
That being said, no matter how polite your main message is, timing can be tricky.
Reminder emails are used for a variety of circumstances, and there's some email etiquette involved in making sure the timing of your message is appropriate. Knowing exactly when to send a reminder email is just as important as knowing what to write inside. Here are a few rules of thumb.
Automate your remindersSend automated personalized reminders at scale
1. Confirming an Upcoming Appointment
In general, it's best to send a polite reminder email about an upcoming appointment or due date about 3 days before the appointment.
This gives the recipient plenty of heads up to rearrange their calendar if need be, but is close enough to the appointment date that it won't slip their mind later on. 
2. Late Payments or Missed Deadlines

Following up about missed payments or overdue work can be uncomfortable; many people make the mistake of putting it off to delay a possible confrontation. In the long run, though, it's best to tackle this kind of reminder efficiently.
The longer you wait to send a reminder, the bigger the consequences become; missed payments and deadlines have an exponential impact on a company's bottom line as time goes on. It's perfectly acceptable to send these types of reminder emails 24 hours after the missed deadline. 
3. Pending Interviews or Sales
Here's another example where timing might feel delicate.
If you're waiting for feedback or follow-up when someone on the other end is making a decision — maybe you interviewed for a job, or gave your prospect a killer sales pitch — bite your tongue for a little while longer.
It can be hard to wait for (hopefully) good news, but sending a reminder email too soon can make you seem pushy. For interviews, five business days is a good rule of thumb here. For sales, around 2-3 days is a good rule of thumb.
4. Lapsed Communication
If someone (a colleague or a prospect, for example) promises to be in touch by a certain date — and then that date comes and goes — resist the urge to follow up too soon.
The timeframe here is a bit more situation-specific, but in general, a gentle reminder email could be appropriate after about 10 – 14 days.
What to Include In a Reminder Email
The exact content of your reminder email will be situation-specific, but there are a few components to include no matter the circumstances.
1. Greeting
The greeting or salutation you choose will depend on how familiar you are with the recipient. "Dear" is generally a safe bet, as is going straight to "Mr./Ms./Mrs." Both of these options are considered more formal. 
"Hi" and "Hello" are on the more casual side, and should be reserved for definitively friendly relationships. Remember, this is still a professional email and you should err on the side of being polite and respectful.
2. Pleasantries
Start your email with a positive tone. While the overall message should be short and succinct, it's good form to open your note with some niceties: 
A compliment: "Great job with the brown bag presentation last week!"
Gratitude: "Thanks so much for your time yesterday at the product demo."
General well-wishes: "I hope you're enjoying this fantastic weather!"
Don't go overboard, and make sure whatever you choose to open with is authentic. If you can't think of anything specific or relevant, the old "I hope this note finds you well!" is always a good fallback. 
3. Main Message
After your intro, get straight to the point. Give appropriate context about why you're sending a reminder in the first place, including any relevant dates or other details, but leave the play-by-play out of it.
People's attention span for emails is shockingly short:
Reminder emails usually have some sort of "response required" aspect to them, so you want to make sure your main message doesn't get lost in a sea of other superfluous text. Because this is a reminder and not an initial contact, it's okay to be briefer than you normally would.
4. CTA/Closing
Most reminder emails will require that you sign off by including some kind of call to action (CTA) in order to know that the reminder has been effective. A call to action is essentially a statement or request to the email recipient indicating what you want them to do after they read your note.
Here are a few examples of CTAs you might include in a reminder email: 
Please send the whitepaper by no later than 5:00pm today, Thursday April 8.
Don't forget to add the SaaS Sales workshop to your calendar for Wednesday, October 3 at 12pm!
The offer we discussed is valid through Friday 11/14. Sign the proposal today to take advantage of the Early Bird discount we discussed last week.
Please don't forget to RSVP by Saturday 9/21!
Your CTA should be crisp and action-oriented. Make it easy for the recipient to do what you're asking by adding links and easily accessible details where possible. Sign off with your standard email signature, or your name and phone number.
We've said it before, but it bears repeating: remember to give your recipient the benefit of the doubt (yes, even the ones with late payments or missed deadlines). Life catches up to all of us once in a while, and a bit of grace goes a long way in building trust.
Save reminders as templatesNever write the same email twice with Yesware
Tips for Successful Reminder Emails (and How to Follow-up If They're Not)
By nature, most reminder emails have some sense of urgency involved. They usually indicate that something important has already passed, or an upcoming event is on the horizon.
This means that it's important that your reminder emails convert. Here are some of our best strategies for making sure your email is effective and gets your desired result.
1. Perfect Your Subject Line
Your email subject line can really make or break the outcome of your reminder email:
Pre-empting your subject line with something like "[response required]" is a good way to get your recipient's attention and let them know that you're looking for some kind of communication back from them. 
Of course, only use this where appropriate — you probably won't make this kind of disclaimer for something like an event reminder or to follow-up about a job application, but it can call the right amount of attention to emails that need input from the recipient. 
Otherwise, keep your subject lines succinct and specific. Reference the matter at hand without fuss or frills.
There's a time and a place for trendy, attention-grabbing headlines — this isn't it. Use enough words to make your intention clear, no more and no less.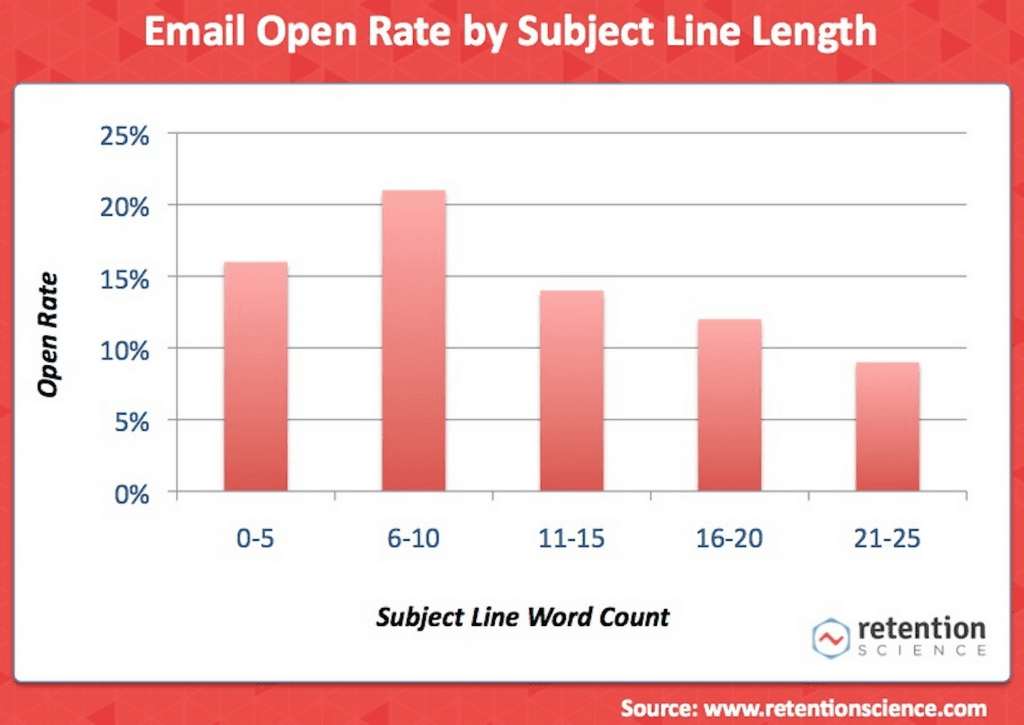 2. Automate Your Reminder Emails
Stay on top of your follow-ups by automating your sales outreach.
With Yesware, you can automate follow-up emails to go out when prospects don't respond to your first outreach.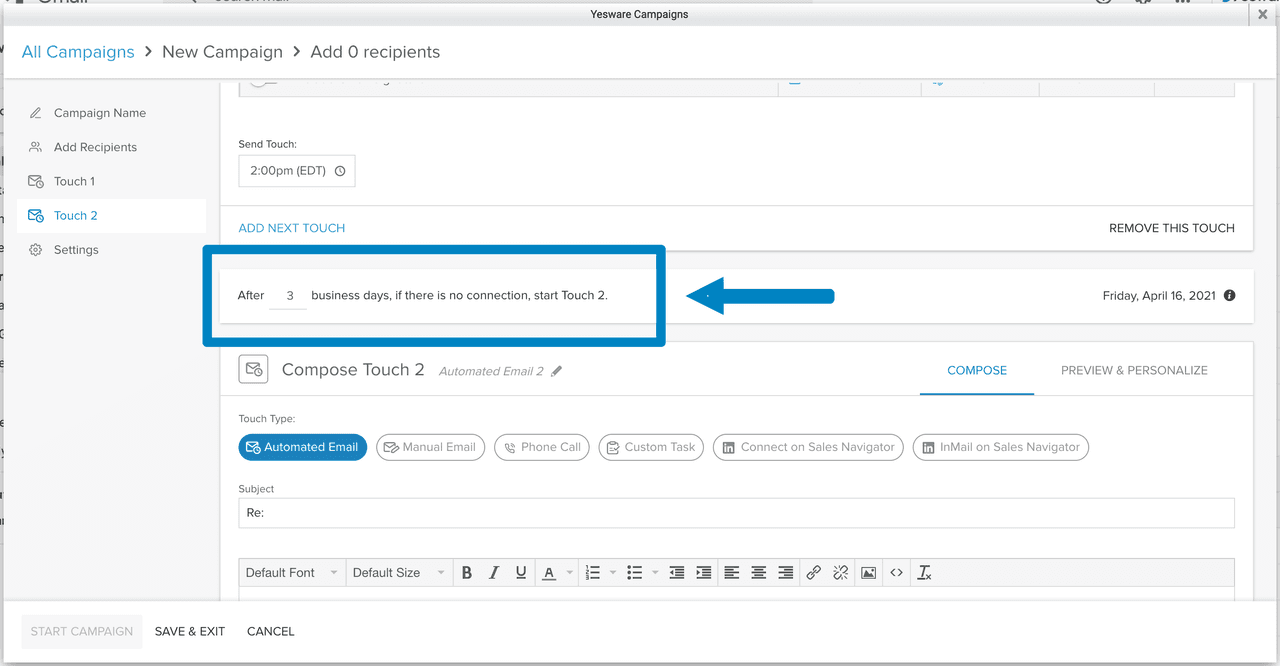 Get this tool in your Outlook or Gmail inbox today — try for free for 14 days!
3. Tee It Up
Make it as easy as possible for your recipient to take action on your reminder. Reminder emails are meant for tying up loose ends, so your time will be well-spent preemptively eliminating any roadblocks or potential confusion. 
Add links wherever possible, like directly to your sales checkout page or meeting scheduler. Make it easy for the recipient to do what you're asking.
Include relevant dates and times, and be specific. 
Make your CTA clear, concise, and agreeable. 
You might also consider sending a reminder message directly within a previous chain of communication, to give your recipient an easy point of reference. Highlighting relevant information in a different color text is another great way of easily getting your recipient quickly up-to-speed about what needs doing.
4. Study Behavior
Over time, and with the right tools, you can use data to improve the effectiveness and success rate of your reminder emails. There are various data points that you can track in order to better reach your prospects and customers:
Open rate: Research shows that emails are more likely to be opened depending on the day of the week and time of day. Surprisingly, for example, open rates are highest on Fridays.
A/B Testing: Comparing the success rate of two different email templates or subject lines is a great way to put your best foot forward each time you write a reminder email.
Recipient engagement: Email tracking software can help you see how long your emails are read and how your recipient interacts with them when they're open.
Get expert sales tips straight to your inbox to win more deals
Related Articles
Sales, deal management, and communication tips for your inbox