5 Sales Follow-Up Email Mistakes That Are Costing You Time and Money
Sales follow-up emails are crucial for winning deals, yet 70% of unanswered email chains stop after the first attempt. Are you making these costly mistakes?
Getting your follow-up game down pat is a difficult task – you're writing to people who have already ignored you.
But following up is an integral part of the sales process. It takes just one day for an email to be a lost cause. So, not following up simply because you don't want to bother the recipient is only hurting you and your business.
Each time you send a follow-up email, the context of the message will affect the likelihood of getting a response in the end. So it's important to get it right.
We've compiled a list of common misinterpreted mistakes and tips for mastering your follow-up strategy and standing out from the crowd.
1. Hiding Key Elements in Long Text
It's easy to get carried away with engaging your recipient and sparking conversation with stories and connections made. And while these are important factors to incorporate in your follow-ups, make sure that text isn't smothering the main reason behind your email.
Always make sure your ask is clear and that the recipient knows why you're reaching out and why they should care about responding.
A way you can do this is by using bold words to draw the recipient's attention to important information.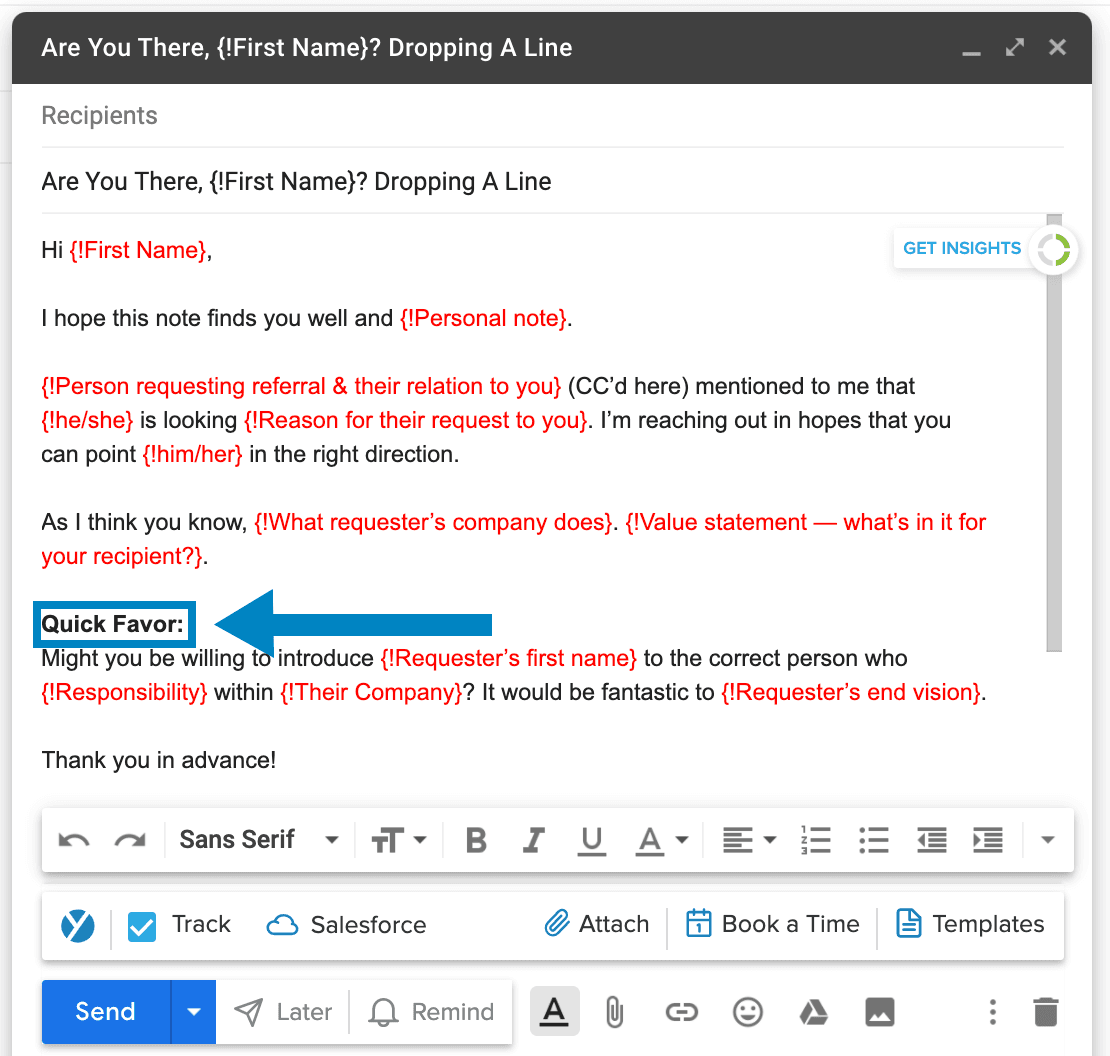 Another way you can make your email is easier to read and navigate is to use bullet points or numbers to separate your ideas.
This way your recipient can skim your email and still gather important pieces of information.
If you make it easier for your prospect to find the main points of the message before clicking away, they're likely to stay on your message longer – so make the information listed in bullet points catchy and valuable.
After you type your message – read over and trim unnecessary sentences.
The shorter and more concise, the better. Ignore the lengthy stories in your first engagement – keep it simple. AND keep it valuable.
Try writing multiple drafts of the same sales email, refining it each time for clarity, tone, and verb strength. From there on out it's all about tracking your response rates and iterating as needed. The messaging that works best, save it as a template and reuse.
2. Giving up Too Soon
Your recipients are busy. Their inboxes are full. And emails get lost.
Giving up too soon will only hurt you.
According to Yesware's data, if you don't receive a reply to your first email, you have a 21% chance of getting a reply to the second one.
Still no reply? Take heart and keep sending: There's still a 25% chance that you will eventually hear back from the recipient.
What this chart illustrates is that by continuing to send more emails, you create more opportunities for your recipient to reply. It is a study in scale. A greater volume of emails should correlate to greater total response, and the chart above shows this to be true.
If you don't get a response from your first email, wait around 48 hours and reach out again. When you reach out again, reposition the value slightly differently, try a different strategy, and change up your messaging. 
Wait a couple of days in between your first few follow-ups then expand the time.
Remember, it typically takes 5 follow-ups or more to get a response. So don't give up.
Automate your follow-upAutomate follow-ups to go out when prospects don't respond to your first outreach
3. Not Personalizing Your Emails Enough
We know you're tired of hearing this, but the most crucial mistake you can make in your sales follow-up emails is not personalizing your message enough.
When creating templates and inserting merge fields, don't count job title and company name as personalization – everyone reaching out knows these. This doesn't make you stand out from the crowd, in fact, it only makes you blend in more.
Various studies show the impact of personalizing your emails and the effect it has on your open rates.
That being said, you need to incorporate differentiating factors. Try bringing up something about them that shows you did your research. 
Here are some ideas:
Compliment the recipient on a recent accomplishment
Find an uncommon commonality
Highlight mutual connections
Reference to a conference or event you both attended
Bring up a similarity in past experiences – similar companies, positions, etc.
Your email needs to address the recipient, cater to the recipient, and provide value.
4. Ignoring the Data
It's important to implement tools that give you insight and data on how your messages are performing.
This way, you can see what's working and what's not working and make those necessary changes.
Look at your Reporting data. For example, here's Yesware's Template by Template Report: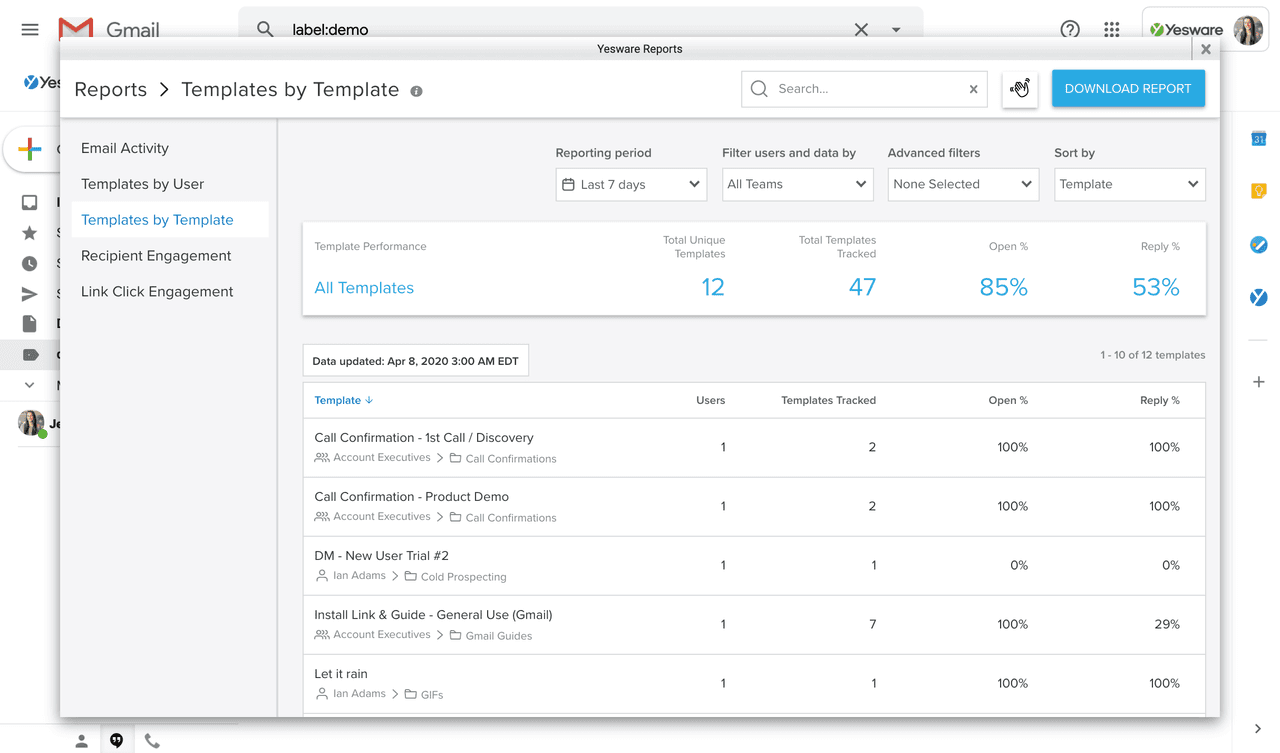 From this data, you can figure out what's going wrong:
If the recipient didn't open your email – your subject line isn't engaging enough.
If the recipient opened your email but didn't respond – the content of your message isn't captivating enough.
If the recipient opened your email and clicked on a link or attachment but didn't respond – your message resonated with them and they wanted to learn more. But then some hesitation sank in, or they weren't ready to make a decision just yet.
In the above case, your next follow-up is very important for reducing fear and doubt. Send them case studies or social proof, and ensure that they don't need to make any decision just yet and you can answer all questions on a phone call.
The content of your follow-up messages should be based on these interactions. Make the right changes and provide the right information according to your data.
Data that helps you sell smarterDaily activity, engagement data, and outcomes
5. Relying on Generic Follow-Up Messages and Touches
Quit using the same generic messaging – try something new, be different, and stand out!
If you're not having luck with your follow-ups, make changes. Professional emails don't always have to be so serious. Bring in some humor and make your recipient laugh. Be different and spontaneous in your messaging and try new things.
This helps distinguish yourself from the competition and will make your pitch and company more memorable to the recipient.
Here's an example of incorporating some humor to an email template for re-engaging prospects that have gone MIA – and look at the reply rate!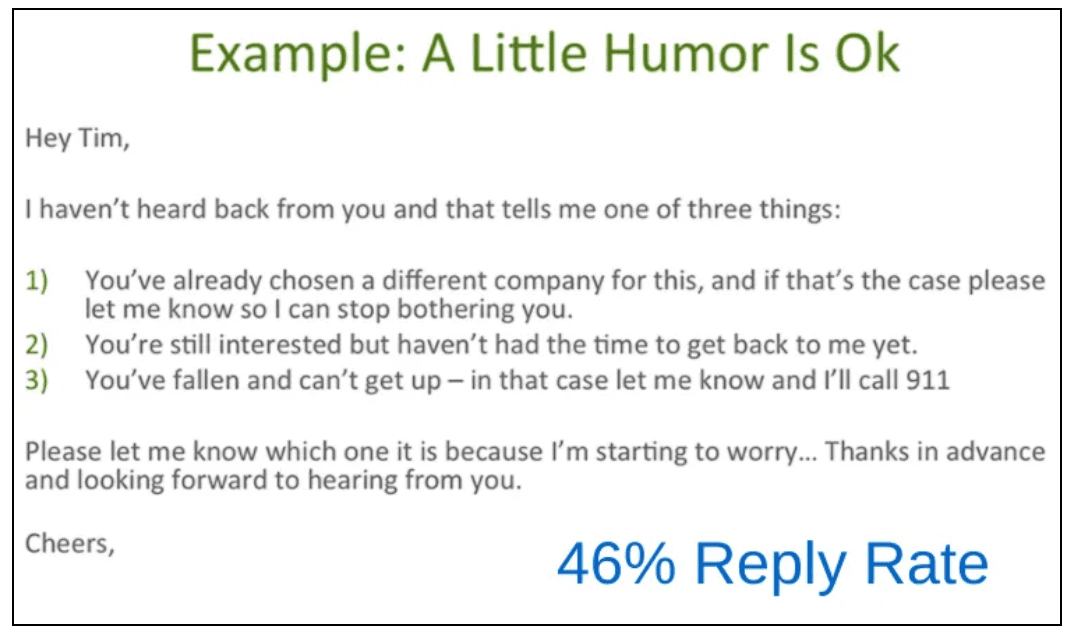 Treat each sales follow-up email as a blank slate – try out new subject lines, wordings, greetings, and calls to action.
Also, remember that people prefer different methods of communication.
Email not working for you? Try calling. Or try LinkedIn.
When creating a campaign, test different touch types and see what works best for you and your customers.
BONUS: Not Making It Easy for the Customer
B2B sellers know that their customers are as informed as ever. But with the vast information at hand, they're also as overwhelmed as ever. Making a decision isn't easy, especially buying complex solutions and software.
Harvard Business Review found that when asking senior executives at companies to describe the complex-solutions purchase process in one word, most responses were words like "hard," "painful," and "frustrating." They also found that 65% of customers spent as much time as they'd expected to need for the entire purchase just getting ready to speak with a sales rep.
That's why the best thing you can do as a salesperson is to make it easy for your potential customers.
Provide them the information they need, give them a free trial before spending any money, make the process as easy and seamless as possible. And eliminate any doubt.
If you can communicate this message in your follow-ups, you will see a vast increase in engagement, replies, and interest levels of your recipients.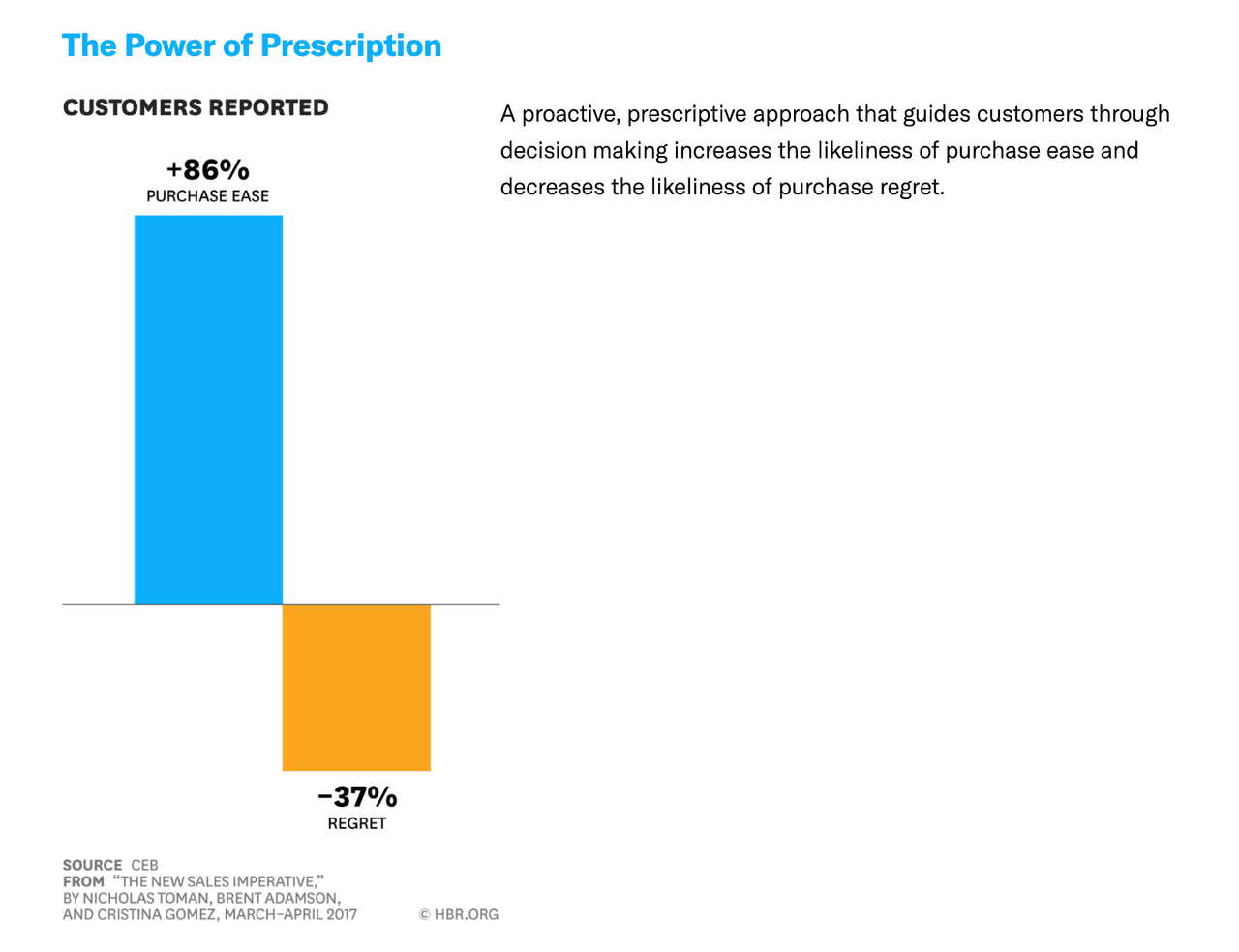 The study found that a proactive prescriptive approach increased purchase ease by 86%. This is done by presenting a concise offering and stable view of capabilities, and explain complex aspects of the purchase process clearly. 
If you can communicate an easy buying process with your recipients from the get-go, you'll see less hesitation and better customer satisfaction in the long-run.
Don't Forget the Basics
Keep these mistakes top of mind next time you're writing a sales follow-up email.
Implement these techniques, see what works, and make relevant changes to your strategy.
And remember, never forget the basics – do your research, always have an appropriate greeting, an engaging subject line, and a clear CTA.
As long as you're providing something valuable that you know will help your recipient, your follow-ups should come naturally.
Get expert sales tips straight to your inbox to win more deals
Related Articles
Sales, deal management, and communication tips for your inbox