How to Build a Sales Lead Funnel
An optimized sales lead funnel is the backbone of your sales performance. Without one, the sales process can be chaotic, difficult to track, and frustrating to sustain. 
Building a structured sales funnel can be the difference between an aimless sales process and one that brings in ample predictable revenue.
In this article, we'll go over everything you need to know about sales lead funnels: what they are, why they work, and how to use them to nurture a steady flow of well-qualified leads into happy customers. 
Here's what we'll cover:
What Is a Sales Lead Funnel?
The sales lead funnel is a process-oriented representation of the steps and stages that leads go through from the moment they become aware of your brand to the moment they become paying customers.
The sales funnel is a systematic approach to generating leads and winning customers, and is usually divided into stages.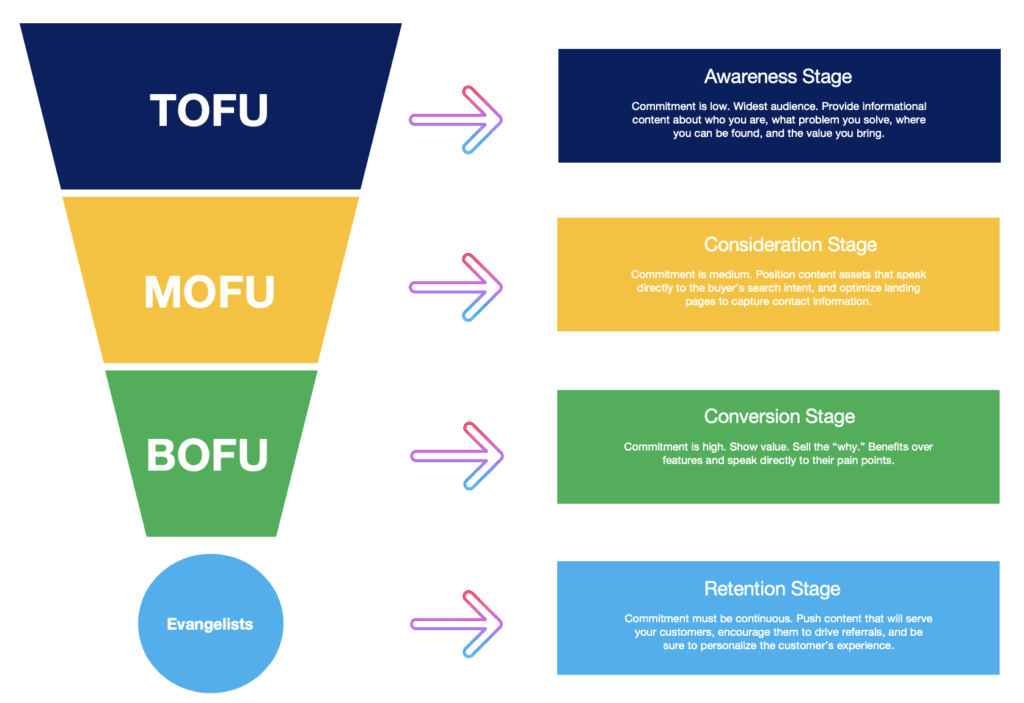 This funnel is usually represented by the TOFU (top of the funnel), MOFU (middle of the funnel), and BOFU (bottom of the funnel). Many funnels go one step further and align their stages with the stages of the buyer's journey. 
Some funnels, like the one above, label their buyer stages as "Awareness," "Consideration," and "Conversion." Others use the more popular "AIDA" — Awareness, Interest, Decision, Action. The exact terminology isn't as important as the intent: matching the seller's actions to the buyer's needs. We'll go over the specific stages in more detail later in this article.
The sales funnel is arranged in stages because the intention is to slowly but steadily provide content to leads that make them more likely to buy. Research shows that leads need an average of seven contacts (also known as touchpoints) before they feel ready to purchase; the funnel is designed to initiate these touchpoints at timely intervals with strategic content. 
The funnel provides a cadence and structure for how to initiate outreach. It keeps leads warm and engaged while offering the content they need to bring them closer and closer to a decision.
Automate your touchpointsMulti-channel prospecting campaigns with email, calls, and social touches
How Sales and Marketing Benefit From a Lead Funnel
A well-designed lead funnel is a huge asset to both your sales and marketing teams. 
First and foremost, an efficient lead funnel can be optimized to gather high-quality leads from the very start of the sales process. 
Considering that most salespeople report their two biggest challenges are finding high-quality leads and finding enough of them, designing a funnel should be a no-brainer and can quickly get your sales process off the ground running.
Sales reps and marketers use lead funnels to optimize their messaging and content marketing, speed up the rate of conversion and save time, money, and effort throughout the sales process.
The sales lead funnel is also an important collaboration tool. When sales and marketing work together to create a lead funnel, it provides both teams the following advantages:
More Efficient Marketing
The lead funnel provides transparency into which leads — and how many of them — enter the top of your funnel. This enables sales and marketing to reverse-engineer their sales process to ensure the appropriate number of leads from the target audience enter the top of the funnel. This reliability ensures that teams are on track to meet sales goals. 
Marketing can also leverage this insight to design their marketing campaigns according to which customers are most likely to engage. 
Improved Forecasting
With more accurate data flowing in around the number and quality of leads available, sales teams can make more accurate sales forecasts and, subsequently, work more deliberately to meet their sales targets.
Better Conversion Rates
The ultimate goal of the sales funnel is to nurture each potential customer directly into the next stage of the funnel. The natural segmentation of the funnel allows sales professionals to pinpoint any inefficiencies or bottlenecks in the process and address them quickly. 
A lead funnel is a crucial tool for any sales team that wants to improve their sales performance. 
The Stages of a Lead Generation Funnel
The lead generation funnel is generally broken down into three stages: top of the funnel (TOFU), middle of the funnel (MOFU), and bottom of the funnel (BOFU).
The top of the funnel is the widest part. It's where prospects are becoming aware that they have a problem that needs to be solved. Some of the prospects who enter the top of the funnel will disengage as they further define their own needs and exclude your solution. 
The middle of the funnel is where prospects become qualified leads. Here, they are analyzing their options. They learn more about the specifics of your offer and compare it to the other available offers.
The bottom of the funnel is where leads determine their best product offering. Leads who make it to the bottom of the funnel are highly qualified and likely to purchase.
How to Build a Sales Lead Funnel
The process of creating a sales lead funnel is actually quite simple. Follow the steps outlined below to get your funnel up and running.
1. Identify Your Target Audience
Sales and marketing should work closely to develop their Ideal Customer Profile (ICP) and various buyer personas that they plan to target.
These profiles will help you determine what content will resonate best at each stage of the funnel.
2. Break Down the Buyer's Journey
The next step is to understand the exact steps your customers take as they navigate a purchase decision. This insight will help you design your funnel in a way that meets their unique buying needs. 
In general, the framework looks something like the following:
Solidify your prospects' problems and position yourself as a solution.
Share value and outline the benefits of your particular product.
Position your brand as the very best offering available. 
Provide a smooth onboarding process.
Design your sales funnel around these needs based on what content or resources the buyer needs most.
3. Create Content
Sales and marketing should collaborate to design and disseminate relevant content for each stage of the funnel.
4. Measure, Tweak, and Optimize
It's likely that your sales lead funnel will undergo several iterations before it's perfected. This is to be expected. 
The initial outcomes are not as important as your diligence in collecting data on what's working and what's not. As you gather more intel, you can refine your content, timing, or overall process as time goes on. 
Find your winning contentIdentify what content your leads like best: view attachment opens & page-by-page breakdowns
How to Nurture Leads Through Your Funnel
Now, let's consider the TOFU-MOFU-BOFU design alongside what we know about the buyer's journey.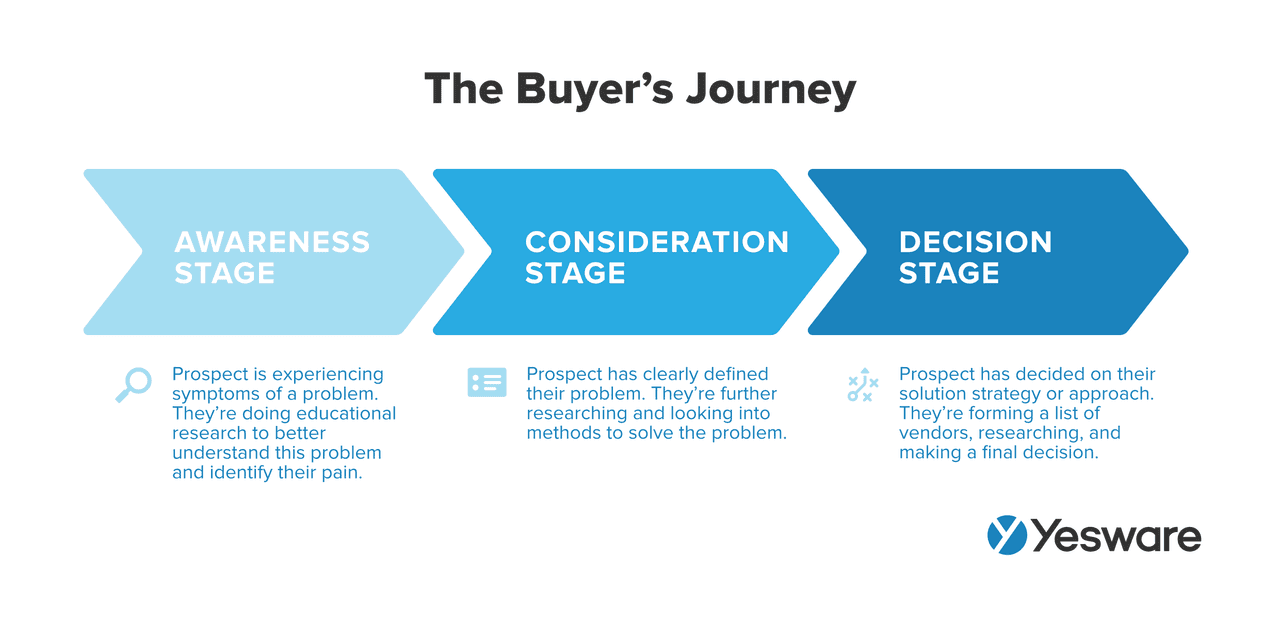 In this regard, the Awareness stage is akin to the top of the funnel. Here, your website visitors and otherwise interested prospects are exploring the problem they're facing. Your goal is to collect contact information for these potential customers so you can get them working through the funnel.
During the Awareness stage, your content marketing efforts can be defined by blog posts, YouTube videos, infographics, and other low-stakes material. 
During the Consideration (sometimes also called Evaluation) stage, prospective customers begin to engage with your brand. They now know enough about their problem that they know they need a solution, and your product is on their short list. The appropriate content for this stage would be whitepapers, webinars, ebooks, and case studies.
The Decision stage (also called the Conversion stage) is the final push before leads become customers. Here, you might offer free trials, demos, consultations, or discounts on your product. 
Aligning your digital marketing strategy with the customer journey is one of the best ways to consistently attract your ideal customer and provide them the exact content they need to feel comfortable moving forward with a purchase. 
The Best Tools to Manage Your Lead Gen Funnel
There are many tools and software platforms that can help business owners, marketers, and salespeople in their lead generation process. Many of these tools go hand-in-hand with your inbound marketing strategies.
LeadFeeder is a B2B website visitor tracking software. It helps businesses gather contact information for businesses that visit your website, even if they don't fill out a contact form. With LeadFeeder, you can quickly generate a robust email list for the first stage of contact. 
Yesware is on a mission to help salespeople close more deals with less effort. With features like email templates, automatic follow-up, and personalized multi-touch email campaigns, users can easily manage leads at all different stages of the lead nurturing process. 
Try Yesware for free today and learn how you can put your outreach on autopilot. 
Leadpages touts itself as the #1 Landing Page Builder. It's a software platform that helps small businesses connect with an audience, collect leads, and close sales. Users can build landing pages with pop-ups, alert bars, and more. 
Clickfunnels builds landing pages and marketing funnels in conjunction with one another. The tool offers many features, such as the ability to add new leads to an existing email list and effortlessly collect payments. 
Mailchimp's service focuses on email campaign optimization and is one of the most popular email marketing platforms available on the market. It can easily manage the many moving pieces of prospecting to a large number of lists and subscribers. 
Get expert sales tips straight to your inbox to win more deals
Related Articles
Sales, deal management, and communication tips for your inbox